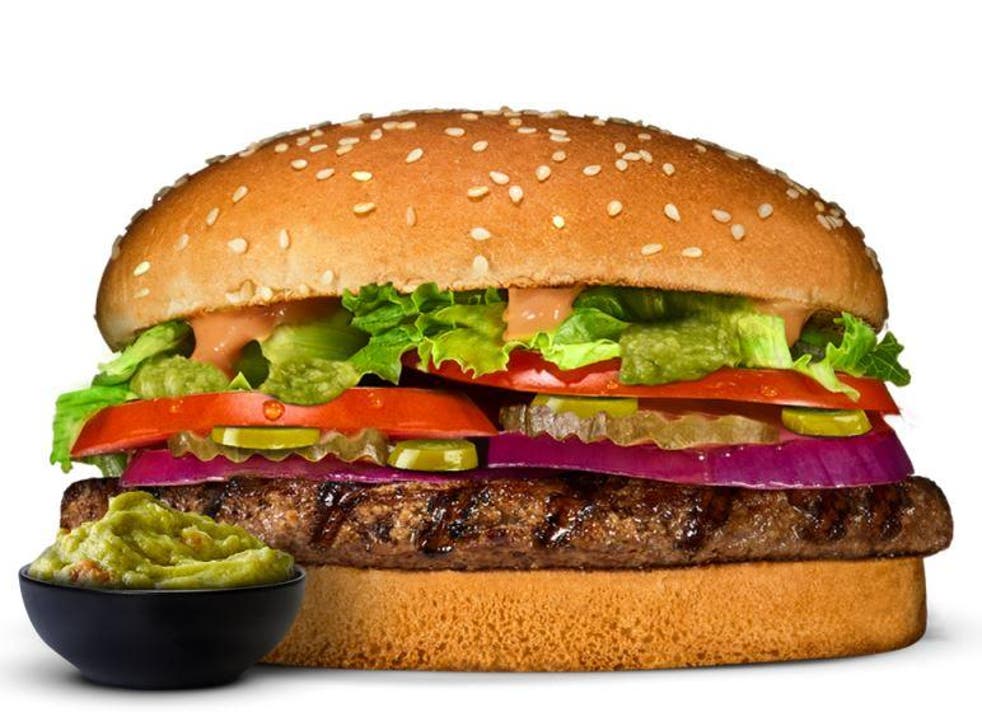 15 McDonald's menu items that aren't available in the US
Chances are you know exactly what to expect when you walk into a McDonald's in the US or UK: Big Macs, chicken McNuggets, fries, Oreo McFlurries, and so on.
McDonald's in other countries, however, are a different story.
To cater to their local clients, locations abroad offer all kinds of intriguing menu items that you'll never find in the States.
From the Veg Supreme McMuffin in India to the Mexican Mac Royal in Israel, keep scrolling to see some of McDonald's most unique and delicious-looking international menu items.
Ebi Filet-O
This "burger," found only at McDonald's in Japan, consists of a patty made out of panko-battered shrimp topped with a mayo-based shrimp sauce and lettuce.
Chicken McDo with McSpaghetti
McDonald's may be the last place you would think to go for Italian food, but in the Philippines you can stop by the chain for a plate of fried chicken and McSpaghetti, complete with a "signature sauce" and ground beef.
Jalapeño chicken triple burger
Perfect for those who love some spice, South Africa's jalapeño chicken triple burger is piled high with three chicken patties smothered in jalapeño sauce.
Rolls with cottage cheese, raisins, and dried apricots
McDonald's fans in Russia have plenty of options when it comes to a morning meal. Case in point: these blini-like rolls filled with cottage cheese, raisins, and dried apricots.
Ham n' egg twisty pasta
If you're in China and looking for a hearty breakfast, grab a bowl of McDonald's twisty pasta, which is served in a chicken broth with vegetables and a ham patty — it also comes with sausage or chicken — and a fried egg.
Chocolate croissant
McDonald's customers in Brazil have a sweet alternative to the chain's popular savory breakfast choices — a croissant filled with chocolate.
Chicken Maharaja Mac
The spiced-up, Indian version of a Big Mac, the Chicken Maharaja Mac is stacked with two grilled chicken patties, cheddar cheese, onions, tomatoes, jalapeños, and habanero sauce.
Truffle mayo and parmesan loaded fries
Macca's, as the chain is referred to in Australia, has some pretty fancy French fry options. There are gravy fries as well as fries covered in truffle mayo and parmesan cheese.
Mexican Mac Royal
McDonald's burgers and sandwiches don't come with cheese in Israel, but the Mexican Mac Royal is served with guacamole and "MacRoyal Sauce."
Chili Cheese Tops
At McDonald's in Denmark you can get much more than just fries with your burger; you can get chili cheese tops, which basically sound like fried balls of gooey, melted cheese with chopped chilies.
Tamago burger
McDonald's Japan rolled out a whole series of tamago burgers — burgers with a fried egg on top. The one that looks most intriguing is the one that comes with cheese and a sauce that looks like teriyaki.
Passion fruit and cream cheese pie
Comparable to the apple pie that's found at McDonald's across America, passion fruit and cream cheese pie is available at the chain in Russia.
Veg Supreme McMuffin
McDonald's in India has plenty of veggie options, including the veg supreme McMuffin, which consists of a patty made mostly from spinach and corn. It's served on an English muffin with onions, tomatoes, and mint mayonnaise.
Cheddar McMelt
One of only a few McDonald's burgers to be served on a dark sesame bun, the Cheddar McMelt is available in Brazil and comes with a beef patty topped with melted cheddar cheese, onions, and shoyu sauce.
Ham croquettes
It's not surprising that croquettes — a typical tapas dish — are served at McDonald's in Spain. The creamy filling in these also includes ham.
Read more:
• Analysts are bullish about Apple after its stock soared to all-time highs
• Norwegian nationalist Facebook group mistakes empty bus seats for women in burqas
• http://uk.businessinsider.com/snapchat-employees-prepare-sell-stock-lock-up-ipo-2017-7
Read the original article on Business Insider UK. © 2016. Follow Business Insider UK on Twitter.
Register for free to continue reading
Registration is a free and easy way to support our truly independent journalism
By registering, you will also enjoy limited access to Premium articles, exclusive newsletters, commenting, and virtual events with our leading journalists
Already have an account? sign in
Join our new commenting forum
Join thought-provoking conversations, follow other Independent readers and see their replies