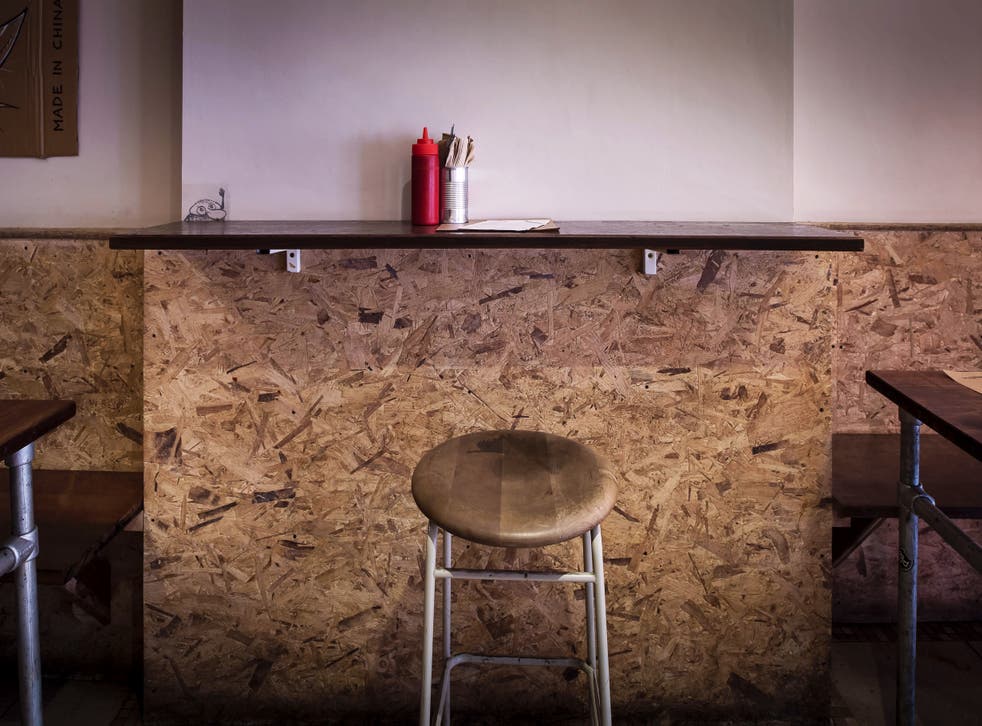 Best burgers in London: Ranking the capital's burger joints
Yes, the omnipresence of burgers in London is getting a little overbearing and yes, we've seen about every permutation of them by this point - but this does nothing to tarnish their inherent deliciousness, godamnit! Here are London's finest patties as we see it.
10. Electric Diner/Soho Kitchen and Bar
Burger
Very similar to the burger at Chicago's Au Cheval, often rated among America's best, the cheeseburger at Electric Diner (and Soho Kitchen and Bar) is a delightful assault on the senses. Go for a single and you get two patties; a double comes with three. The patties are thin enough to not be a belly bomb and are accompanied by a profusion of pickles, onions and a tangy, mustardy mayo.
Joint
Exposed brick, leather booths and a long bar with stools all feature, but don't overwhelm with kitsch at either venue. Both are bright and airy and basically quite pleasant to be in. Feels more like the Upper East Side than Uxbridge, which is a positive.
9. Elliot's
Burger
Beer-braised onions, Comté cheese, buns that they bake in house and possibly the beefiest beef in any burger on this list all combine to grant Elliot's its spot. The dill butter complements wonderfully and provides the classic 'Big Mac' taste that most of us grew up with.
Joint
Quite similar to the Electric/Soho Kitchen & Bar, but with the seats packed in and the constant hum reminding you you're in Borough Market. It can get a little noisy, but there's really no time for talking when you're in zen burger-eating mode anyway.
8. Byron
Burger
Long gone are the days of floury baps and just trying too hard. Nowadays Byron is selling burgers so good that they make the stock opinion of chain restaurants always being bad seem ridiculous. The basic menu is short, to-the-point and has possibly the best burger readily available to most Londoners. Rotating specials are always on point and the Smoky, which recently went full-time, should be your burger-of choice (those crispy onions!) Vital to the London burger 'scene'.
Joint
Byrons vary hugely depending on the location, which is again refreshing for a chain. Go to Kensington and you'll see dadaist wall doodles and diner stalls, head to Angel and you'll find a peeling shack with patio furniture.
7. Shake Shack
Burger
Fine, it's an American chain and fine, you probably can't imagine why people would queue up for a burger - but trust us, Shake Shack brings one of the finest examples of truly American food available in London - an ode to the Steak 'n' Shake chain. Juicy beef is topped with bright American cheese, nestled in a steaming Martin's Potato Roll. Get the SmokeShack, which is topped with smokey bacon and absurdly tangy chopped cherry peppers.
Joint
McDonald's dressed up for an Ofsted inspection. A bit on the clinical inside, and out in Covent Garden piazza you're met with the furious din of tourists and spontaneous opera, but it does the job and there's ample seating and an insanely high volume of helpful staff.
6. MeatLiquor/MeatMarket/MeatMission
Burger
The MeatWagon produced the burger that changed London's dining scene and made sure hamburgers were a full-blown trend. That was in late 2009/early 2010 and since then things have changed a fair bit, including a few new restaurants (actual restaurants) in the MEAT family. For our money the quality probably goes MeatLiquor, MeatMission, MeatMarket, in that order, but there's barely much to choose from when it comes to the eating. As more and more rivals have opened up, the MEAT empire has had to ensure quality hasn't dropped and although they don't top our list, they're still producing hundreds of the best burgers you'll find in London every single day. From the cheeseburger to the Dead Hippie via the Mushroom Swiss, there's a lot still to like here.
Joint
Imagine a gothic cathedral with bootleggers and a cult as previous owners and you might have an idea of what MeatLiquor looks like on the inside. It is the most thrillingly decorated of the three restaurants in London and the best if you're there more for the booze than the burgers, with MeatMarket going for a more straight forward fast food vibe, and MeatMission housing stained-glass windows, photo booths and a circular bar with alcoholic slushie machines.
5. Dip & Flip
Burger
Aah, Dip & Flip! If you've never tried a burger and considered just how much better it would be with the addition of gravy, wait until you try one here. The burger to get is the eponymous Dip & Flip - a cheeseburger topped with roast beef and an abundance of gravy. Also not to be overlooked is the patty melt, but whichever way you go, a pot of gravy comes on the side. Make sure you dip.
Joint
Fun and functional, rather than cosy, you'll probably be in and out (no pun intended) of here within the hour. There's a mix of high and low tables, the former usually occupied by people fuelling up before heading out and the latter usually occupied by families with pushchairs. The music is good and staff are extremely personable.
4. Honest Burgers
Burger
When Honest Burgers launched a few years ago, they were bizarrely criticised for being a bit too, well, clean. The trend for 'dirty' food - particularly burgers - is quite transparent (although possibly on the wane) and Honest seemed to go against that. Their burgers are as straightforward as the name suggests. The beef is 100% ground chuck from The Ginger Pig, liberally seasoned with salt and pepper, as it should be, while the toppings and buns celebrate British produce, with mature Cheddar, Red Leicester and Stilton all available. Honest have since evolved the menu to include rotating specials and the peerless Tribute - their take on a classic American burger, with bacon, American cheese, burger sauce and pickles. It's a showstopper.
Joint
Wilfully avoiding the Americana-theme of so many burger restaurants, Honest feels distinctly British. Its restaurants are simple but elegant, putting the emphasis on the burgers.
3. Flat Iron
Burger
If you've never read Hamburger America, George Motz's indispensable ode to America's favourite fast food, or seen the complementary documentary, then the name Dyer's Burgers possibly won't mean much to you. As Motz explains, Dyer's is a Memphis institution that's been around for over 100 years. Their USP? They deep fry their hamburgers. It may sound revolting and it's definitely not great for you, but you probably won't care after you try a Flat Iron burger, available as a regularly occurring special. It goes without saying that the meat is great quality at this steak restaurant, but the frying gives it an incredible texture; it's slightly crispy on the outside while also being tender and maintaining a loose structure. The bun is supplied by St John and does a wonderful job of holding everything together - including the outstanding bearnaise sauce and chopped shallots. Follow them on Twitter and go whenever it's available next.
Joint
With its white-washed and exposed brick walls and circular metal lamps you feel a little like you're in an abattoir in Flat Iron, which is appropriate given they serve their steaks up on a slab with a mini meat cleaver. Downstairs is all dim candelabras and dark wood and worth heading down to if you can get a seat.
Burger
You know when you see a burger in a TV advert and think, 'Hey, I've never had a burger that looks that good'? Well, Patty & Bun is serving up cheeseburgers that could have been produced in a studio. Or a burger laboratory. Every single aspect has been considered, tweaked and is produced to deliver an outstanding eating experience, every time. The bun, beef and toppings are all superlative - it's the Real Madrid Galacticos of the hamburger world, in a little package. It could be said that the best (and worst) thing here is the intensity of eating a P&B burger. Whether it's the Ari Gold, Smokey Robinson or Lambshank Redemption, you're almost forced to drop your head and not come up for air until you've finished eating. You'll stumble outside and wonder what just hit you.
Joint
Patty & Bun has a very DIY, pop-up feel inside, with the walls covered with chipboard and the art being scrawled on flattened cardboard boxes. It makes for a laid back atmosphere and the music is always great, avoiding AC/DC cliches and instead going down the Ginuwine, Erykah Badu, Ashanti route.
1. Tommi's
Burger
Although it looks like a cartoon hamburger, possibly from a tray carried by J. Wellington Wimpy, Tommi's is currently producing the best patties in London. The beef is supplied by the exceptional H G Walter, the bun is shiny and soft and the toppings are up to you. Although you can upgrade to slightly more lavish cuts of meat in the form of the steak burger, it's the regular cheeseburger that gets the nod from us. In some ways it's like something your dad would produce at a barbecue, if he spent endless summers out there in the rain honing it to perfection. Why is it above Patty & Bun? Essentially it's the simplicity. Tommi's is, in some ways, the antithesis of P&B and the former just edges it for us for London's best burger.
Joint
Succeeds where many others in London fail by not trying too hard. It's a burger, not a fillet steak and Tommi's knows this, taping a few Sopranos posters to the walls, stringing up a couple of sets of fairy lights, writing the specials on some cardboard and calling it a day. There's something very casual and humble about the restaurant, queues rarely reach the street and there isn't a hashtag in sight. The most authentically American burger joint you'll find in London (even if it is run by Icelanders).
Honourable mentions
The burgers which didn't quite make the grade or are too transient to be included. Bleecker St Burger and Burger Bear, for example, would have been in our top ten if they had more permanent locations.
Best burgers in London
in a larger map
Join our new commenting forum
Join thought-provoking conversations, follow other Independent readers and see their replies