How to choose the best – not cheapest – turkey this Christmas
The saying that you get what you pay for really rings true with meat. So instead of hunting for a bargain on your turkey, look at independent farms for rare breeds that are slow-grown for better flavour, says Lizzie Rivera
Wednesday 28 November 2018 14:38
comments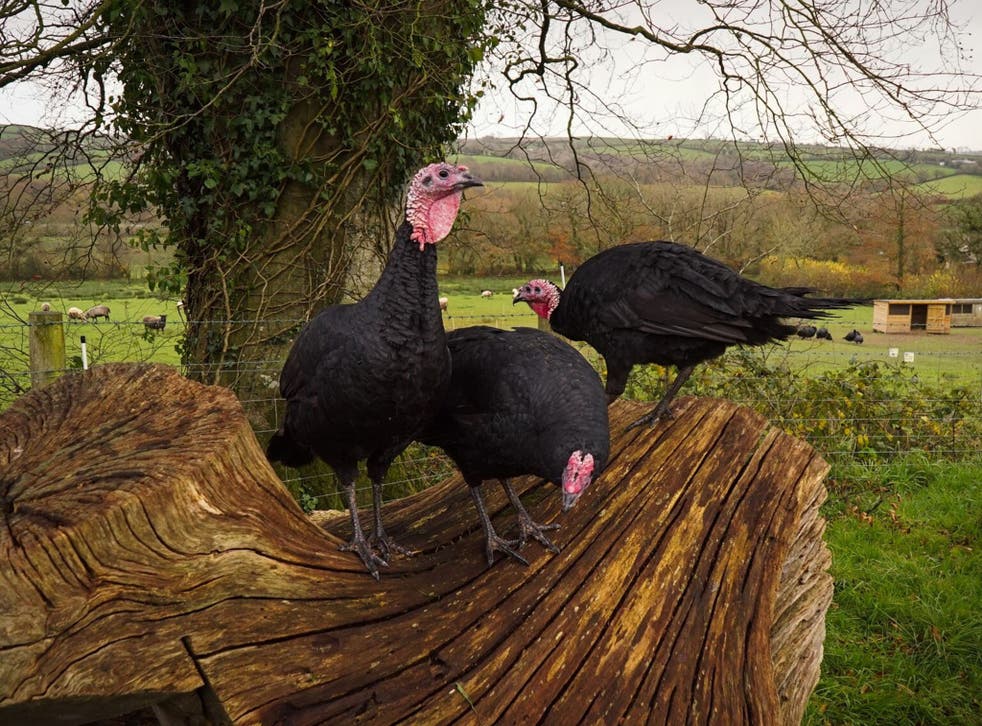 When it comes to Christmas dinner, all turkeys were not created equal.
Well, they may have been. But they certainly don't all taste the same and that is not just a reflection of our cooking skills – it's because of the huge disparity in how they are farmed.
The best tasting turkey – one that has depth of flavour, is juicy and tender but also has structure – needs to be slow-grown for around six months.
It also needs to be hung for a good couple of weeks before you buy it.
"That special moment at Christmas dinner, that quietness when you have the first mouthful and everyone thinks 'wow' – that's what we spend many months of every year trying to give people," says Peter Greig of Piper's Farm.
And that "special moment" can only be bought from certain farmers and butchers who are committed to doing things the slow way.
A staggering 90 per cent of the UK's 10 million turkeys are now intensively farmed, according to the Soil Association.
This includes turkeys that are kept indoors, pumped with antibiotics to keep disease at bay, and fed a high-protein diet of genetically modified grains grown with the use of pesticides and chemical fertilisers, so they grow unnaturally quickly.
These birds have been bred to be so heavy they are no longer able to fly or mate naturally. Beak trimming is also commonplace to stop them from pecking each other in such close confinement. They are typically killed at around half the age of a genuinely free-range or organic turkey.
This is the reason you can buy turkeys starting at around £12 in a supermarket.
"The supermarket version of 'free-range' doesn't necessarily mean things are much better, as a majority of these birds are still raised in an industrial setting," says Greig.
"The stocking density is around half that of their battery counterparts, and while they are required to have access to the outdoors, the way they are raised and housed means that most will never venture outside."
In this system, birds that have the potential to grow to 15kg are only taken to 5kg – a popular size for the Christmas table – so are processed before the bird reaches full maturity.
The result is a bird that has an immature tenderness, which in theory sounds good – who doesn't want tender meat? But in practice it can be very challenging for a chef because it's also full of water that evaporates when cooking and when this happens the texture collapses – creating that dry, tasteless sensation turkey is fast getting a reputation for.
But it didn't traditionally taste like this – and nor should it. Opting for an organic or genuinely free-range slower growing breed, such as a Norfolk black, bronze or bourbon red that has been grown to full maturity creates a completely different eating experience.
These birds are encouraged to go outside from around six weeks old, and can forage for clover and bugs to supplement their diet, which is much lower in protein.
This means the bird can naturally build up muscle, which can be quite tough and is one of the reasons hanging for around 10 days is such an essential part of the farm to plate process.
Hanging allows the muscle fibre to break down, creating a more tender bird that still has structure. Importantly, most of the water evaporates during the hanging process, leaving flavoursome meat juices.
"A major important factor is that a slow-grown bird develops a hard layer of fat under the skin," says Stuart Perkins from Castlemead poultry farm in Somerset. "This not only improves the flavour and texture, but keeps the bird moist in the oven as the fat renders down as you cook it."
The result is a succulent bird that reflects the way it was reared.
As Peter Greig says: "It's complex, it's deep, it's lingering. It's a taste of Devon." Or whatever part of the country it was reared.
Seven farms that will deliver straight to your door
Pipers Farm pipersfarm.com
The journey of Pipers Farm turkeys begins in late spring when the chicks hatch and live in a brooder for around three weeks to allow them time to grow the feathers needed to protect them outside. At this point, they move to their grassy hillside home until they are 28 weeks old.
A whole turkey that serves 10 people costs £69.75. Pipers Farm are also renowned for their "simplest turkey" with the leg and breast meat rolled separately and stuffed with a choice of festive stuffing – cooking in just one hour, prices start from £35.80, serving four.
Coombe Farm coombefarmorganic.co.uk
Also opting for the bronze turkeys, Coombe Farm offer whole turkeys that serve six people from £79. They also offer drumsticks from £4.45, turkey sausages from £6.50 and turkey and apricot burgers from £6.
Daylesford Organic daylesford.com
Daylesford have their own hatchery and abattoir so take the birds from hatching to packaging on their farm. They are fed organic oats to give them their distinctive flavour. A 6kg turkey (typically serving 12-15 people) costs £102 and a 4kg turkey crown costs £92.
Fosse Meadows/Farmdrop fossemeadows.com/ farmdrop.com​
Fosse Meadows is a fourth generation farm and the only accredited Golden Turkey Farmers in Leicestershire. They keep their turkeys in small flocks to promote natural behaviour and feed them an additive-free cereal diet, so the turkeys have good fat marbling through the meat. You can buy turkey direct from Fosse Meadows or through Farmdrop along with other Christmas dinner essentials.
Riverford riverford.co.uk
Riverford work with two farms to offer the celebrated bronze breed of turkey – slow-grown, organic and free-range. They include the giblets, which are ideal for making gravy (or treating the dog). A turkey breast for two starts from £21.45 and turkeys that feed up to 15 people cost around £138.95.
Field and Flower fieldandflower.co.uk
Field and Flower source their turkeys from Castlemead, where slow-grown turkeys are free to roam in Somerset and are fed locally milled cereals with no added extras. Turkey breast joints filled with various stuffings start from £24.95 serving 4-5 people. Bronze turkeys serving 10-12 people start from £69.95.
Eversfield Organic eversfieldorganic.co.uk
Eversfield Organic pride themselves on the value they place on the quality of life of the bird, the care and attention taken by the farmer and butcher (including paying the farmer a fair price) and the nutritional quality of the resulting meat. Their small turkeys start from £63.80 and feed up to eight people and a deboned and rolled joint covered in bacon starts from £99 to feed a similar number.
Lizzie Rivera is the founder of ethical lifestyle website BICBIM (bicbim.co.uk)
Join our new commenting forum
Join thought-provoking conversations, follow other Independent readers and see their replies