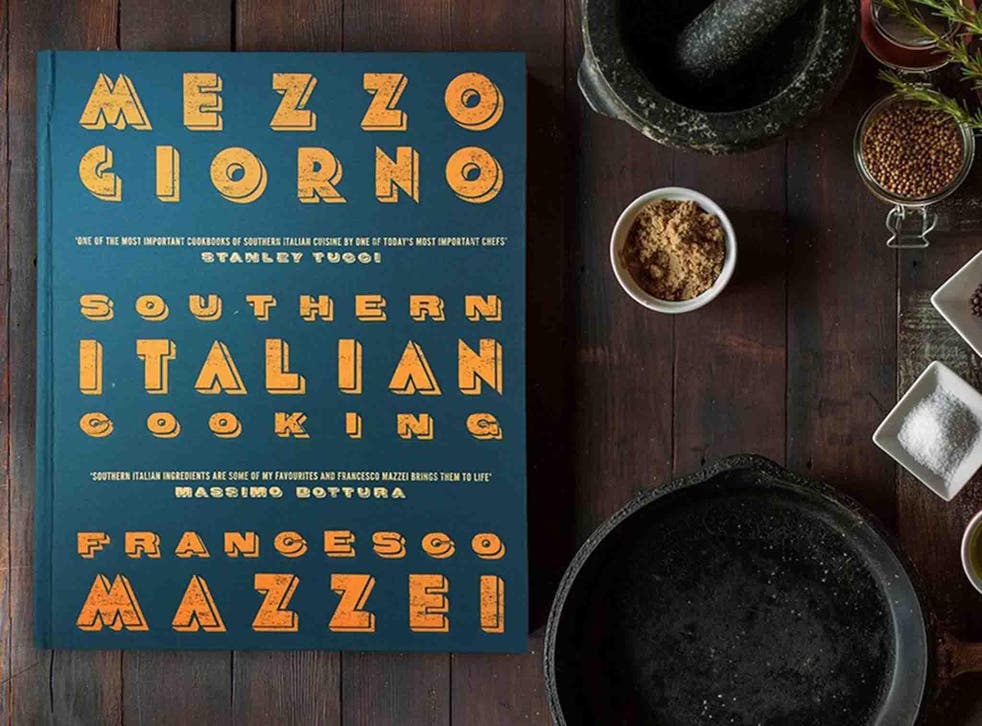 Book review: 'Mezzogiorno – Recipes from Southern Italy' by Francesco Mazzei
Journey into southern Italy's 'kitchen of the poor' with Calabrian-born chef Francesco Mazzei, who lifts the lid on pots and pans simmering with delights such as stuffed calamari and aubergine chocolate cake 
Francesco Mazzei never wanted to be a chef. Growing up in Calabria, southwest Italy, he cared more about his football than his food. Having worked in his uncle's ice cream shop from an early age, Mazzei had been exposed to the harsh realities of working in a kitchen and was determined to pursue a better life for himself.
A chance encounter with a well-known chef, however, led him to reconsider a life in the culinary world.
Impressed by his eye for detail, that chef was disappointed to learn of Mazzei's ambitions to become a hotel manager, telling him: "Shame... you've got the touch". Mazzei hasn't looked back since, forging an impressive and varied career that has culminated in his first book Mezzogiorno: Recipes from Southern Italy – a beautiful journey through the many delights of southern Italian cooking.
Mazzei has worked in restaurants all over the world, yet it's the food from his home region of Calabria that he values the most. The book is very much a celebration of how southern Italians approach cooking. In the opening chapter, Mazzei explains how the economic hardships faced by the south helped shape a cuisine that shuns waste and uses ingredients thriftily, giving rise to the "cucina povera" tradition; the "cooking of the poor". This is at the root of the southern Italian culture that the book embraces.
Flicking through this attractive, colourful tome is a journey through the regions, with Mazzei acting as the perfect guide navigate the reader through the unique culinary characteristics of each region. His vibrant food is vividly brought to life by stunning full-page photos that showcase his rustic, unassuming style of cooking (provoking a hungry trip to the fridge on more than one occasion).
While the recipes are based on traditional southern dishes, many have been updated to reflect the way Mazzei likes to eat today and his years of restaurant experience – or as he puts it, "mamma cooking with chef's hands".
Mezzogiorno is how Italians refer to their south – the eponymous book is easy to follow, with many useful tips accompanying the recipe steps. What I like most about it is its unashamed reliance on core regional ingredients, proving that less truly is more when it comes to food down south. Though current cookery books often cover a wide range of cuisines and cooking styles, which is interesting, it can limit a home cook's ability to produce more than one recipe from the same ingredients.
In Mezzogiorno, the same core Italian ingredients are used in a majority of the recipes and always in new and creative ways. Mazzei's basic tomato sauce recipe, for example, is used to make stuffed calamari, Whole roast chicken stuffed with bucatini and pasta alla norma (aubergine and tomato pasta). I made linguine with prawns, lemon and parsley, a classic south pasta which, excluding the pasta and olive oil, is made with just five key ingredients. The recipe was clear and concise and had the perfect balance of chilli, citrus and shellfish. Best of all, it was on the table within 20 minutes – and finished in even less time!
Although Mazzei covers a number of well-known Italian dishes, I was pleased to find quite a few recipes and intriguing flavour combinations that were new to me. This is especially true in the book's dessert section, which features Calabrian mince pies, aubergine chocolate cake and blood orange and campari sorbet. Mazzei also uses this section to reveal the secret to making perfect Italian ice cream and sorbet – clearly the years spent working at his uncle's ice cream shop were worth it after all.
Visit greatbritishchefs.com for more cookery book reviews
Join our new commenting forum
Join thought-provoking conversations, follow other Independent readers and see their replies