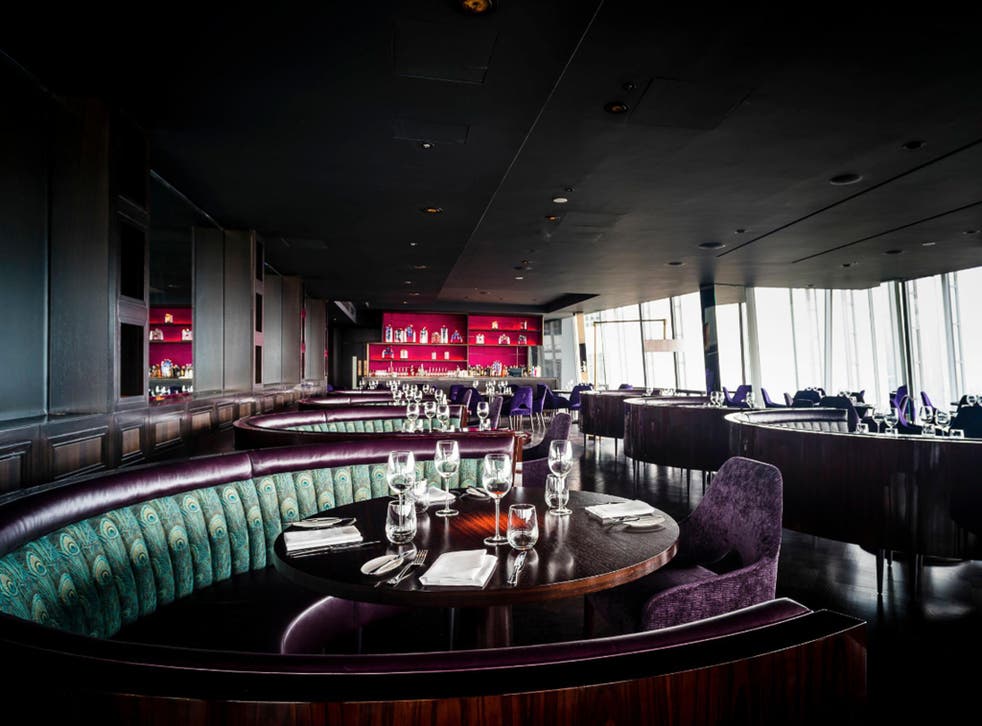 Brunch on Saturday: Aqua Shard review and eggs piperade recipe
This week in Brunch on Saturday, we review the three course menu at the Aqua Shard and try making Mimi Thorisson's eggs piperade recipe from her French Country Cooking book
Brunching out...
When you've got the view, and the accolade of being the tallest building in Britain (and a for a brief moment in Europe), you've got a lot to live up to when it comes to your food offering. And sometimes expectations can rise well above the heights of any building.
Aqua Shard's weekend brunch – not to be confused with its less refined breakfast menu – is a three-course affair for £48 per person. And, as the title suggests, it's only served at weekends (including our beloved bank holidays) between a rather leisurely 10.30am and 3.30pm.
The restaurant (on the 31st floor) is floor-to-ceiling glass panels, where the best seats are obviously next to the glass where the rest of the city looms below. These tables are mainly for twos, so ask for one of those when booking if there are only two of you.
It's a modern British menu; starters, mains and desserts come in groups of four of five, so there's plenty to choose from – just don't expect particularly large portions. Of course, the point is not to leave bursting (it's not a carvery). But if you're hungry, choose wisely.
Expect traditional brunch dishes like the lobster Benedict on the starters with a poached egg on an English muffin mixed with British classics in the mains – albeit with odd names – including braised Welsh hogget (essentially roast lamb) with a fluffy Yorkshire pudding or the roast Dingley Dell pork belly. Aside from meat, it's heavy on seafood but offers limited vegetarian dishes – with only the Jerusalem artichoke soup to start or the even blander sounding cornmeal porridge for mains, which both could be given a more exciting twist.
Cocktails start from £16 and go up to £22, and include their own signature recipes, which are innovative and well balanced. The desserts are a little underwhelming – the white chocolate mousse could be lighter and have more flavour.
It's fair to say Aqua Shard's weekend brunch is an experience, but it's equally fair to say it rides somewhat on the view. The food is pretty, well put together and light – so go for an occasion where the surroundings are high on your list of priorities.
Aqua Shard, Level 31, The Shard, 31 St Thomas Street, London SE1 9RY; 020 3011 1256; aquashard.co.uk
Brunching in...
Eggs piperade
Serves 4
I'm very fond of Basque cooking and love making piperade, which is a kind of Basque-style ratatouille that goes very well with fish, chicken and, in this case, a simple fried egg. Sometimes, when I have an abundance of colourful peppers and tomatoes, I make several jars of piperade and keep them in the fridge. When there is no time to make something elaborate, and when the kids, or the restaurant staff, are too hungry and practically banging their cutlery on the table, that's when the simplest, fastest dishes are needed. I pour a jar of piperade into a pan and make holes for the eggs, one per person. Sometimes I throw in a good chorizo sausage. It couldn't be simpler and it couldn't be tastier. This dish is also quite nice served as a decadent, savoury breakfast or brunch – an alternative to bacon and eggs.
3 tbsp extra virgin olive oil
15g unsalted butter
2 medium onions, thinly sliced
2 red peppers, cut into thin strips
1 green pepper, cut into thin strips
2 garlic cloves, thinly sliced
Leaves from a few sprigs of fresh thyme
1 bay leaf
Fine sea salt and freshly ground black pepper
2 tomatoes, diced
4 large eggs
4 thin slices bayonne ham or prosciutto
pinch of piment d'espelette or mild chilli powder
Preheat the oven to 400°F/200°C.
In a flameproof casserole (Dutch oven), heat the olive oil and butter over a medium heat. Add the onions and sauté until softened, about 3 minutes. Add the peppers and continue to cook for 5 minutes. Stir in the garlic, thyme and bay leaf, and season with salt and black pepper. Cook for 1 minute. Add the tomatoes, stir gently, and cook until all the vegetables are soft and fragrant, about 15 minutes. Discard the bay leaf.
Spoon the piperade into 4 individual ovenproof dishes, make a little well in the centre, and break an egg into each. Drape a slice of ham over each serving. Bake until the egg whites are set but the yolks are still runny, 10-12 minutes.
Sprinkle piment d'Espelette and a little salt over each egg. Serve immediately.
French Country Cooking by Mimi Thorisson (Hardie Grant, £25) Photography © Oddur Thorisson
Join our new commenting forum
Join thought-provoking conversations, follow other Independent readers and see their replies