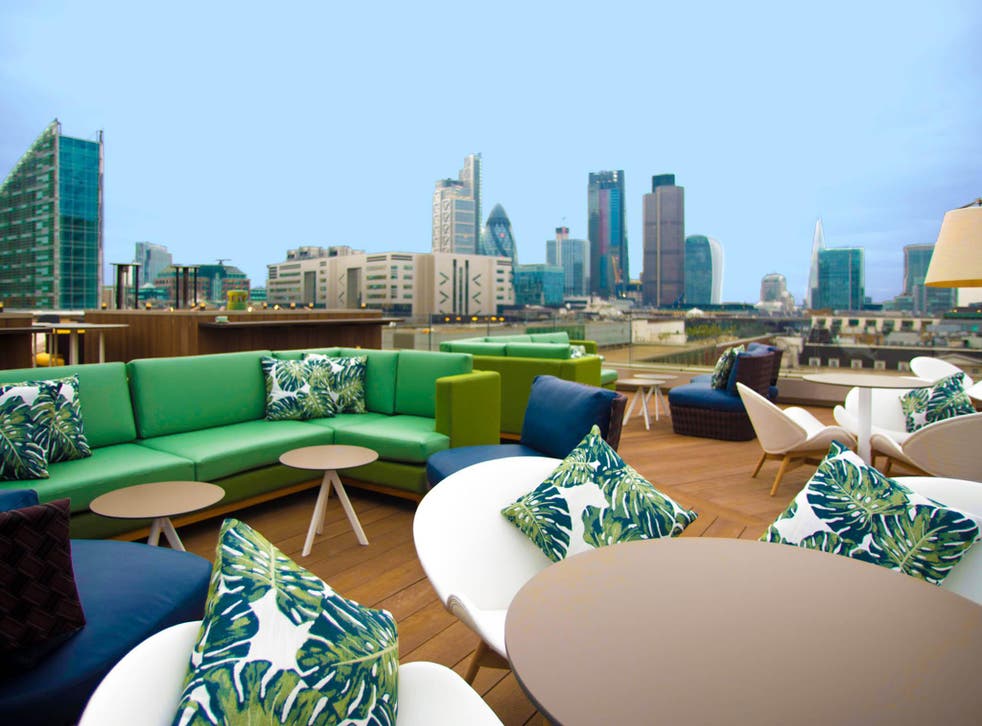 Brunch on Saturday: Aviary review and sweet potato waffles recipe
This week in brunch on Saturday, Rachel Hosie visits Aviary's new sunny terrace and we try making sweet potato waffles with hemp
Brunching out...
The biggest allure of Aviary, the rooftop restaurant atop the Montcalm Royal London House Hotel on the edge of the City of London, is the new terrace.
But the thing is, the food isn't actually served on the terrace, but rather the indoor restaurant area. On the sweltering day we visited, that was definitely a good thing.
After admiring the view outside, it's rather refreshing to retreat to the air conditioned restaurant, from where we could still admire the view that comes with being 10 storeys high.
The interior recalls the prohibition era, with a hint of Gatsby and gold Aztec touches, while floor to ceiling windows and plush velvet teal chairs create a luxurious feel. It's styled with (fake) peacocks at the entrance and plants are dotted around the room.
The brunch menu is broken down into slightly confusing sections, meaning we weren't quite sure what to order when, but fortunately the staff are able to simplify things. Brunch cocktails are of course on offer, but if you fancy sticking to soft drinks, the orange juice is a good choice – freshly squeezed and incredibly refreshing.
First up, we both ordered the classic avo on toast with bacon (£9.50), which was served quickly. The toast was nice and crunchy and the bacon well-cooked but streaky.
There was a pleasingly generous amount of avo in each portion, with slight hints of citrus and chilli. It was a tad too chilled though. The portions weren't huge so we were pleased to have another course coming. I had the red pepper skillet with chickpeas and a poached duck egg (£9). The yolk was runny and the skillet was really flavoursome and not too saucy. It was served with sourdough toast which, pleasingly, was still warm. My sister opted for the brunch staple of pancakes (£13), which were as fluffy as you'd hope.
Topped with a yoghurt cream, banana and syrup, the ratio between pancakes and topping was just right. As was the portion size - we were full, but happily so. Rather than I-need-to-be-rolled-home full. Aviary is a great spot for a classy and delicious brunch with a view.
Aviary Rooftop Restaurant and Terrace Bar, 10th Floor Montcalm Royal London House Hotel, 22-25 Finsbury Square, London, EC2A 1DX; open daily; aviarylondon.com​
Brunching out...
Sweet potato and Hemp waffles with avocado, boiled eggs and miso spiced mushrooms
250g of sweet potato, peeled and steamed
1 egg, whisked
1 tsp of smoked paprika
2 tbsp of good hemp milk
3 tbsp of good hemp flour
1.

2 spring onions, finely sliced
2 eggs
150g of button mushrooms, sliced
1 tbsp of miso paste
1 tsp of hemp oil
1 lime
1 avocado, sliced
To make the waffles: Mash the sweet potato with the beaten egg, smoke paprika, hemp milk, hemp flour and sliced spring onion. mix together and season with some salt and pepper. Heat the waffle maker and brush with oil, pour the batter out and cook as per your waffle maker (3-5 minutes).
While this is cooking Mix the miso paste, half the lime juice and hemp oil together and place in a pan, settee the mushrooms in this for 5 minutes. Boil the eggs for 5 minutes. Peel and slice in half. Serve the waffles topped with the boiled eggs, mushrooms avocado and a lime wedge. Serve hot. 
Recipe by Madeleine Shaw. For more recipes visit madeleineshaw.com. For hemp products visit goodhempfood.com
Join our new commenting forum
Join thought-provoking conversations, follow other Independent readers and see their replies