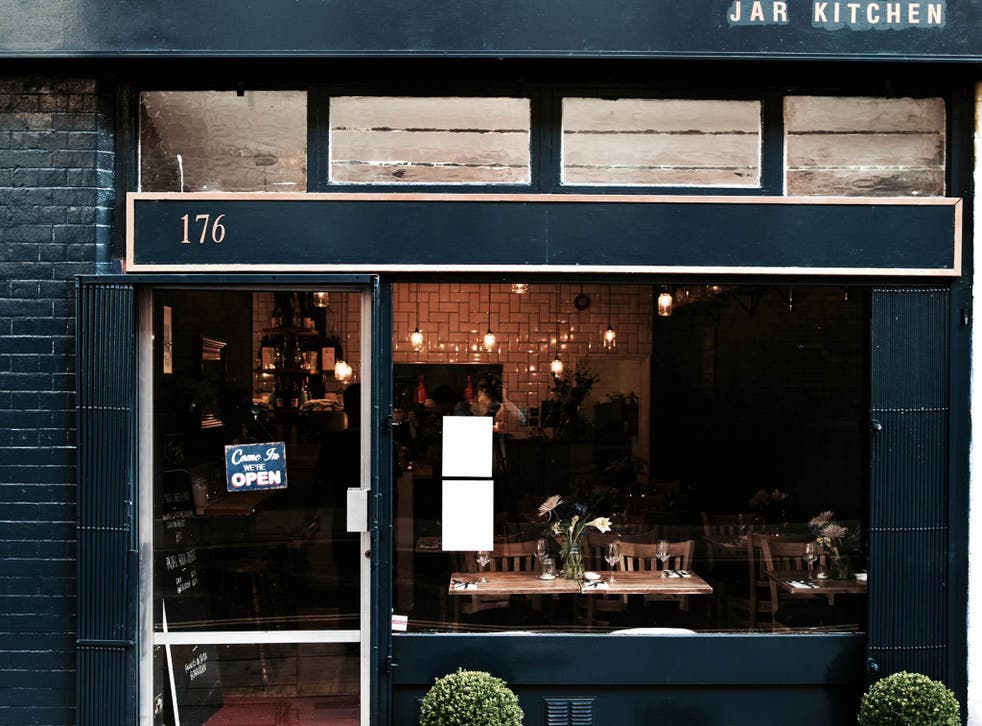 Brunch on Saturday: Oysters and prosecco on Drury Lane, plus banana and spinach pancakes recipe
This week on Saturday brunch Rachael Pells visits Jar Kitchen in London's West End, and we try out a colourful and novel pancake recipe
Brunching out...
In a city fuelled by bottomless mimosas and endless variations on avocado on toast, brunch options in London can often leave one feeling, well – saturated. Perhaps that's why decent recommendations for a reliable, good quality weekend menu have become more highly sought-after than the fruits themselves.
Since stumbling upon Jar Kitchen, a hidden gem at the less desirable end of Drury Lane, I've been recommending it to everyone. The small but attractive room – revealed through a grand red velvet curtain – is open for express lunches Monday to Friday, pre-theatre dinners Tuesday to Saturday, and brunch lovers have from 10am until 2.30pm to bag a table on Saturdays.
The menu is seasonal, and owners Lucy Brown and Jenny Quintero operate a low-waste policy – meaning not only are the ingredients fresh but you are welcome to feel a bit smug about it at the same time.
A bottomless brunch here comes with unlimited prosecco, bloody mary or mimosas and will set you back £31.50 a head for two courses, or £35 for three.
Alternatively, you can choose to get got stuck into the a la carte menu, which offered a happy balance between the classics – avocado and (perfectly done) poached eggs on toast and Jar Kitchen's signature full English and french toast – and some more adventurous ideas for those days when french toast just won't cut it.
Starting off strong with a bloody mary and fresh oyster to whet our palates, the huge garlic mushrooms that followed on a bed of hummus become a surprising favourite. Smashed avocado with No 8 Langley's gin-cured salmon tastes decadent and is a winning combination with fresh local eggs and chilli on sourdough.
Something else I love about Jar Kitchen is their attitude that even breakfast food should be followed by dessert. A granola pot with fig yoghurt, plums and walnuts hits the sweet spot, but not as well as the mini doughnuts served with salted caramel seen on virtually every table on a busy morning. A sign that Londoners could be moving away from the squeaky clean avocado breakfast after all.
Jar Kitchen, 176 Drury Lane, London WC2B 5QF, jarkitchen.com
Brunching in...
Banana and spinach pancakes
Makes approx. 15 small pancakes
Prep + cook time: 25 minutes
We always make this recipe in our high-speed blender – it's perfect for pancake batter, especially when they include bananas and spinach. Spinach pancakes have been one of our signature recipes for years but we've not shared one in our books before, so we're making up for it by including two different versions here. These are thick, sweet and perfect for breakfast or brunch. The spinach not only adds colour but also gives them a hearty flavour that balances the sweetness of the bananas. The colour depends on the amount of spinach used and the heat of the pan (if the heat's too high it will make them brown).
4 free-range eggs
2 ripe bananas, peeled
120 ml plant-based milk of choice
1 handful baby spinach or frozen spinach, slightly thawed
15 fresh mint leaves (optional)
50 g almond flour
60 g buckwheat flour
40 g desiccated unsweetened coconut
1 tsp baking powder
a pinch of sea salt
virgin coconut oil or butter, to fry
To serve
Full-fat plain unsweetened yoghurt
Maple syrup or honey (optional)
Mixed berries of choice
Fresh passion fruit pulp
Seeds of choice, finely chopped
Crack the eggs into a blender, add the bananas, milk, spinach and mint (if using) and blend until well combined. Add the dry ingredients, blend until completely smooth, then pour into a jug and leave the batter to rest for a few minutes. Heat a little oil in a 20 cm (8 inch) non-stick frying pan (skillet) on a medium high heat. Whisk the batter then ladle 60 ml for each pancake into the pan (you should be able to cook about 4 pancakes at a time). Fry for about 1 minute or until small bubbles appear on the surface and the bases are golden. Carefully flip each pancake with a spatula and fry the other side for a further minute or until golden. Transfer the cooked pancakes to a plate and repeat with the rest of the batter (you may need to reduce the heat slightly after the first batch). Serve topped with a dollop of yoghurt, a drizzle of maple syrup, some berries and passion fruit pulp and a sprinkling of chopped seeds.
Tips: alternatively, prepare the pancake batter in a large mixing bowl with a whisk or immersion (hand) blender. Just be sure to mash the bananas and finely chop the spinach and mint leaves (if using). You can vary this recipe by replacing the spinach with berries of choice.
Green Kitchen at Home: Quick and Healthy Vegetarian Food for Every Day by David Frenkiel and Luise Vindahl (Hardie Grant), £25
Join our new commenting forum
Join thought-provoking conversations, follow other Independent readers and see their replies