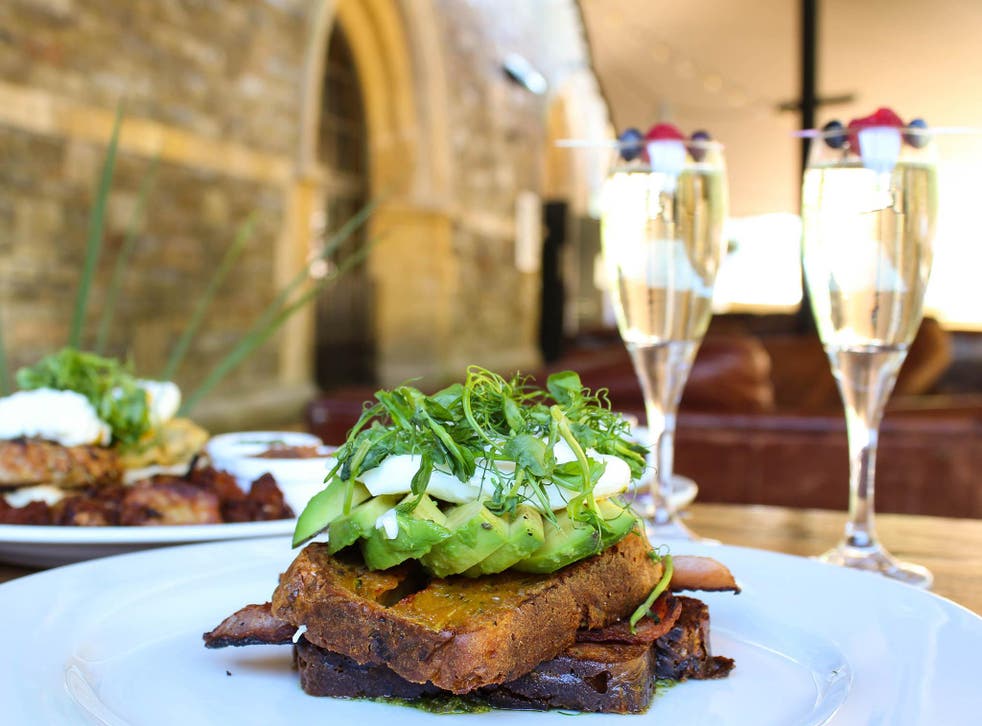 Brunch on Saturday: Review of Bristol's Steam and an asparagus, berkswell cheese and egg recipe
This week, Sophie Colwill goes to Bristol's latest bottomless brunch venue with a Californian menu, but if you're staying in create this light asparagus dish with a sheep's cheese and soft boiled egg
Brunching out...
Tucked away from the hustle and bustle of Whiteladies Road, which forms the lifeline of Bristol's Clifton area, Steam offers something a little different with their newly created SoCal bottomless brunch. Inspired by California, each dish is named after a different area of the west coast from the Santa Monica to La Jolla.
It's stiff competition in Bristol with lots of venues jumping on the bottomless brunch bandwagon, but as this is priced at £26.50 per person, it's rather hard to beat. The menu is served Saturdays and Sundays in two sittings – 11am and 1.30pm – so book tickets ahead via their website. The idea is, you pick one of the seven main dishes, drink unlimited prosecco or mimosas and help yourself to pastries and muffins.
With warm lighting, church candles, cable reel tables and chilled music, the whole place radiates a really relaxed vibe – in line with its Californian theme. We were greeted by a very friendly Canadian waitress, Hayley, who immediately poured us mimosas and some iced cucumber water and while we perused the menu, we tucked into fresh pastries. From the main menu, I opted for the Malibu – a creative alternative to eggs on toast. With two slices of moist, homemade courgette bread as the base, it's topped with smoked crispy bacon, avocado, a poached egg and a subtle salsa verde to complete the dish.
My dining partner went for the Big Sur – a Cali take on the full English. But far from the standard, this hearty dish has many components which have their own unique twist. Made up of sausage patty, bacon, bubble and squeak, fried eggs on English muffins, fried potatoes, refried beans and the signature salsa verde, it's not for the faint hearted.
Hayley was extremely attentive and kept topping up our prosecco throughout, although we could pour it at our own leisure. Even though the place was busy, I didn't feel pressured to leave after the two hour slot was up and we retreated to a comfy sofa in the outside decking area to finish off our mimosas in the sunshine.
It's reputation is growing, not only for its brunch, but also because of the pop-up of hearty burgers from the Cornish Burger co, the cask ales and street food events too.
Steam Bristol; Clifton Down Station, Bristol BS8 2PN; 0117 317 9200; steambristol.co.uk
Brunching in...
Asparagus, berkswell cheese and soft boiled egg
Serves 4
24 Asparagus spears
75g Unsalted butter
Chicken stock
4 Medium free range eggs, use the best quality you can
​Berkswell Cheese 
Break the asparagus spears by holding gently at each end and bending until it breaks at its tender point. At this point take all the tougher ends and juice them or blend with a little water and strain. Reserve the juice.
Heat a pan wide enough to contain all of the asparagus in a single layer then add the asparagus, season with a little salt and cook until the asparagus just about starts to roast.
At this point add the asparagus stock and add chicken stock to just cover the asparagus if necessary. Bring to the boil and cover with a lid or foil. Cook for 3 minutes then remove the lid and continue to boil until most of the liquid has reduced away and what is left forms an emulsion with the butter giving a nice glaze to the asparagus.
Bring a pan of water deep enough to contain the eggs to the boil, add the eggs and cook for 5 minutes.Cool slightly under cold running water but peel them whilst still warm. Cut in half and season with salt and pepper. Scatter the asparagus on your plate and top with an egg, finish with some Berkswell cheese shaved with a vegetable peeler.
Recipe by Steve Groves, head chef at Roux at Parliament Square, rouxatparliamentsquare.co.uk
Join our new commenting forum
Join thought-provoking conversations, follow other Independent readers and see their replies