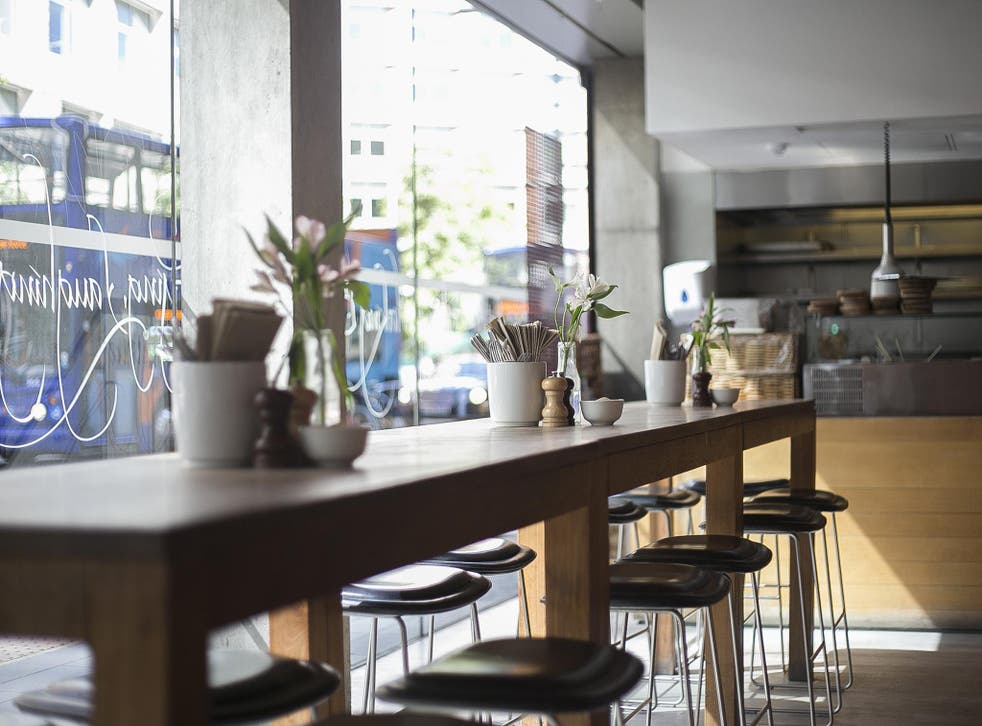 Brunch on Saturday: Table review and potato and beetroot latkes recipe
This week in Brunch on Saturday, Megan Townsend tries out a riverside breakfast that ticks all the boxes and we make a beet variation of classic potato latke at home
Brunching out..
The Table Cafe in south London is a riverside success story. Originally opened as a small sandwich shop for city workers, the cafe has grown rapidly, offering after-work cocktails, an esteemed dinner menu and, the newest addition, a weekend brunch selection.
The sandwich joint feel is still very much present in the decor; it has the feeling of a grown-up Pret-A-Manger, with its long wooden tables, benches and cherry red roof.
Everything is intentionally minimal to aid the "7-days-a-week" function of the restaurant; the space is adaptable with no set seating plan – families and large groups are free to make themselves at home.
Everything about Table does what it says on the tin. The brunch menu has no surprises with vegan and gluten-free options aplenty – the Borough full English (£12.50), featuring sourdough toast, herb-roasted mushrooms and chorizo baked beans, hits all the right spots, while the veggie Borough (£11) includes grilled halloumi and buttered spinach.
The eggs your way box is well and truly ticked, with three separate offerings of eggs benedict (£9) with bacon, eggs royale (£12) with salmon and eggs florentine (£8) with spinach; all served on thick, soft white muffins with a rich, tangy hollandaise.
For a sweeter option, the brioche French toast (£8) features baked brioche drenched in eggs and cream, accompanied with cinnamon and sweet/spicy plums and yoghurt.
The waffle and pancake selection is the real star of the menu. Toppings are the same for both, ranging from the more savoury all day breakfast (£10), laden with crispy bacon, sausages and scrambled eggs, to the sickly sweet and impossibly tempting True Blue (£9), featuring blueberries, double cream and maple syrup.
The cocktail selection (all £7) is unique to the menu, and reveals a more playful side to Table. The more sophisticated classics like bloody Marys and mimosas feature alongside the "Dirty Dirty Lilt" – a devilish take on the fruity pop, with grapefruit gin and pineapple soda.
The Table Cafe is perfect for those wanting an affordable brunch, that will work around them instead of the other way around.
The Table Cafe, 83 Southwark St, London SE1 0HX; thetablecafe.com; 020 7401 2760; open all week, hours vary
Brunching in...
Potato and beetroot latkes
Prep: 10 mins
Cook: 10 mins
Serves 4
300g smooth potatoes (such as Desiree), peeled
2 spring onions
Groundnut oil for frying
To serve
400g smoked salmon
4 large teaspoons creme fraiche
Snipped fresh chives
Turn your oven to 150C/gas mark 2. Take a large mixing bowl and beat your eggs, then stir in the flour. Coarsely grate the potatoes and squeeze out any excess water using a tea towel. Add this to the egg and flour along with coarsely grated beetroot and chopped spring onions. Season with salt and milled pepper and mix everything well.
Place a large frying pan over a medium-high heat and add the groundnut oil. When hot take a heaped tablespoon of the latke mixture to the pan, flatten slightly so they are about 2cm thick and leave to cook until golden and crisp (about 3-4 minutes). Flip over and cook on the other side until golden and crisp. Pop into the oven to keep warm whilst you prepare the second batch.
When you have all 8 made you are ready to serve. Place the latkes onto your serving plates, top with waves of smoked salmon and finish with a little creme fraiche, chopped chives and a milling of fresh pepper. Alternatives to beetroot that also work really well are swede, courgette, mouli, parsnip or squash.
Recipe and image from lovepotatoes.co.uk
Join our new commenting forum
Join thought-provoking conversations, follow other Independent readers and see their replies