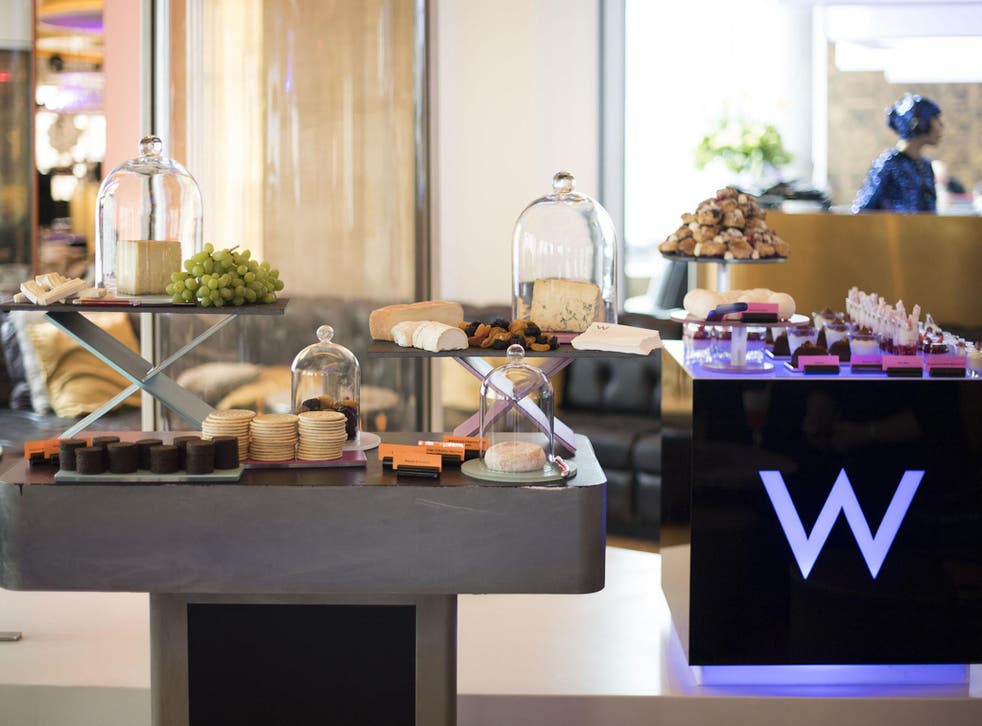 Brunch on Saturday: Unlimited bubbles and eats and healthy vegetarian bowls
This week in Brunch on Saturday, Emma Henderson visits a new brunch concept with unlimited bubbles and food and we try making a healthy green vegetarian bowl from the Green Kitchen at Home cookbook
Brunching out...
Anything that calls itself a "brunch concept" can send warning signs that it could be veering on the wrong side of pretentious, especially with a name like RETOX. (Their caps, not mine.)
But in reality, what the W London Hotel has put together is elegant, indulgent and pretty good fun. Let's face it; you go for the "free-flowing bubbles". But do remember, it is actually champagne – and they're keen for you to remember it and will correct if you if you dare falsely mention the "p" (prosecco) word.
It begins from 12 noon, and for £45 per person you'll get the free-flowing champagne and unlimited food, from starters, hot mains and the cheese and pudding stations. There are also plenty of smoothies with its own dedicated bar. You're eyes are undoubtedly going to be bigger than your belly here as the food looks beautiful, is perfectly plated and tastes bloody good.
Set on the first floor of the hotel, after coming out of the elevator, the first thing you'll notice is there's a DJ who will be playing tunes the whole time (and will be joined by a bongo drummer too). There's no tables as such, seating is more like large curvaceous sofas with little side tables to balance all your goods on. It's meant to be relaxed, but in reality you're forever trying to balance your numerous plates on said small table and artfully move drinks around in order to make more room. And you will need to make more room, as there is so much food.
You're encouraged to snack at the fuel station – where traditional healthy breakfast sit in tiny bowls – like bite-sized taster options from granola and yoghurt topped fruit to mini Ceasar salads and potato tortillas. But you are warned not to dive into the cheese or pudding stations too early – as aside from these and the huge iberico ham leg station, there's also a selection of hot dishes brought around for you.
I counted eight of these – all in mini form which staff bring round and you can have as many as you want. We stared with a poached egg and spinach on English muffins and moved on to fish and chips, mushroom risotto, pancakes covered in fruit, vegetarian ravioli. In short, it was endless. And I had to say no to some of the dishes in the end, which is a shame to miss out on.
It's a lenthy event – I spent three hours there and could have stayed longer. Go for a celebration or with a group and make a day of it.
10 Wardour St, Leicester Square, London W1D 6QF; 020 7758 1000; wlondon.co.uk/w-hotel-bar
Brunching in...
Herby green breakfast bowl
Serves 2
Prep + cook time: 15 minutes
While a lot of our breakfasts lean towards the fruity /sweet or the rich oaty/ grainy, this bowl is savoury and protein-packed yet also fresh and light. A base of quinoa and kale is studded with dill and parsley and topped with avocado, radishes and a soft-boiled egg. By simply rubbing the kale with oil and lemon, it softens without needing to be cooked, which not only saves time but also on dirty dishes. Before digging in, we sprinkle some Dukkah (page 202), Savoury Granola (page 200) or toasted seeds on top, for added flavour and crunch.
100g curly kale, stems removed
1 tbsp extra-virgin olive oil, plus extra to drizzle
1 tbsp lemon juice
2 tbsp chopped fresh flat-leaf parsley leaves
2 tbsp chopped fresh dill
150g  cooked Quick
Quinoa - ½ cup uncooked, boiled in salted water for 15–18 minutes
sea salt and freshly ground black pepper
To serve
2 free-range eggs
2 ripe avocados, stones removed and flesh sliced
4 radishes, sliced
1 tbsp extra-virgin olive oil
2 tbsp Dukkah or savoury granola 
Fill a small saucepan with water and bring to a boil. Add the eggs and let them cook for 6–7 minutes before removing from the heat. Rinse the eggs in cold water and carefully peel off the shells. Meanwhile, roughly chop the kale and transfer it to a large mixing bowl. Add the oil and lemon juice and massage the kale for a minute or so or until the leaves begin to soften. Add the parsley and dill to the bowl along with the cooked quinoa.
Season to taste with salt and pepper and stir until combined. Divide between two bowls and serve topped with halved eggs, avocado and radish slices, a sprinkling of dukkah or granola, and a drizzle of oil.
Tip: For a vegan alternative, simply leave out the egg.
Green Kitchen at Home: Quick and healthy vegetarian food for every day. By David Frenkiel and Luise Vindahl (Hardie Grant), £25
Join our new commenting forum
Join thought-provoking conversations, follow other Independent readers and see their replies