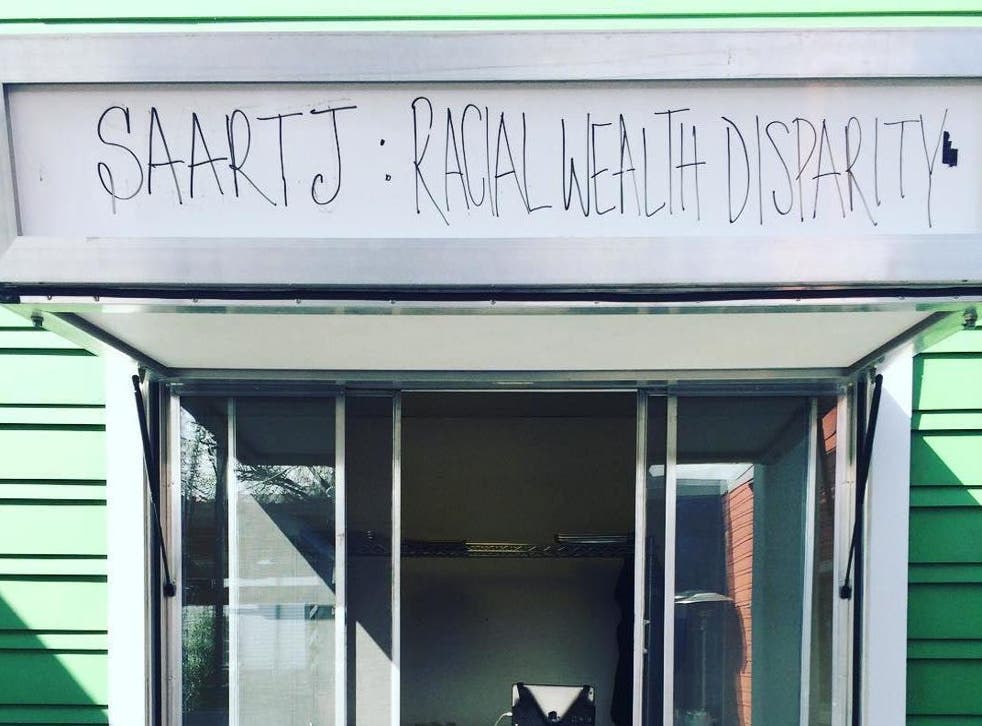 Chef in New Orleans charges black customers $12 and white customers up to $30 in social experiment
Chef Tunde Wey wants his customers to confront the racial wealth disparity
Chelsea Ritschel
in New York
Friday 02 March 2018 22:01 Comments
Chef Tunde Wey is serving up authentic Nigerian food alongside a healthy serving of reality at the Roux Carre market in New Orleans - where he has been carrying out a social experiment.
For diners looking for a quick lunchtime meal at Saartj, set up in an outdoor food hall, lunch comes only after they acknowledge the racial wealth disparity in New Orleans - where the median income among African American households in New Orleans is just $25,806, compared to $64,377 for white households.
Wey informs his customers of the facts in a speech that takes several minutes - then he tells them the price of their lunch.
For customers of colour, Wey tells them their meal will cost $12, but they can also collect $18 if they want it. But for white customers, Wey tells them they can either pay $12 - or they can pay $30, a price that reflects the wealth disparity in New Orleans.
For the profits from the $30 meals, Wey redistributes the money to people of colour - regardless of income.
After making their decisions, Wey then asks his customers a series of survey questions designed with the help of a Tulane University student, to gauge the responses. But some white customers have simply walked away.
However Wey told Civil Eats he has also seen "positive social pressure" with his white diners - with 78 per cent paying the $30 to "right" the wrong of the wealth gap.
"Refusing to pay more comes off as anti-social and people don't want to be judged for that," Wey said. "People look on the other side of the till and see me standing there and they're thinking that I'm judging them."
And if they couldn't pay the higher price, or chose not to, Wey says they usually gave him a number of reasons why.
However, with his customers of colour, Wey found that many refused to take the $18 offered, telling Wey: "I don't need that money, give it to someone else who needs it," - some even tried to pay the $30.
Overall, Wey has been using the experiment to educate people about the racial gap and see how they respond when they are confronted by the reality of it.
And while the pop-up social experiment ends March 4, Wey hopes it will have impacted the diners who have stopped by - and provoked "further thinking."
The pop-up is named after Saartjie Baartman, a Black South African woman who was renamed Venus Hottentot and displayed for the "perceived abnormality" of black female bodies, according to Saartj's website.
According to the website, Wey wants his diners to confront "exploitative systems operating heartily, if sometimes covertly."
The Independent has reached out to Chef Wey for comment.
Register for free to continue reading
Registration is a free and easy way to support our truly independent journalism
By registering, you will also enjoy limited access to Premium articles, exclusive newsletters, commenting, and virtual events with our leading journalists
Already have an account? sign in
Join our new commenting forum
Join thought-provoking conversations, follow other Independent readers and see their replies