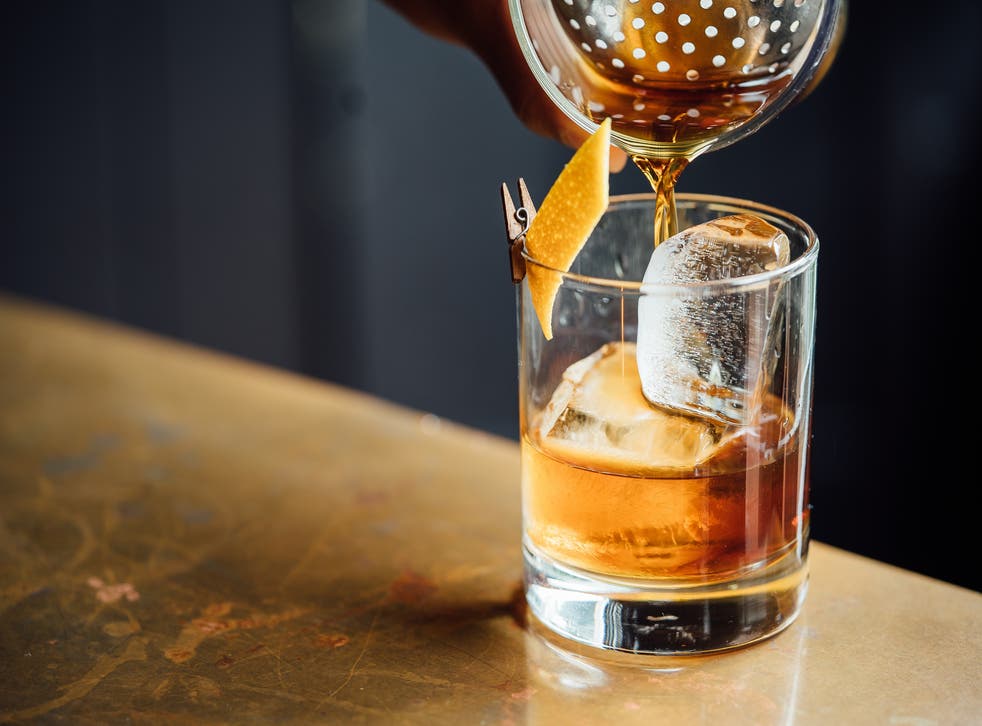 Cognac: What is the liquor and why is it becoming so popular?
Cognac starts its life off as wine produced from white grapes
If you'd brought up the word cognac 10 years ago, we'd have pulled a face and that would have been the end of the conversation. Fast forward to today and we regret that naivety - cognac has become one of our most loved and frequently used spirits, for so many reasons.
After hearing more and more people begin to talk about the stuff, we did what any discerning drinks writer would do - we got on a plane and went to see for ourselves what all the fuss was about. The simple truth is, cognac is not a bottle that belongs at the back of your grandma's drinks cabinet, but so much more.
Over the past five years we've seen a substantial increase in the number of global exports alongside ways in which this delicious drink can be enjoyed.
The problem is, no one knows exactly what it is - is it brandy? Is it whisky? Is it some fortified vodka? These are questions we get asked on a weekly basis, which brings us to this column.
What the hell is cognac and why is it becoming such a force of nature as far as drinks curiosity is concerned? Finally and most importantly, how should you be drinking it to get the very best out of it? This is everything you need to know.
Where does it come from?
Cognac can only be called cognac if it's from Cognac, a small region in France about 100km north of Bordeaux that is built up of six sub-regions, each of which is permitted to create cognac.
Each one is vastly diverse and allow the grapes which will eventually be turned into the drink to have unique characteristics based on the soil type, micro-climates and general terroir.
Here they are based on their quality levels and roughly how much of the overall cognac production comes from each. Side note: The region of champagne is totally different and located a seven-hour drive (700km) down south.
Grande Champagne (roughly 17 per cent)
Petite Champagne (roughly 22 per cent)
Borderies (roughly five per cent)
Fins Bois (roughly 43 per cent)
Bons Bois (roughly 12 per cent)
Bois Ordinaires (roughly one per cent)
If you look at a bottle and they don't have any of the above names on them, that would indicate a cognac produced from multiple different areas and of different ages. Equally, there are cognacs which are made from a single grape variety within a particular cru – you'll see this on the label. Your final piece of regional know-how comes from the words "1er Cru" - if you see this it means that Cognac is produced solely from the best area - Grand Champagne.
So, what is Cognac?
In simple terms, cognac starts its life off as wine produced from white grapes. Of those grapes, at least 90 per cent must be Ugni blanc, Folle Blanche and Colombard. The other 10 per cent can be made from a number of different grapes including Semillon and five more you've likely never heard of (Folignan, Jurançon blanc, Meslier St-François, Sélect and Montils).
Once the wine is fermented, the liquid is placed into a copper pot still called a "Charentais" to undergo a double-distillation process. What comes out the other end is a brandy, referred to as eau-de-vie ("oh duh vee"), or "water of life". This totally clear liquid smells just like fresh peaches and apricots, although being over 70 per cent ABV, you probably won't want to drink too much of it neat.
From Brandy to Cognac
We now take this clear brandy liquid and turn it into cognac – a process of which takes a minimum of two years in oak barrels to achieve. Many other spirits use casks which have previously held another spirit, this adds a distinct flavour to their new creation (think ex-bourbon or ex-scotch). For cognac, however, ex-spirit casks are not allowed, only oak casks that are brand new or have previously held a wine.
As a result, we're now seeing more and more cognac houses producing ex-sherry and ex-sauternes cask cognac. It was also once assumed that only French oak was allowed to be used in the barrels, but in the past 10 years there have been a small handful of producers using American oak, which quite frankly is very exciting. Hello, innovation!
We're not going to totally geek out today but it's important to mention just how crucial the oak itself is to imparting flavour on the spirit. How much sunlight the tree got, how close to the water it was, what flowers grew around it, how thick or thin the grains are and how much "toast" (where they char the barrels before use) each barrel endured will have a colossal impact on taste.
The more time the liquid spends in the barrels, the darker it will become. Another interesting fact is angel's share, where two per cent of total inventory evaporates into the atmosphere each year - that's around 22m bottles-worth, by the way.
The regional body which looks after Cognac ensures that all of these processes are highly regulated so that only the best possible liquid is being produced in the region and that's why even the cheaper stuff is great.
Alright, there's your ABC Guide to understanding how cognac comes to be - now let's move on to the reason why we're all here today - the different types of cognac, how they should be enjoyed and the bottles worthy of your money. .
VS - Very Special
Also sometimes referred to as "three stars", this is an eaux-de-vie which has been aged in oak barrels for a minimum of two years. Your VS cognac is always going to be the cheapest on the market because of this and usually an indicator of a cognac that is perfect for more basic cocktails or mixers. Introducing the world of the highball - this is basically where you take a mixer (ginger beer, cola etc) and add in a generous splash of cognac. Simple, yet tasty.
Bache Gabrielsen American Oak - £32, $33
VSOP – Very Superior Old Pale
Sometimes referred to as "Very Special Old Pale", this is a cognac that has spent a minimum of four years in oak barrels. Okay, here's where things get a little more confusing so stick with me - cognac in most cases is a blend and a VSOP may very well have much older cognac in it, however, it will always take its name from the youngest liquid it contains.
For example, imagine we've got a blend of four, six, 10 and 20-year aged cognacs. Despite the average age being 10 years, it will always be referred to as a VSOP due to the four-year old cognac being within the blend.
This is why the quality and taste levels of VSOP's are so insanely good, especially when it comes to value for money.
This is also where mixology starts to get really exciting as there's so many incredible cocktails you can create with VSOP's that the world is rapidly falling in love with.
Martell VSOP Red Barrel - £40, $47
Camus Borderies VSOP - £48, $55
XO – Extra Old
Referred to as "Extra Old" an XO must have been aged for a minimum of 10 years in oak barrels (this changed from a minimum of six years in 2018 when they wanted to further enhance the quality).
Out of the three major styles these are the most expensive and top quality, given how there's likely much older cognacs than just 10 years in the bottle.
Usually the best way to enjoy them is neat in order to get the most out of the spirit. However, there are some cocktails which really allow the cognac itself to shine through, like an old-fashioned recipe you'll read about below.
Bache Gabrielsen XO - £70, $88
Frapin Cigar Blend XO - £100, $100
Delamain Cognac Pale & Dry XO - £98, $100
The Cognac Innovation Category
What's this? A new category? Not yet, officially… but there are some cognacs out there that don't fit into the above three categories. Perhaps they don't use oak in their barrels or decide to use a cask which previously held another spirit, there are many reasons.
One thing is for sure though, what they are doing is paving the way for innovation and these bottles are a huge contributing factor as to why more and more people are beginning to explore this spirit.
Some of the most creative bottles within this category, such as Remy Martin 1738 or Hennessy Master Blender, have pushed the boundaries of experimentation and, unsurprisingly, they taste good.
Hennessy Master Blender - £55, $110
Remy Martin Tercet - $105
Cocktails
Cognac can be enjoyed neat, especially the super old expressions but cocktails are an undeniable force of nature allowing folks to find a new love for a spirit they've never tried before.
Cognac is a fabulous base spirit and honestly, there is no reason why you shouldn't have a few bottles knocking around for when your inner mixologist wants to experiment.
Below, we've listed out a variety of cocktails you can make at home and trust me, not only are they easy, they're damn impressive too.
Cognac and Ginger Ale
Sounds simple right? That's because it is. This, ladies and gentlemen is what we call a highball. We take a base spirit, which in this case is cognac, and top it up with a mixer. The flavours from each combine to create a truly thirst-quenching drink. You can even find a garnish to pop on top if you want to be fancy. Mint leaf, basil, raspberry, go on, think outside the box!
50ml (2oz) cognac
Ginger beer
Optional garnish (basil, thyme, raspberry, mint etc)
Instructions: This one is really difficult. Fill a glass with cubes of ice, add the cognac and top up with the ginger beer.
Spiked coffee
Perfect for those brunch gatherings, this is a new take on the famous whisky coffee. The honey, caramel and brown sugar of the cognac is the perfect match for Kahlua and coffee, creating a really smooth, warming drink to give you a wake-up buzz that tastes great.
100ml (4 oz) coffee
25ml (1 oz) Kahlua
25ml-50ml (1-2 oz) VS cognac
Instructions: Prepare your coffee as you usually would and then just add in the Kahlua and cognac before gently stirring. Add sugar to taste.
Sidecar
This is probably the most traditional cognac cocktail there is. Sidecars are probably the main reason people fall in love with cognac, it certainly started that way for us.
40ml (1 1/3 oz) VS or VSOP cognac
10ml (1/3 oz) fresh lemon juice
10ml (1/3 oz) triple sec (I recommend Cointreau or Grande Marnier)
Ice cubes
Slice of orange peel
Instructions: Place the ice cubes in a shaker with the cognac, lemon juice and triple sec then shake vigorously with your best moves. Strain into the glass using a cocktail strainer and press the orange peel over the drink to make it look fancy.
Pink life
This one is classy and for all the right reasons. If you enjoy a fruity cocktail, this may be your new go-to. The raspberry liqueur really brings out the best in your cognac, with the bubbles from the champagne elevating the taste to a whole new level.
20ml (2/3 oz) VSOP cognac
10ml (1/3 oz) raspberry liqueur
90ml (3 oz) champagne
1 fresh raspberry
Instructions: Add the cognac and raspberry liqueur to a flute glass before topping up with extra chilled champagne. Finally, add a raspberry as the garnish.
Sazerac
The Sazerac has been around since the early 1800s and is quite similar to its cousin, the Old Fashioned. The recipe may have shifted slightly more towards rye over the more decent decades, but that won't stop us switching things up and doing a 50/50 switch between cognac and whisky. This drink is unmistakably smooth, rich and a tribute to New Orleans.
Absinthe, to rinse (if you don't have absinthe, don't worry)
1 sugar cube
1/2 tsp cold water
3 dashes Peychaud's bitters
2 dashes angostura bitters
40ml (1 ¼ oz) rye whiskey
40ml (1 ¼ oz) VSOP cognac
Garnish: lemon peel
Instructions: Swish a little drop of absinthe around the glass to line it (optional). In a mixing glass, muddle together the sugar cube, both bitters and water then add the rye and cognac. Fill with ice and stir until the mixture is well chilled before straining into a glass. Finally, twist a lemon peel over the to allow the oils to infuse with the drink and then discard.
Cognac Julep
This is one for those who like a cocktail more on the refreshing side. It features minty and sweet flavours with a kiss of cognac to bring a wonderfully aromatic touch to the drink alongside those honey and caramel notes we've come to adore so much.
12 fresh mint leaves
75ml (2 ½ oz) cognac VSOP
20ml (2/3 oz) Monin pure cane sugar syrup
Instructions: Shake all ingredients with ice and fine strain into a julep cup half filled with crushed ice. Stir the drink with the crushed ice, top up with more crushed ice and stir again until liquid reaches the top. Garnish with mint leaf. (Note: you can make crushed ice by putting a load of cubes into a freezer bag and taking all of your life frustration out on it with a rolling pin).
Old Fashioned
We truly adore this cocktail - it's an excuse to use a really good XO cognac without the taste being overpowered. Given the XO is the base spirit (and pretty much the only spirit) all you're doing is enhancing it's flavour with the bitters, tiny amount of syrup and orange peel oil.
75ml (2 ½ oz) cognac XO
7.5ml (¼ oz) of monin pure cane sugar syrup
2 dashes of angostura bitters
Stir the sugar syrup and bitters
Orange peel to garnish
Instructions: Simply combine all ingredients into a mixing glass, add ice and then stir with a spoon until the mixture is cool. Strain over a glass with a large ice cube (or multiple larger ice cubes if you haven't got a massive one).
Well my friends, there we have it - your comprehensive guide to cognac. We truly hope that having read this you're either inspired to go out and buy a bottle to explore or, if you own one, to play a little mixology and see what cocktails you can create. Cognac is a stunning spirit and we're ever-thankful it now has a place, front and centre, in our drinks cabinet.
Aidy Smith is The Independent's wine and spirits columnist and award-winning presenter of the Amazon Prime TV Series, The Three Drinkers.
Join our new commenting forum
Join thought-provoking conversations, follow other Independent readers and see their replies