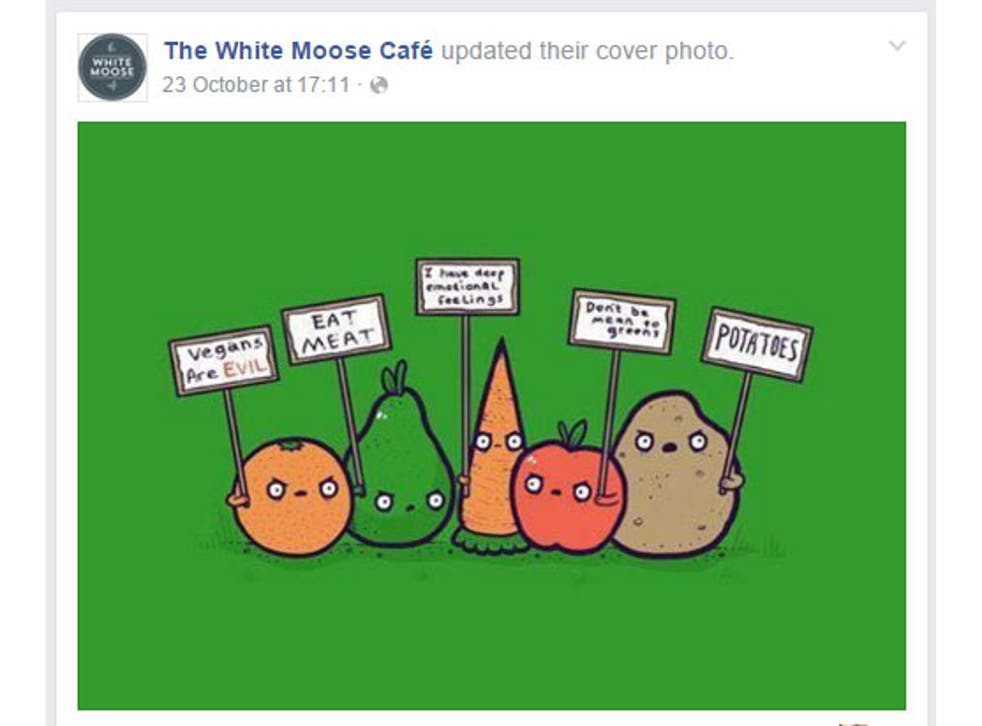 Dublin cafe owner Paul Stenson is trolling vegans on Facebook and they are not responding well
Stenson is enjoying the fruits of his labour while receiving thousands of 1* reviews as a result
It all started with a vegan customer. The exact complaint of the customer is unknown, but it sparked a snotty Facebook post from the White Moose Café in Dublin that has now turned into a vegans vs café online saga.
The post from owner Paul Stenson in August read: "Attention vegans. Please do not waltz into our café with no advance notice and look at us as if we have 10 heads when you realise there aren't 50,000 items on our menu that suit your idiosyncratic dietary requirements.
"Our chef will be more than happy to prepare a number of dishes for you, but a little heads up in advance of your visit would be appreciated. Fair is fair like."
Stenson told Buzzfeed that the customer he had been talking about recently discovered the post and shared it across a number of vegan Facebook groups. As a result, the café started being bombarded with negative Facebook reviews, 1* reviews and negative comments from people who had not visited the café.
Refusing to back down, Stenson has been revelling in the vitriol and actively winding up the vegan community in a series of posts, claiming they have been barred from the café and promoting a meat-heavy fry up. He also mocked a group of protesters who turned up outside the café to show their anger at his comments. He told Buzzfeed his Facebook page is run in a tongue-in-cheek way, "so I fought fire with fire".
Stenson also shared and mocked some of the negative comments he had been receiving from people. In a recent post he wrote: "Vegans, how do you expect me to read ALL the death wishes if you can't keep your messages to one sentence? Come on now. Please be more efficient in your messaging and have a bit more consideration for me. One sentence only per hater from now on. Cheers guys. You're the best." He attached a picture showing a message from one troll that said: "Hope you die f*cker xx" and, "A painful death. C*nt face. J"
The upshot now is that Stenson's café has received thousands of 1* reviews from people across the world, which have been counteracted by thousands of 5* reviews from strangers offering him support.
Join our new commenting forum
Join thought-provoking conversations, follow other Independent readers and see their replies