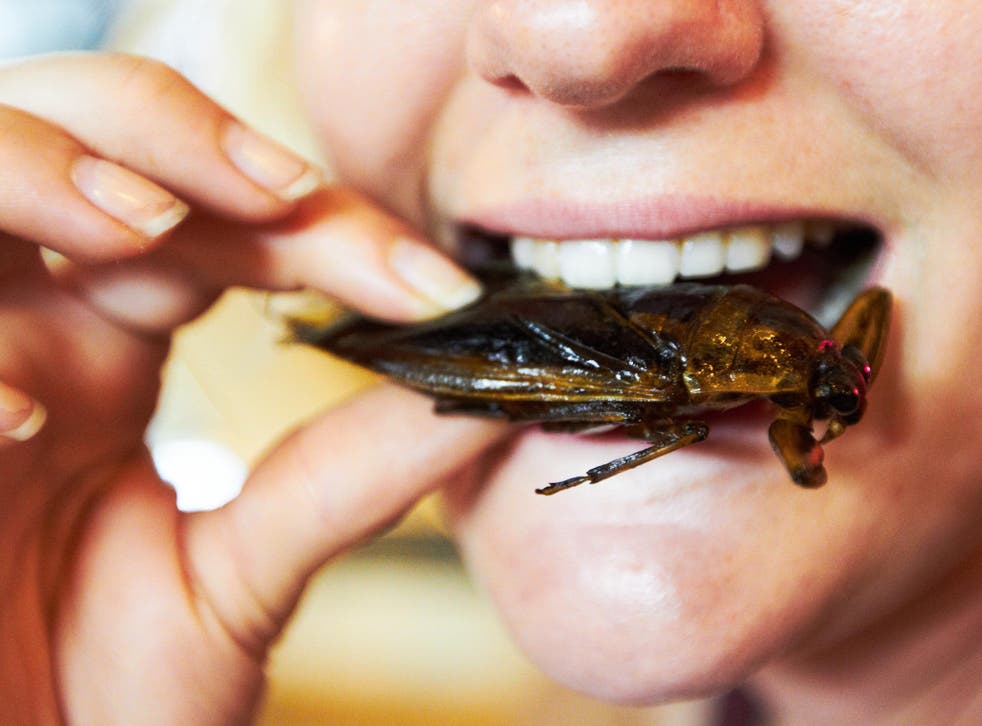 How eating giant hornets and cheese with larvae could solve the global food crisis
Roberto Flore from the Nordic Food lab on how people in Europe need to have stronger stomachs if we are to live sustainably 
Kashmira Gander
Wednesday 24 May 2017 15:28 Comments
Roberto Flore is from the Italian island of Sardinia, where casu marzu, which translates to putrid cheese, is a delicacy. The sight of thousands of pale fly larvae crawling inside the sheep's milk cheese is a sign that it is ripe and ready to eat.
"The larvae are jumping all over it," Flore, who is the co-author of the new book On Eating Insects, tells The Independent. "Imagine the smell and taste of the most powerful cheese you've ever eaten and times it by ten," he adds, describing its smell and flavour. Casu marzu is made by shaving the rind of pecorino cheese to allow the piophila casei fly to lay its eggs inside the block. As the eggs hatch and the larvae grow, the acid from their digestive systems turn the cheese into a soft paste undulating with life. It is then spread on flatbread and served with strong, red wine.
Flore is the head of culinary research and development at the Nordic Food Lab. The organisation was established by Michelin-starred former Noma head chef René Redzepi and food entrepreneur Claus Mayer on a boat in the Danish capital of Copenhagen, to research how food can be used in a more holistic ways, as around one third of the food produced in the world for human consumption goes to waste. That's approximately 1.3 billion tonnes.
The Nordic Food Lab - in pictures

Show all 11
Since its humble beginnings in 2008, the lab has moved into a laboratory at the University of Copenhagen. Past research projects have included investigating whether animal blood can be used as a replacement for eggs to reduce waste and offer an alternative for those with allergies. And whether rancid butter could be used more widely, like it already is in Morocco to create smen: a mixture of butter, herb-infused water, strained and left to age sometimes for decades and eaten on special occasions.
As part of his role, Flore was tasked with travelling the world and documenting and re-thinking what constitutes food: often involving grub - literally - that is seen as unpalatable to the average person in the West.
And the creepy-crawly filled casu marzu is a prime example of how eating insects can be found in cultures across the world, if we look hard enough.
Flore has travelled to five continents as part of his project. And as the food couldn't be further from mass-produced sludge in a factory, Flore found himself in some of the remotest parts of the world. During one trip to discover how killer hornets are consumed Japan, he feared for his life.
"We met local hornet hunters. I was really scared because if you search the internet the only info you can find warns you that you are going to die".
"When you collect the larvae the whole hive starts to fly out and try to bite you. It's the hunter's responsibility to take the adults and put them into alcohol. When the giant hornets die, they start spraying venom."
The less developed larvae are creamy and sweet, says Flore, and eaten with soy sauce like sashimi. The bigger larvae are used to make the alcoholic drink.
"It really nutty," recalls Flore. "Like a really light walnut flavour. And still have the smell in my mind. When the hornets are really pissed off they spray venom and try to bite you. It's probably the bravest adventure of my life."
The experience also taught Flore a valuable lesson.
"When the hunter started to bring out the hornets I realised that we were doing something that people have been doing for thousands of years. It shows how important it is to do field work and meet people and document these incredible things that happen around the world.
"Like the cheese in Sardinia. Everyone says it the most disgusting cheese in the world, but few see its cultural significance and how it was a way for shepherds to solve food waste."
In northern Thailand Flore tried the giant water bug, or malaeng da, that tastes of coriander and ginger and is mixed with spices and served with sticky rice. He was also impressed by how they pioneered farming crickets on a mass scale in the 1970s. During his trip to Kenya, Flore found himself testing the local delicacy of termites, which are caught in buckets and containers when the bugs swarm together in the rainy season. He sampled the honeypot ant, meanwhile, when he was visiting Mexico - where there are over 530 species of edible insects.
"Ant society is divided into casts so different ants have different responsibilities. Those specific ants have the possibility to collect really sweet liquid inside of their abdomens. In periods of scarcity the ants are able to feed a whole colony," explains Flore. "The flavour is amazing it tastes like a wine. It has a really complex flavour. You just suck the abdomen and the liquid comes out."
Thanks to researchers and adventurers like Flore, the rest of us don't need to crawl on our hands and knees in the arid Mexican desert to try out insects. As arguments for eating insects as a means of feeding the world's population in a sustainable way become more mainstream, firms like Aketta and Grub enable us to buy insects online in relatively appetising packaging and covered in familiar flavours from BBQ to sour cream and onion.
"One of the easiest ways to try insects in Europe is to try bee larvae, or you can find different types of crickets," suggests Flore. "One of my favourite recipes in the book is the bee larvae taco because it represents how insects can be used in Europe. It uses Mexican techniques but using 100 per cent of the ingredients that are from Europe. It breaks down the idea that insects are only 'exotic' foods."
"I don't want to force people to eat insects," he adds. "But we need to try to see these arguments from the point of view that insects taste really good and that many people are already eating them." Besides, as the global food crisis shows no sign of abating, we have little choice, suggests Flore, adding: "They're safe to consume and if humans want to be sustainable we need to have a more adventurous diet."
Register for free to continue reading
Registration is a free and easy way to support our truly independent journalism
By registering, you will also enjoy limited access to Premium articles, exclusive newsletters, commenting, and virtual events with our leading journalists
Already have an account? sign in
Join our new commenting forum
Join thought-provoking conversations, follow other Independent readers and see their replies