The 10 Best Plates

Show all 10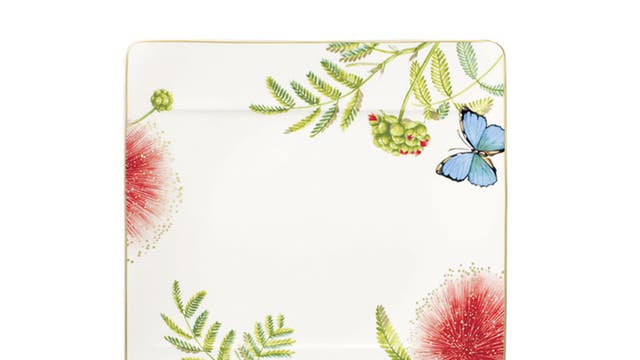 The 10 Best Plates
1. Villeroy & Boch
£55, villeroy-boch.co.uk
Here's a real statement plate – not just because of its square shape and beautifully detailed artwork, but because tropical prints are all the rage in tableware.
2. Rob Ryan
£28 for set of four, hunkydoryhome.co.uk
This is one of a set of four 9in china plates, with eye-catching blue decoration showing the same tree across four seasons.
3. Emma Bridgewater
£15.95, emmabridgewater.co.uk
Available in red or blue, the plates are hand-decorated, so each one is slightly different.
4. Linea
£3.85, houseoffraser.co.uk
White dinner plates can be stunning, but why not add a subtle nautical theme with this porcelain Pacific plate, decorated with a blue band?
5. Broste
£10, johnlewis.com
Featuring a rustic, mottled finish with a lustrous gloss, the Nordic plate has an almost shell-like aesthetic. Perfect for anyone wanting simple elegance.
6. Kindle House
£14.95, kindlehouse.co.uk
Add a bit of frivolity to your dinner table with this 10in porcelain plate, covered in a cheery and colourful design of varied buttons.
7. Mateus
£23.50, selfridges.com
There aren't many plates with textured designs, but this handmade one from Portugal has raised butterflies that work well.
8. Nimerology
£65, thomasgoode.com
Nour Al Nimer's designs are delightful recreations from motifs and old historic photographs, engravings and paintings.
9. The Art of Entertaining
£15, notonthehighstreet.com
Present your dinner as a work of art with this ceramic plate, featuring a frame in delft blue. Kids can create fun pictures while adults can be a bit more abstract.
10. Beatrice
£20, tastia.com
A vintage china dinner plate featuring an English rose motif, which has then been illustrated with a 1930s-style lady. Each piece is hand-painted and unique.
Join our new commenting forum
Join thought-provoking conversations, follow other Independent readers and see their replies