The 10 Best scones

Show all 10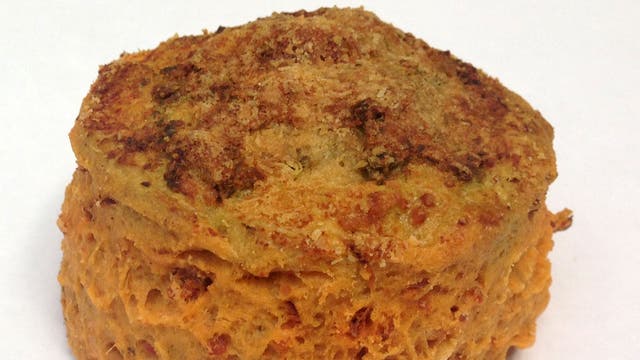 The 10 Best scones
Whether it's as part of a classic cream tea or as a savoury snack, the traditional British treat has few equals
1. All'Scone Pesto and Chorizo scone
A little bit of heaven fashioned into the form of a savoury scone. The pesto and chorizo come together to make a very appealing snack indeed. If it's love at first bite, you can have a try at creating your own, as its makers have just published a book, The Little Book of Scones, with the recipe in it.
£2 each, allscone.com
2. Fortnum & Mason Plain Baby Scone
Most scones need clotted cream and jam. These scones need no embellishment whatsoever. With a pleasingly  textured exterior and lovely moistness on the inside, they are phenomenal.
75p each, fortnumandmason.com
3. The Modern Pantry Sun-dried Tomato Scone
Easily the most interesting scone we tried. Pumped full of goat's cheese and tomato relish, with just the vaguest hint of chilli, you'll forget about the charms sweet scones. They are wholly irresistible and, as a bonus, gluten-free.
£1.75 each, themodernpantry.co.uk
4. Konditor and Cook Sultana Scone
Covered with powdered sugar, these scones leave your fingers with a lovely, lickable, sugary residue. Slather them in raspberry jam and clotted cream and some chopped strawberries and you'll find yourself in afternoon-tea heaven.
£2.65 each, konditorandcook.com
5. Gail's Apricot, Blueberry and Ginger scone
This scone tastes much better than it sounds. The fruity twang of blueberry and apricot perfectly balance out the ginger flavour. And the sugar on top adds a lovely extra crunch and makes an already impressive treat even finer.
£1.95 each, gailsbread.co.uk
6. Upsy Daisy Bakery Plain scone
Fluffy as a cloud and really moist, these scones are incredibly appetising. Cooked to perfection, they are delicious with the accompanying strawberry jam. The scones are available alone or as an addition to a very reasonably priced afternoon tea.
£1.95 each, upsydaisybakery.com
7. Marks & Spencer Cheese scone
Made with Taw Valley Cheddar from Devon, these are very fine indeed. They're good on their own, especially if you are a nibbler, and even better with some unsalted butter. Just the thing to keep you ticking through the afternoon until dinner time.
£1.11 for four, marksandspencer.com
8. Bea's of Bloomsbury Plain scone
These scones are cracking at first bite – moist, buttery, and soft as a kiss.  Delicious with jam and cream, they  also come off quite nicely with salted butter. Dangerously addictive.
£1 each, beasofbloomsbury.com
9. Flour Power City Bakery Fruit scone
This scone's buttery flavour is combined perfectly with the fruit scattered throughout its hunking mass. It is a delicious, light treat that does not overwhelm your taste buds. Flour Power is also working on a rhubarb and walnut flavour – so keep  your eyes peeled for that, too.
£2.40 for four, flourpowercity.co.uk
A honking great big scone picked out with sweet little currants. Not one for the faint of appetite – in fact, it might suffice as your lunch – but it's no less lovely (and buttery) for that. We tried it with Caravan's lemon curd cream cheese - delicious..
£2 each, caravankingscross.co.uk