The 10 Best slicers & dicers

Show all 10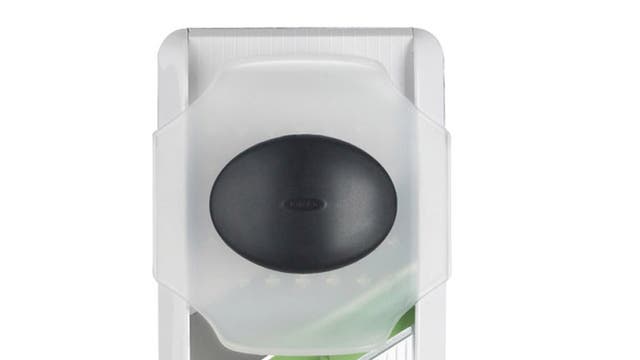 The 10 Best slicers & dicers
Whether you want chunky chips or slender vegetable strips, it's worth investing in the right kitchen kit...
1. Oxo Julienne
£7.99, dunelm-mill.com
Here's a little slicer that allows you to cut picture-perfect julienne strips of just about any vegetables you like. It's also easy to clean and durable.
2. Tefal Fresh Express
£49.99, tefalfresh express.co.uk
Just push the cheese/vegetable/ fruit down the tube on the top and the spinning mechanised blades will do the rest.
3. Koziol Herby Brothers Herb chopper
£19, koziol-shop.co.uk
There is no quicker or easier way to chop up herbs. Just put the green stuff on the board and seesaw the blade over it.
4. Potato Chipper
£15, culinacookshop.co.uk
Few things taste as good as your own homemade chips. This gadget has blades for both chunky chips and French fries. Pull the handle, and hey presto.
5. Rosle Gourmet
£62, selfridges.com
A beautiful and handy gadget that allows you to slice everything from big peppers to tinsy chunks of truffles with ease and to any thickness you like.
6. Kitchen Craft Plastic Egg
£2.50, cooklands.com
The moment you've used it, you will never want to chop a boiled egg with a knife again. Why would you, when this gives such beautiful, well-balanced chunks.
7. Stainless Steel onion and vegetable chopper
£14.99, partridges hadleigh.co.uk
Just press the plunger a couple of times and the rotating blades make short work of all within.
8. Magimix Le Micro Mini
£60, houseoffraser.co.uk
This bad boy will make short work of just about anything you throw into its jaws, making slicing up herbs, spices, nuts, fruit and vegetables a breeze.
9. Easy Twist Garlic slicer
Twenty stainless steel blades cut garlic into small cuboids. Because it cuts rather than crushes, the oil and juice stay inside the garlic.
10. Oxo Good Grips apple slicer
£6.99, lakeland.co.uk
There is an undeniable pleasure in putting an apple through one of these. Maybe a knife would do. But where's the fun in that?
Join our new commenting forum
Join thought-provoking conversations, follow other Independent readers and see their replies