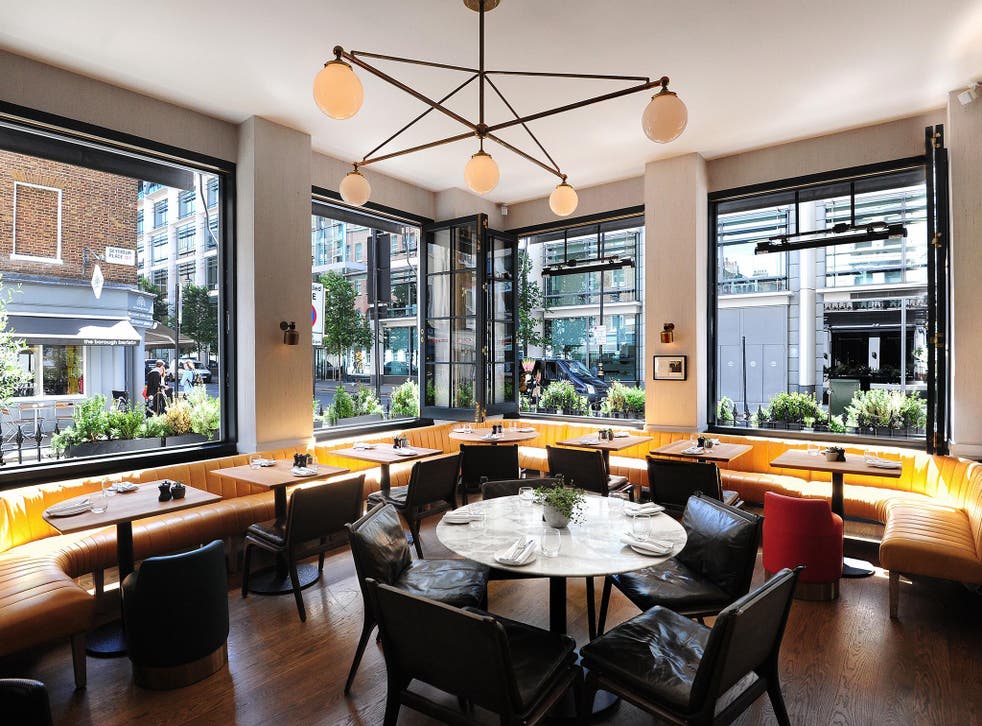 Brunch on Saturday: Bernardi's review and trout with watercress potato cakes
This week in Brunch on Saturday, we try out a west London Italian restaurant run by pair of Australian brothers, and serve up trout atop warm potato cakes 
Brunching out...
Nestled between the butchers and barber shops of Marylebone's back streets, Bernardi's has a neighbourhood feel about it. The west-London Italian restaurant was opened in 2015 by Australian brothers Gabriel and Marcello Bernardi, and they seem to have captured the continental, chilled-out breakfast vibe.
All the other guests appeared to have completely made themselves at home, with larger booths that could seat around six housing just half of that. The atmosphere was incredibly relaxed, the waiters didn't pressure us to finish plates and muted electronic music (provided by a live DJ on Sundays, of course) played in the background as we slowly make our way through the menu.
The interior is very simple, with a colour scheme of black, white and green to please anyone looking for a great Instagram snap. The tables are marble-topped, with leather seating and little potted herbs dotted around the room, making it look a Zara-at-home collection come to life.
It took my guest and I around 45 minutes to nurse our way through the bread.
The food, served by head chef Sabrina Gidda, is Italian with a modern twist. I went for the "brunch" gnocchi alla Romana with poached eggs and salmon (£11). The gnocchi was pillowy and tender and, though alarming at first, it merged nicely with the eggs and salmon. The Cornish crab and parsley scrambled eggs (£12) served on fresh sourdough with a slight kick of chilli was warm and comforting.
Though many would surely be tempted by an Aperol spritz in such a setting, the seasonal cocktails were delicious. I opted for the Botanico (£10.50) with moscato, elderflower and rose syrup, but ended up rather jealous of my guest who chose the Pink Cocktail (£10.00) – summery and delightful with Bacardi rum, agave and lime.
The overall experience at Bernardi's ties together well; the interior is so beautiful I want to sit around there all day, and the atmosphere is calm. Bernardi's is for long, lazy weekend afternoons with friends – not for those in a rush.
Bernardis Restaraunt and Bar, 62 Seymour St, Marylebone, London W1H 5BN; 020 3826 7940; bernardis.co.uk; open daily
Brunching in...
Warm watercress potato cake with poached egg and trout
Prep time: 10 minutes
Cooking time: 40 minutes
Serves 4
700g potatoes, peeled and cut into medium chunks
100g watercress, lightly chopped
1 egg, beaten
4 tbsp olive oil
Salt and freshly ground black pepper
To serve
150g hot smoked trout fillets, broken into flakes
50g watercress
4 eggs
Cook the potatoes in boiling salted water for 10-15mins or until they are tender. Drain, return to the pan and mash until smooth. Add the chopped watercress, beaten egg and plenty of seasoning. Mix well then leave until cool enough to handle.
Preheat the oven to 200C/Gas Mark 6. Divide the mixture into four, and shape each into a neat cake-shape. Brush on all sides with the oil and place on a baking sheet. Bake for 25 mins or until the cakes are golden brown.
When ready to serve, bring a frying pan of salted water to the boil. Reduce the heat so the water is just simmering, then crack the four eggs and gently drop them into the water. Cook for 3-4 mins or until the eggs are poached to your liking. Lift them from the water with a slotted spoon and drain.
Place a potato cake on each plate, top with watercress, flaked trout and the poached egg. Serve straight away.
Recipe from watercress.co.uk
Join our new commenting forum
Join thought-provoking conversations, follow other Independent readers and see their replies