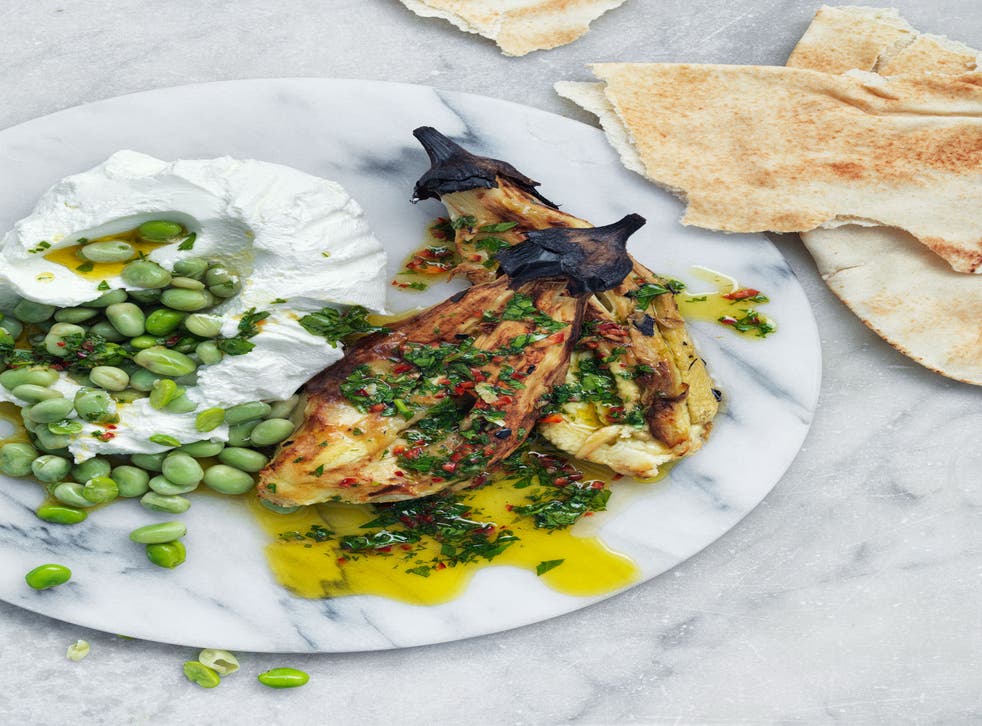 Bill Granger recipes: Our chef's dishes highlight the delicate essence of fresh cheeses
More delicate on the palate, milder, fresh cheeses can also be kinder to the waistline
Given the choice between a cheese board or dessert, I always pick the cheese. A good stilton or mature cheddar are so rewarding and comforting, especially when paired with a good glass of red. But not being one for daily indulgence, I'm also a lover of milder, fresh cheeses. More delicate on the palate, they can also be kinder to the waistline, which is always a good thing.
First up is a recipe for making labne – a cheese of Middle Eastern origin – at home. This isn't as daunting as it sounds. Just drain some full-fat yoghurt overnight and your job is done.
I love ricotta lathered on toast, topped with a drizzle of honey. But there is so much more you can do with it. Here, I've used it to make gnudi. These are basically naked ravioli – the filling without the pasta around it. So light, it feels like you're biting into a cloud.
And for the final recipe I've whipped together yoghurt and feta (a brined cheese). It's become one of my favourite dips, especially as you can make it as thin or as thick as you want, depending on how you are going to serve it.
Bill's restaurant, Granger & Co, is at 175 Westbourne Grove, London W11, tel: 020 7229 9111, and 50 Sekforde Street, London EC1, tel: 020 7251 9032, grangerandco.com. Follow Bill on Instagram at bill.granger
Labne with charred aubergine and broad beans
We always have plenty of yoghurt at home, so making labne doesn't require much planning. I simply put it to drain before going to bed and it's ready when I wake up.
Serves 4
2 aubergines
125g broad beans, podded weight, fresh or frozen
4 tbsp olive oil
1 garlic clove, crushed
1 red chilli, chopped
Handful mint leaves, chopped
Handful flat-leaf parsley leaves, chopped
Squeeze lemon
1 tsp honey
For the labne
500g Greek-style yoghurt
½ tsp salt
To serve
Flatbread
Start the labne the day before. In a bowl, season the yoghurt with the salt. Line a sieve with muslin or a clean tea towel and sit it over a large bowl, where the base of the sieve doesn't touch the bowl. Spoon the salted yoghurt into the sieve. Fold the ends of the cloth over the yoghurt and place in the fridge overnight.
The next day, place the whole aubergines on hot coals or on the hob, directly over a high flame. Cook, turning occasionally, until the skin is completely charred all over and starting to crumble off. Place in a large bowl and cover with cling film to steam for 10 minutes. Peel off the skin and place the aubergines on a platter.
Cook the beans in boiling water for 2 to 3 minutes until tender. Drain and refresh in cold running water. Set aside. Combine the rest of the ingredients to make a dressing and season.
Dollop the strained yoghurt (labne) on the platter with the aubergines. Top with the broad beans. Spoon the dressing over the aubergines and broad beans. Serve with warm flatbread.
Ricotta, basil and lemon gnudi
The trick with these is never to attempt them when you're feeling stressed. The ricotta mixture is so soft and delicate that rolling it into balls can be frustratingly tricky – but believe me, it's well worth the effort.
Serves 4
350g ricotta
100g Parmesan, finely grated, plus extra to serve
Small handful basil leaves, finely chopped
Grated zest ½ lemon
500g semolina flour
Plain flour, for dusting
100g unsalted butter, cubed
Basil leaves, to serve
Start the gnudi the day before. Place the ricotta in a large bowl, draining off any excess liquid. Mix in the Parmesan, basil and lemon zest. Taste and season lightly with salt, if liked.
The next day, spread half the semolina over a large baking dish. Flour your hands with plain flour and roll the ricotta mixture into small balls, about 2½cm in diameter. It will be very soft, so be gentle. Add the ricotta balls to the tray as you go. Scatter over the remaining semolina, making sure the balls are totally covered. Chill uncovered overnight, or for up to 2 days.
To serve, melt the butter in a large frying pan over a low heat. Carefully lift the gnudi from the semolina. Gently lower them into salted boiling water and cook for 2 minutes, or until they float to the top. Use a slotted spoon to lift the gnudi out of the water and add to the melted butter. Swirl the pan to coat the gnudi in butter.
Divide between four plates. Top with basil leaves and grated Parmesan. Serve immediately.
Asparagus with whipped feta and dukkah
This makes a great starter or light lunch. Use the freshest seasonal asparagus you can get your hands on and they'll hardly need cooking. Later on in the year, when juicy sun-kissed tomatoes come into their own, I'll be making a chunky tomato and cucumber salad to serve with the whipped feta instead.
Serves 4
450g asparagus, woody ends trimmed
1 tbsp olive oil
For the dukkah
60g blanched almonds
2 tbsp coriander seeds
1 tbsp cumin seeds
2½ tbsp sesame seeds
½ tsp sea salt
For the whipped feta
150g feta cheese
75ml Greek-style yoghurt
1 tbsp lemon juice
2 tsp honey
For the dukkah, toast the almonds in a frying pan over a low heat, until golden all over. Tip on to a chopping board and, once cooled, chop. Return the frying pan to the heat. Add the spices and salt and toast until the spices release their aroma. Transfer to a mortar and pound with a pestle until coarsely ground. Stir into a bowl with the chopped almonds.
Place all the ingredients for the whipped feta into the bowl of a food processor. Whiz until smooth. Set aside.
Cook the asparagus just before serving. Heat a griddle pan over a high heat. Add the asparagus and cook, turning occasionally, until charred and just tender. Transfer to a bowl and toss through the olive oil. Season lightly with salt.
Spoon some feta on to four plates, top with asparagus then scatter with dukkah and serve.
Food preparation: Marina Filippelli; Props merchandising: Rachel Jukes
Join our new commenting forum
Join thought-provoking conversations, follow other Independent readers and see their replies