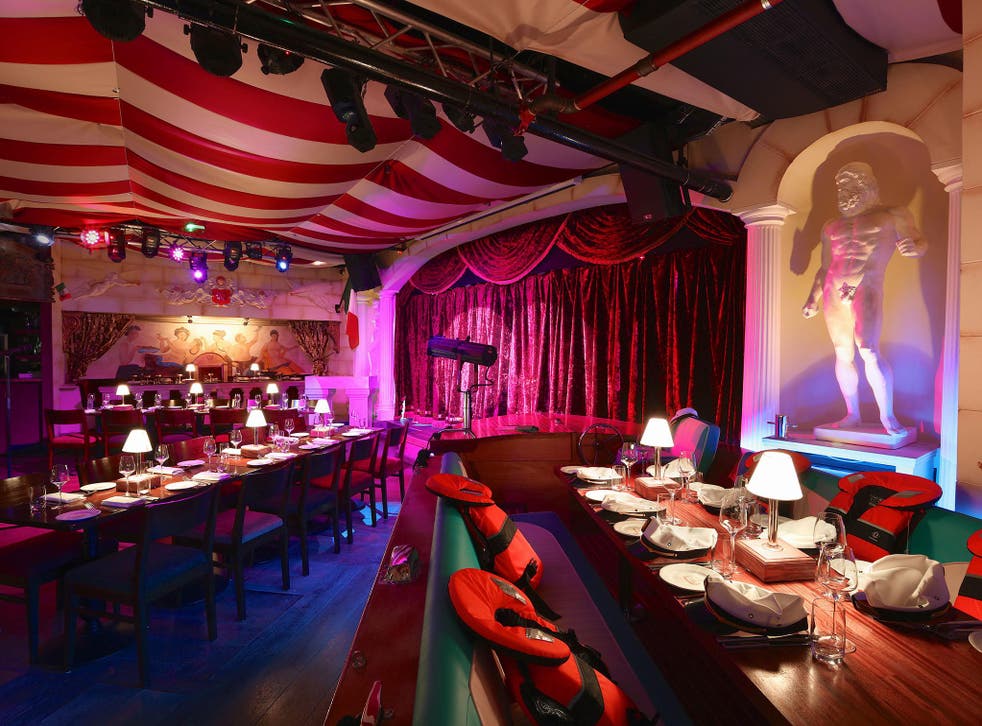 Brunch on Saturday: Bunga Bunga review and a potato hash recipe
This week, Rachel Hosie has bellinis and burlesque with brunch and we get creative with a breakfast hash at home
Brunching out...
An Italian-themed, bellini-fuelled affair it may be, but Bunga Bunga's Matinee bottomless party brunch in Covent Garden is exactly that: A place to go for a party.
Despite arriving in the middle of the day, you'll be swept underground to a room with no daylight but quite the party atmosphere and you'll feel a bit like you've jumped ahead to 9pm.
Everything is Italian – from the "servizi" sign to the Roman emperor busts around the room.
In classic Bunga Bunga style, it's slight carnage but a lot of fun – if you're in the right frame of mind, anyway. And the bottomless bellinis and prosecco certainly help with that.
Each table is given a little jug of peach purée so you can make your bellini as strong or fruity as you like, and staff are good at keeping your prosecco flutes topped up. Well, until about 20 minutes before the end of our two hour slot, when our top-ups mysteriously dried up.
Throughout the brunch, every now and then a stereotypical Italian mobster or Roman emperor will appear, singing and dancing, and at one point staff members came out on the little stage with animal puppets to the tune of The Lion King. We didn't know what was going on either.
The fact that mobsters performed a slow motion fight with bananas for guns says it all really. Questionable performances aside, the food was good – it's £44 for a three-course brunch and two hours of drinks.
For a starter, we were served creamy burrata with warm, soft brioche and a plate of various charcuterie to share. The main course was a huge sharing pizza – if you're a big enough group, you'll get Bunga Bunga's famous metre-long pizza too.
As a smaller group, ours was still a very generous portion: Split into thirds, each with a different topping. It was authentic Italian in style but the base was thin and there was thankfully plenty of cheese. My Italian guest, Sofia, gave it her seal of approval anyway.
Our meal finished with a boozy tiramisu, which we still managed to devour. It wasn't too alcoholic, neither overpowered by the coffee. But there was plenty of lovely sweet cream. We could have had two each really.
And then the karaoke started. Yes, really.
Small talk is not the easiest thing to do while a drunk man is butchering Robbie Williams's "Angels" in the background, so Bunga Bunga probably isn't the one if you're after a more intimate catch-up with a friend.
For a birthday or party though, it could be a lot of fun.
Bunga Bunga Covent Garden, covent-garden.bungabunga-london.com; open wed-sun; 020 7590 3602
Brunching in...
Fully loaded breakfast hash
5 large potatoes
1 pack of unsmoked bacon 
2 large onions 
1 pack of sausages 
handful of plum tomatoes 
4 large eggs 
salt and pepper
In a large baking tray drizzle some olive oil and place in the oven at 200°C. Grate the potatoes onto a clean tea towel. Over the sink wrap the potato up in the tea towel and squeeze out all the excess water.
Place the potatoes into a frying pan and brown for 5 minutes, constantly moving them. Take the oil out the oven and in the baking tray place the potato as an even layer. Season with salt and pepper and pop back in the oven for 20 minutes.
While the potato is cooking, cut the bacon into thin strips and remove the sausage meat from the skins, split and mould into small balls. Fry theses along with the tomatoes in a frying pan until they get some colour.
Add this mix to the potato that is in the oven. Leave in the oven for 15 minutes, take out and crack the 4 eggs on the top of the mix and pop back in the oven until the eggs are cooked through; roughly 10 minutes. Take out the oven and serve.
Recipe from seasonalspuds.com
Join our new commenting forum
Join thought-provoking conversations, follow other Independent readers and see their replies