Can you cut it at the DIY dairy club?

Show all 5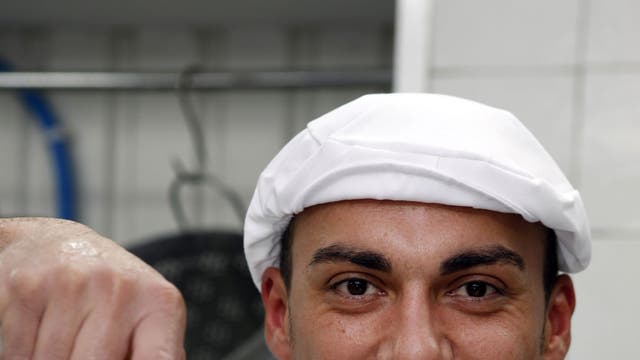 Can you cut it at the DIY dairy club?
House-made cheese is the newest badge of honour for chefs who like to show off. Sudi Pigott tries her hand at creating her own, in authentic Camembert style
I've got a new resident at home, not as demanding as a new baby, but requiring TLC and, after an initial complex evening of incubating and early-morning salting, demands turning every few days to reach the requisite soft, downy, all-over-white mould rind cover. I'm excitedly counting the days until it will reach maturity at about six weeks and I can nonchalantly invite friends over to share my first ever own-made Camembert-style cheese.
House-made cheese, already a significant trend among US chefs (arguably not so spoilt for choice with artisanal cheese-makers), is the latest badge of honour among UK chefs, too, who are increasingly vaunting their developing cheese-making prowess on their menus.
I'd spent an intensive and enjoyable day with five other cheese fanatics, including Royal Mail driver Steve, who's in the process of setting up Friar's Farm shop in Northamptonshire, John Hogan, who's establishing Pizza Pedlar, a street-van in Liverpool, and fancied making his own mozzarella-inspired cheese, and Helen Purdie, a former brain-injury rehab manager keen to discover new creative outlets and already thinking about selling her cheeses to restaurateur friends. All keen, adventurous cooks, we were curious to discover just what was involved in making one's own cheese under the strict tutelage of Christine Ashby, who's been in cheese since the 1960s, working with many of the best-regarded dairies, before becoming a cheese tutor.
Our gorgeous venue was Vanessa Kimbell's Juniper & Rose Cookery School in her Northamptonshire home, where we all coveted her vintage copper pans and other French kitchen desirables. As Kimbell noted: "There's been a huge surge of interest in making sourdough bread – my most popular class – so it is no coincidence that cheese-making is the next stage as, similarly, it requires understanding of growing starters and developing bacteria. Besides, bread and cheese are the perfect partners."
It's all about the quality of the milk, we learn, which is the first challenge for home cheese-making as homogenising milk damages the proteins. Part of the skill in cheese-making is balancing out the fats, which contribute to the flavour and texture of the cheese, before handling the coagulated protein (curd) drained from the liquid (whey) to produce different styles. When making a cheese involving rennet, milk must not be homogenised, nor heated higher than pasteurisation – Kimbell recommends using milk from a local dairy or ordering via Abel & Cole. If only homogenised milk is available, buy skimmed milk and double cream, and combine in the ratio of 12 parts skim to one part double cream.
Temperature is critical – an accurate thermometer is evidently the key tool for any cheese-maker. For the Camembert-style cheese we start by heating milk in a double boiler (using water below 50C) and once the milk is 20C add the starter unromantically called MA4001 and penicillium candidum mould, stirring until the starter particles have dissolved, and maintaining the temperature at 32C. We later add rennet, whisk the mixture and cover it and leave it to set into curds and whey, checking to maintain a constant temperature.
Chris shows us how to cut the curd into pieces and after much stirring and checking, and feeling like ersatz cheese-makers, we fill the moulds with the set curds and place them on a rack over a tray to catch the whey, keeping at a constant 20C temperature. After an hour, we turn the cheeses over in the palms of our hands and replace in the moulds upside down to help to form an even shape and improve drainage of the whey. This turning has to be repeated twice more at home before removing the mould, by which time the cheese smells rather like natural yogurt as the starter has produced acid.
We also learn how to make a speedy version of the kind of lactic curd cheeses made by acidifying the milk, then draining the curds, currently so popular on many restaurant menus. We warm two litres of milk (homogenised is fine) to 38C, stirring continuously, remove from the heat, add the juice of four lemons, stirring continuously until the curds and whey have separated. Stir well and leave covered for about 10 minutes. Stand a colander in a bowl, lined with a muslin (a clean J cloth will do). Pour the curds into the cloth and tie up to drain the whey. Miraculously, this is ready within about an hour (it should be kept two days maximum) and delicious with a little lemon rind topping an heirloom salad with the addition of some soft herbs.
Chris warns that the mozzarella-making method she is showing us is really only a home improvisation of heating the curds made with starter and rennet in hot water (over 85C), milling and salting the curds, kneading and stretching when the pH is correct, but it is still thrilling to do, if a little nerve-racking to be plunging hands into iced water before quickly handling the balls of mozzarella like thumb pots requiring deft and rapid stretching.
It's easy to romanticise cheese- making but the reality is that it is very hard work, requires lots of patience and an instinct honed with practice for judging when the cheese is ready. This is vividly brought home when I visit the Battersea railway-arch cheese-making HQ of the fourth-generation, family-run Made in Italy restaurant group, whose latest opening, Mozzarella&More, is its first to incorporate a deli and highlights its radical decision, three years ago, to make all its own ricotta, mozzarella and even burrata for its eight restaurants.
Executive chef Eduardo Tuccillo says: "We realised it makes sense to make our own. We get through 2,000-3,000 litres of milk [sourced from several farms close to London], which arrives at 7am each morning, and we make all the cheeses from scratch that are ready for the restaurants each day. It guarantees a freshness and consistency that we just couldn't guarantee buying from Italy and, bizarrely, we find the British milk gives a better, fuller taste." Tasting the ambrosial ricotta still warm, I have to agree. It is a world apart from what's for sale in the supermarkets and probably better than any I've tasted in Italy.
Through family connections, Made in Italy recruited Antonio Viggiano, who's been "literally raised on cheese-making", working at his family caseificio (dairy) in Campania since the age of 14. As Tuccillo explains, "So much of it is about touch and intuition. Antonio can't really put into words when the curds are elastic enough to make mozzarella, he has to keep testing [he stretches pieces of mozzarella and rolls them quizzically around a wooden spoon before leaving them to rest for another 10 minutes], trust his instinct and catch it at the precise moment. "
Mozzarella for the pizza is made on a Heath Robinson machine that turns the stretchy curds into balls via a chute and fast-turning blades. The rest is worked by hand for fior di latte (flower of the milk) mozzarella, to be served as a central ingredient in starters, with a little reserved for breaking up into stracciatella-like strips and making into burrata, incorporating double cream from Italy for its decadent centre.
Burrata is something of an obsession for the prodigiously talented Carlo of Babbo, who offers an enticing entire burrata menu, though he currently can claim to make only his own dessert burrata, painstakingly making delicate milk skins each morning in his kitchen, which he fills with Italian cream and serves with berries. Such is his fascination with cheese and the pursuit of definitive yet unique taste perfection that he has created and commissioned his own bespoke hard cheese from a family caseificio in Parma. An equal blend of cow's and goat's milk with Italian truffle, it is matured for six or seven months and has something of the crystallisation of parmigiano reggiano tradizionale about its texture that is wholly delicious, especially when served as an aperitivo with Prosecco. "It was such a hit with customers that we got through our first 40kg round within a week."
It is not only passionate Italian chefs who are striving to create their own cheeses. At the appropriately named The Dairy in Clapham, Robin Gill is eager to move on from merely making fresh curd cheeses with rennet, experimenting with different milks and aromatics (he's currently developing his own take on Fleur de Maquis with a juniper and rosemary rub) to more adventurous cheeses requiring affinage (ageing) in his cellar in his pursuit of making as many ingredients as possible in-house.
Similarly, Bluebird Restaurant's Matt Robinson explains: "If we're using an ingredient, the team should understand how it is made. It's all part of engaging my brigade and keeping them excited and passionate." Currently, Matt makes his take on ricotta using half Jersey milk and half double cream, which he splits out with white vinegar and allows to come up to temperature very slowly so that the curds and whey naturally separate. On the summer menu, it is served with lemon zest folded through with fresh peas, pea shoots, coppa and tempura of courgette flower. Come autumn he envisages accompaniments of blackberries, cobnuts and roast-beetroot salad. Matt also plans to experiment with more demanding cheeses and techniques: "The idea of being able to experiment and control the point of ripeness at which I serve cheeses greatly appeals. The possibilities could be endless."
Cheese-making supplies from Moorlands Cheesemakers, cheesemaking.co.uk
Join our new commenting forum
Join thought-provoking conversations, follow other Independent readers and see their replies