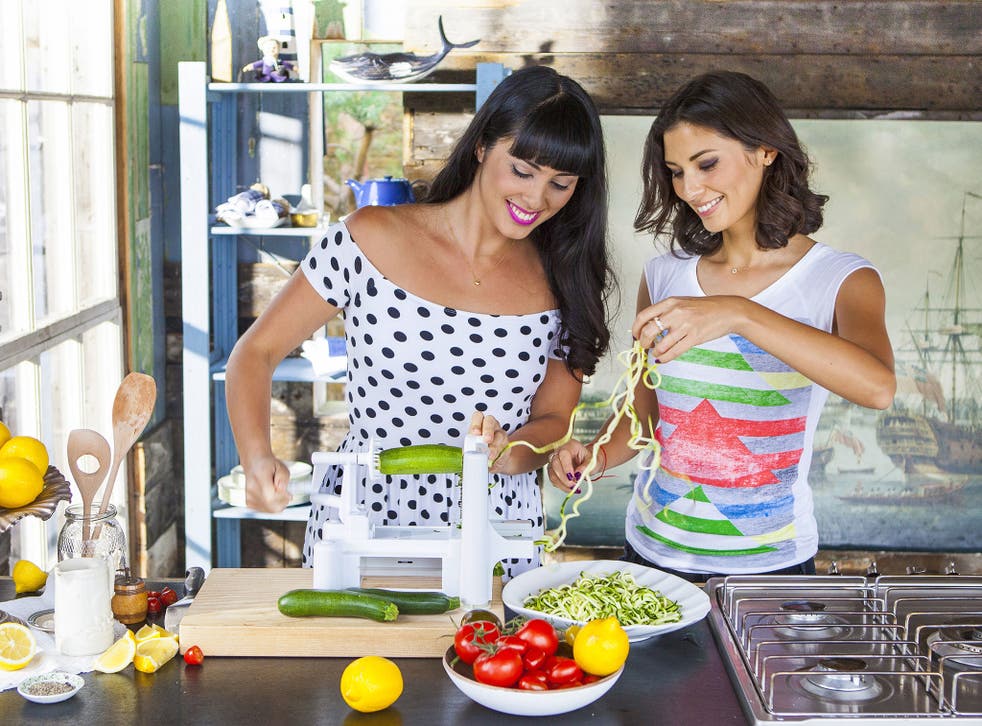 Carb-free meals: We're going crazy for 'courgetti' spaghetti and cauliflower-based pizzas
For the growing number of gluten-free, raw and health-conscious eaters, vegetable pasta is a godsend, as Clare Hargreaves reports
Eat pasta, loads and loads of it – and watch yourself get fit and healthy. In case you think I've gone off the dietary rails, let me clarify: I'm talking not about the carb-crammed, gluten-laden sort, such as spaghetti carbonara drenched in cream and bacon, but eye-catching pasta made from vegetables. Pasta without the guilt.
Top of the vegetable pasta pops is courgette, easily transformed into spaghetti-like worms – or "courgetti", as they've become known. At first glance, it's hard to tell a plate of courgetti apart from one of pesto-clad spaghetti, and the texture is not dissimilar, either. But for the growing number of gluten-free, raw and health-conscious eaters, vegetable pasta is a godsend. At last, we can have our pasta and eat it.
Even spag bol is back on the menu. Melissa and Jasmine Hemsley, among the first of the recent band of "beautiful bloggers" to make vegetable spaghetti fashionable, have brought solace to thousands of gluten-intolerants with their standout beef ragu with courgetti, which is as near as dammit to the sinful original.
The equally glamorous and gluten-averse Ella Woodward also champions courgetti in her best-selling cookbook Deliciously Ella (Yellow Kite, £20). Waxing lyrical on her website about her recipe for courgette noodles with minted avocado sauce, she swears that "this is the richest, creamiest pasta I've eaten in years, honestly it tastes like there's a pot of cream in the sauce. The texture perfectly echoes that of carbonara… A lot of excited yelping could be heard around the house the first time I made this!"
50 best foods for healthy living

Show all 50
The Hemsleys, Woodward et al are using other vegetables, such as beetroot, carrot, kohlrabi and cucumber to trick our eyes and palates with equal success. The Hemsley sisters' sesame chicken salad with cucumber noodles, for example, makes a perfect summer dish, and the noodles certainly make it look a lot sexier and more substantial than if the dish used boring old chopped cucumber.
If you're wondering how you transform your vegetables into spaghetti, reach for the latest must-have gadget, the spiraliser. If the verb "to spiralise" has not yet entered your lexicon, get a grip. Last year, the Hemsley sisters branded their own spiraliser, which was sold through Selfridges and sold out in weeks – as did Lakeland's, which went on sale this year. "We knew it would be a hit, but not to this extent," says Wendy Miranda, Lakeland's customer ambassador. "By the end of March, we'd sold 27 times more spiralisers than we'd estimated for the entire spring and summer seasons. I can't think of another gadget that's flown out this fast."
The appeal of the spiraliser, Miranda says, is that it's fun and easy to use, and the food it produces is attractive, healthy and tasty. "It's the perfect way to get kids to eat vegetables. They can enjoy getting involved in preparing their meals," she says. "Young adults are loving spiralisers, too. They're inspired by the bloggers and see the machines as trendy. At around £30, spiralisers are affordable – certainly [they cost] a lot less than those pasta-making machines many of us have stashed away gathering dust in our kitchen cupboards."
If £30 still sounds a bit steep, a handheld julienne peeler, which will set you back a fiver, will also do the trick. Or if even that's too much, stick with your potato peeler – you won't get elegant spaghetti, but flat ribbons you can call tagliatelle.
Mother Nature also provides a striking wheat-free spaghetti that needs no gadgets to make – in the form of seaweed, an ingredient that's becoming increasingly popular for its nutritional properties. Atlantic Kitchen and the Cornish Seaweed Company both market sea spaghetti made from thongweed seaweed, which you cook the same way as normal spaghetti.
If spaghetti is not your thing, there are other pasta substitutes you can make from vegetables. Ella Woodward goes mad for raw courgette lasagne, composed of thinly sliced courgette, Brazil nut "cheese", tomatoes, and an avocado, pine nut, spinach and basil pesto. "If you ever want to impress people with super-healthy raw vegan food, this is your dish," she says. "Everyone loves it and it doesn't taste 'healthy'." The Riverford vegetable-box company suggests using courgettes or blanched opened-out leeks to form the "pasta" layers of a cooked lasagne, too.
Another vegetable being put to novel uses is the cauliflower. Marry it with a grater and, hey presto, you have wheat-free "tabbouleh" or "rice". The Hemsleys do lamb meatballs and cauliflower tabbouleh, for instance, with cauliflower replacing bulgur wheat. And Marks & Spencer recently launched a summer salad including cauliflower "rice". You can do plenty else with the white-headed brassica. "Cauliflower is truly versatile," says Lee Holmes, author of Eat Clean Green and Vegetarian (Murdoch Books, £14). "It can be used as an alternative to mashed potato [or as] a dairy-free option to add richness to soups instead of cream… I also love it as an alternative to flour in pizza." Likewise, the Hemsley sisters make a nutty pizza base from a combination of grated cauliflower, buckwheat and ground almonds.
Lily Simpson, the owner of the Detox Kitchen boutique delis and healthy home-delivery service, is a big fan of cauliflower as an alternative to high-carb wheat couscous. Her book The Detox Kitchen Bible (Bloomsbury, £25), which was published yesterday, includes recipes for Moroccan-style lemon chicken with steamed cauliflower couscous, and for beetroot and carrot tagine with cauliflower couscous. "Cauliflower is packed with vitamin C and selenium to keep your immune system healthy, and like many vegetables has a low GI [glycaemic index], so it's a lot healthier than 'normal' couscous," Lily says. "I'm seeing cauliflower couscous on the menus of many fashionable eateries."
The idea of using vegetables as eye-catching carb substitutes is nothing new – few ideas ever are. Virtually every professional chef was doing it in the Nineties, inspired by Marco Pierre White, whose seminal cookbook-cum-autobiography White Heat, published in 1990, contained several recipes including carrot "spaghetti".
Today, though, few high-profile chefs have much time for it, except perhaps as a handy vegetarian option. As the two-Michelin-starred Michael Wignall puts it: "Spaghetti of vegetables, that's a blast from the Nineties indeed! It looks very dated now. These days, we prefer to leave vegetables in their natural state."
The difference, of course, is that chefs created veg spaghetti to surprise and impress, while home cooks today are making it (and other vegetable carb replacements) primarily to cut down on gluten and fattening carbs. So cheffie cries of "old hat" will fall on deaf ears in domestic kitchens. In homes across Britain, the revolution has only just begun.
Courgette noodles with avocado pesto
By Ella Woodward
Serves 4
For the noodles:
4 courgettes
two dozen chestnut mushrooms
olive oil
For the avocado pesto:
1 mug Brazil nuts (120g)
4 avocados
4 tablespoons olive oil
large handful of fresh mint leaves
juice of 4 limes
salt and pepper
For the noodles:
Start by making the courgette noodles by simply putting the courgettes through your spiraliser. Place the noodles to one side and begin the mushrooms.
Cut the mushrooms into thin slices, drizzle them with olive oil, and then gently heat them in a large frying pan for about 5 minutes, until they're nice and soft.
For the avocado pesto:
While the mushrooms cook, place the Brazil nuts in a food processor and blend for a minute or two, until they're totally crushed. Then add in the avocado flesh, olive oil, mint leaves, juiced lime and a sprinkling of salt and pepper and blend again.
Either mix the noodles and sauce together in a bowl raw and then add the mushrooms, or add the sauce and noodles to the mushrooms in the frying pan and gently heat for a couple of minutes to warm the dish up and soften the noodles a little.
Taken from 'Deliciously Ella' by Ella Woodward (Yellow Kite, £20)
Join our new commenting forum
Join thought-provoking conversations, follow other Independent readers and see their replies