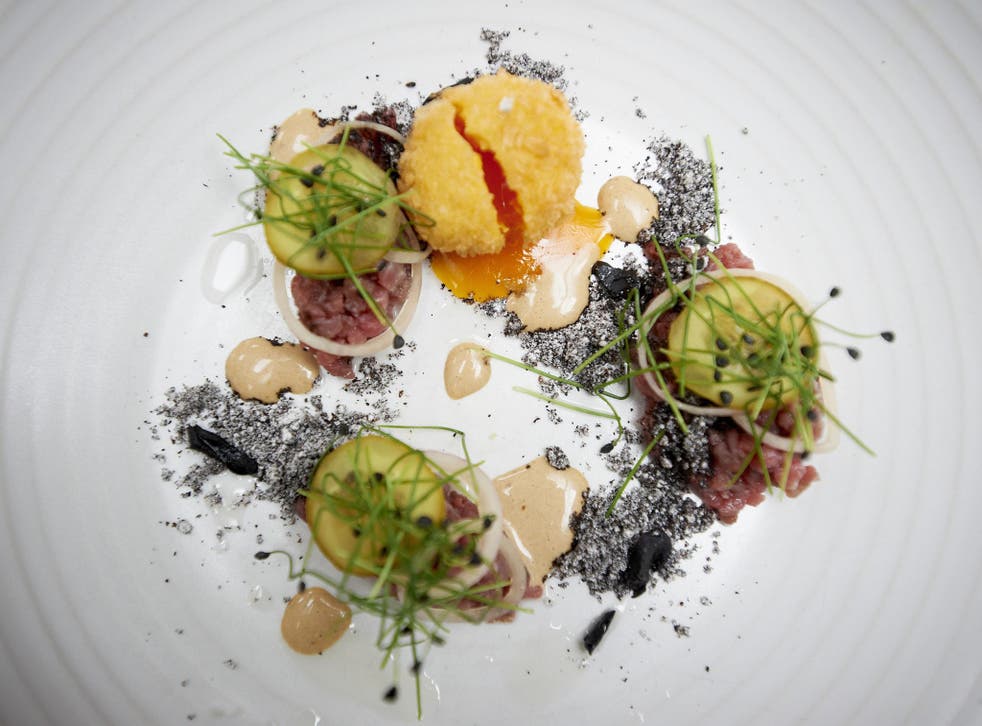 Charcoal has become the hot new flavouring in everything from cocktails to meat and mash
If you want to be in on the latest trend in Britain's restaurants and bars, you're going to have to feel - and indeed taste - the burn
Some words of comfort next time you overfry, overbake, overboil or otherwise burn your dinner to a crisp: charcoal, in all its dark and mysterious forms, is being embraced by some of the best in the food and drinks business. I'm not talking about cooking on a grill (although that's also a booming market), but charcoal as an actual ingredient – bringing flavour, colour, texture and a touch of playfulness to plates of food and bottles of juice. This news comes on the heels of Burger King Japan's Kuro Pearl offering, a burger with a jet-black bamboo charcoal bun, which met with a mix of hysteria and confusion upon its launch last year. It turns out that the fast food giant was bang on: charcoal is the new, well, black.
As is so often the case with nascent ingredients, charcoal is indebted to the health-food industry – particularly the trendy cold-pressed juice companies in New York, California and London – for much of its popularity. In the UK, Botanic Lab combines activated charcoal (medical-grade stuff that's been processed to open its pores and allow "absorption of toxins") with yuzu and raw cane juice, creating a drink whose bold onyx colour belies its light, tangy flavour.
Although the charcoal doesn't taste of anything, it adds a surprisingly pleasant granular texture – you feel like you could almost chew the juice as you gulp it down. Christophe Reissfelder and Rebekah Hall, the duo behind the company, are constantly on the lookout for unusual things to add to their concoctions (they're currently investigating moth wings). And according to Hall, charcoal "ticks all the boxes" with its unusual granularity, striking hue, and a gut-cleansing function to boot.
10 best charcoal barbecues

Show all 10
Surprisingly, these good-gut virtues have also thrust charcoal into the world of delicate French pastries, an industry rarely associated with health. Activated charcoal is a common ingredient in desserts in Asia, and Loretta Liu has brought it to her London-based company Super Cute Macarons. Liu started experimenting with the substance when her friend was diagnosed with cancer and in need of healthier alternatives to the usual sweet treats. Now, it's the hero of her salted caramel and charcoal macaron – whose inky colour and gritty texture has proven a particular hit with men – and Liu has a line of superfood macarons in the works. While hardly the next kale, Liu exclaims that the fusion of charcoal with the likes of goji berries and green tea "is as healthy as macarons are ever going to get!"
All this talk of health benefits is not necessarily smoke and mirrors. Although many associate blackened food with carcinogenics (the link between burnt matter and cancer has long been debated, with meat accepted as the key cause for concern), activated charcoal in fact has a storied past as a medical treatment. The nutritionist Jane Clarke says that it has historically been a remedy for food poisoning and IBS, but also calls it an "anecdotal" substance – some doctors prescribe it while others dismiss it. And in a non-medical context, although it wouldn't do any harm, Clarke "would question the benefits someone would get from buying a product like a juice because it has charcoal in it".
Whatever its merits as an elixir, reverence of the black stuff extends far beyond health enthusiasts. Some of the UK's top chefs and bartenders are exploring the smoky, bitter and earthy notes of charcoal (we're now talking run-of-the-mill coal, not the specially activated variety) and toying with our full range of senses in the process.
Perhaps the most renowned – and longstanding – purveyor of charcoal in food is Simon Rogan, whose potatoes with onion ashes and ox in coal oil have become specialities at L'Enclume (the Cumbrian restaurant that in 2014 was ranked best in Britain for the second straight year) and The French in Manchester, respectively. The onion ashes are made by blitzing a whole burnt onion with onion oil, the bitter, charred outer counteracting the sweet, unburnt inner to create what Rogan describes as an intensely savoury onion flavour. The mixture has a familiar likeness to ashes coming out of the bottom of a barbecue, and is stirred through slow-cooked potatoes for completion.
The ashes may be one of his enduring classics, but it is when discussing the Ox in Coal Oil that Rogan gets really enthusiastic, calling it "one of the most perfect dishes we do" (food critics have tended to agree). The dish is an exercise in sensory acrobatics. Hot coals are left to marinate in oil for seven hours, before the oil – which by this point has absorbed the aroma and flavour of a charcoal grill – is used to dress raw ox meat. So diners experience the sensation of eating meat that tastes cooked but is blessed with an impossible tenderness that can only come from being raw. When asked to pinpoint its taste, Rogan replies, without skipping a beat: "It's like eating a Whopper."
Jamie Clinton, the head chef at Shears Yard in Leeds, is similarly taken with the culinary possibilities promised by burning embers. The most exciting thing about charcoal for Clinton is the versatility and depth of its flavour, which he says is best described as "tasting like the smell of a summer barbecue".
Like Rogan, Clinton pairs coal oil with raw beef, though his is a modern take on steak tartare, the meat scattered with slightly bitter flecks of onion ash and topped with a crispy egg. He also uses the oil as the basis for several sauces that bring complexity and a touch of pizzazz to dishes. A charcoal emulsion accentuates the earthiness of a liquorice-glazed duck with celeriac, cabbage and oyster mushrooms, while a charcoal mayonnaise elevates the humble burger to something special by hammering home its barbecue flavour.
It was after witnessing the impressive ways chefs were playing with charcoal that Alex Kratena, the head bartender at Marylebone's world-beating Artesian (which has been voted best bar in the world three years running) decided to translate the ingredient into drink form. In the Dream Within A Dream, a vegetable ash seasoned with salt and sugar is sprinkled around the rim of a champagne flute that's filled with pisco, guava juice, suze (a French aperitif) and bitters. According to Kratena, the ash adds a "smoky-burn flavour" and a slight mouth-drying sensation, which complement the refreshing cocktail. For added wow factor, the ash is blended with edible glitter, causing the ebony-dusted glass to sparkle under light. "That's what makes it very sexy," says Kratena.
The current appetite for charcoal, in all its guises, is easily explained. For one, it taps into a couple of flavours of the moment – bitterness and umami, the savoury, earthy flavour that has been acknowledged as one of the five basic tastes. More importantly, the increasing reach of the food world means that chefs and bartenders have to be ever more creative in order to impress the everyman foodie. "There are a lot of foodies out there who have tried a lot of things and done a lot of cooking, and coal is something different that's getting people talking," says Clinton.
Presumably, a big part of this intrigue is that we tend not to think of charcoal as something edible – because of what it is and how it looks. Alas, our voracious Instagramming, blogging culture has driven the food industry to transform an undesirable stocking-filler into its newest mouth-watering delight. Bravo, chefs.
BURN IT AT HOME
Burn
Toss spring vegetables (mangetout, sugar snaps and asparagus) in a wok with oil and chilli until edges blacken.
Make mashed potato more exciting by topping with sliced onion that's been fried in butter until black.
Char
Blacken aubergines, peppers, chillies or leeks over an open hob flame and add to salads or purée for smoky dips.
Ash
Dehydrate carrots and onions in the oven at 100 degrees for eight hours and then blast at 200 degrees until black. Blend into a powder. Sprinkle over soups or stews or, if you're daring, follow Artesian's lead by adding sugar and salt and dusting the edge of a cocktail glass.
Join our new commenting forum
Join thought-provoking conversations, follow other Independent readers and see their replies