Chiltern Firehouse: The recipe for turning a restaurant into the hottest spot in town? Make it a haven for A-listers (and don't worry about the food)
Gillian Orr finds out the formula for being favoured by the famous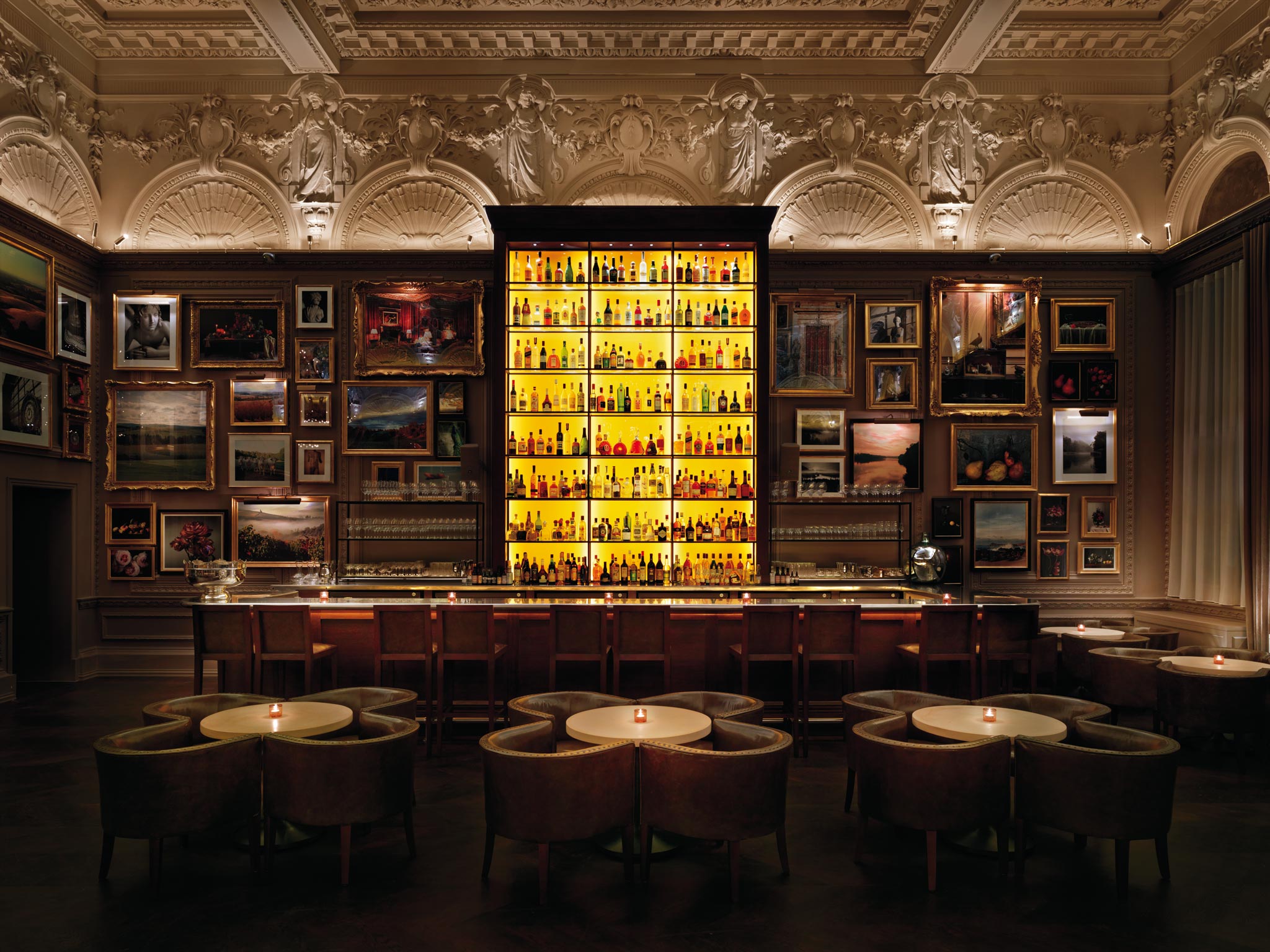 It has been a while since a restaurant received as many column inches as Chiltern Firehouse has as of late. It's the Lindsay Lohan of fine dining (and, appropriately enough, the Mean Girls star is rarely out of the swanky Marylebone venue). Since it opened its doors in February, everyone from David Beckham to Bill Clinton to Cara Delevingne has rocked up to try its crab doughnuts and indulge in a spot of rubber-necking. Even the famously reclusive Adele has popped in to see what all the fuss is about.
But how does a restaurant become the "it" place to go, an A-list hotspot where it is nearly impossible to get a table and telling your friends that you've actually been there is met with a gasp (well, at least in some circles)? Daphne's has been doing it for 50 years; The Ivy and Nobu are more recent examples, but is there a formula to making a new eatery the most talked-about spot in town?
Have a name who matters attached to it
Want to know the main reason that Chiltern Firehouse is so popular? Simply, it is the first British outpost of the hotelier André Balazs, the man behind a handful of glitzy establishments, but none more so than LA's Chateau Marmont, one of the most glamorous and celebrity-filled hangouts in the most glamorous and celebrity-filled city in the world.
Any new enterprise of his was always going to be starrier than Madonna's birthday party. The guy could have opened a hot dog stand and Victoria Beckham would have turned up in a backless number and stilettos.
The other big restaurant opening of the last 12 months, Berners Tavern at the London Edition, similarly had classy names on the door; Ian Schrager (he of Studio 54 fame) developed it, while the chef Jason Atherton was responsible for the kitchen.
"We had the best of both worlds," Phil Carmichael, head chef at Berners Tavern, says. "Ian Schrager's influence on the fashion industry and design crowd, and then the foodies came because it had Jason's name attached to it."
Even one of the most famous "it" restaurants of recent times, Nobu, benefited from Robert De Niro's involvement. "His partnership gave that celebrity attraction, as well as some mystique and allure," Paul Murashe, general manager of Nobu, Berkeley Street, says. "And it's carried on from there. That's how we started getting people in."
Bribe the stars down to the launch
For the first fortnight of a restaurant opening, you basically don't want to be out of The Daily Mail's "sidebar of shame". Chiltern Firehouse has been doing it for six months now, which is quite something. But an "it" restaurant needs an "it" crowd.
"At the launch, you invite a combination of respected food and lifestyle media, as well as key high-profile people and opinion formers from the local area," says Sylvain Ercoli, general manager of the Bulgari Hotel, home of Rivea, which opened in May. If a place really wants to make a splash, it should follow the lead of Berners Tavern and schedule the launch to coincide with London Fashion Week. Then host some exclusive parties for super-cool magazines such as W. Sure, the restaurant was closed to the public that night, but who cares when Georgia May Jagger is snapped arriving?
Failing that, you can always just pay the right people to turn up.
"I think anywhere can be an 'it' place if it has a massive budget," Scott Collins, who runs the MeatLiquor empire, says. "Because if they want to ship in a ton of celebs, they can just pay them to appear and eat there, and comp their bills. Not naming any names, but it's what a lot of the big players do."
That said, you need to make sure you are getting the right crowd. "You do have to be careful about who gets papped coming out of your restaurant. I think there's probably a tipping point," says Adam Hyman, who publishes restaurant industry newsletter, The CODE.
One can only imagine the fright Chiltern Firehouse received after a pap shot emerged last weekend of Hugo and Natalie from Made in Chelsea canoodling out the front.
Provide a haven for your guests
The average punter might not care whether anyone is taking photos at lunch, but you can bet Angelina does. As a result, many A-list spots now implement a strict "no phones" rule. If you dare to even text your mother at Soho or Shoreditch House, a member of staff will fly at you with all the urgency of a glamour model who has just spotted one of the German football team.
One man who understands the need to be discreet is Frances Dore, director of sales and marketing for the Caprice restaurant group, which includes Balthazar, J Sheekey, The Ivy and Scott's.
"Our restaurants have always been havens on the inside for our customers," Dore says. "There is no autograph-hunting or disturbing guests while they're in our establishments. They are left in peace to spend time with their dining [companions]."
So if you do find yourself at one of these places, remember it's quite OK to gawk, just don't ask for a selfie. Not unless you want your scallops "to go".
The food doesn't really matter
It may sound absurd, but whether or not the grub is any good is of little importance at these spots. While Chiltern Firehouse has the renowned chef Nuno Mendes in charge of the kitchen, the stars would probably still flock there if he started to overcook all the steak and serve everything with baked beans.
"The food at Chiltern Firehouse is actually fantastic," Chris Pople, who runs the popular Cheese and Biscuits food blog, says. "But if it wasn't, it would still be busy. It's nice that they're trying with their kitchen; I suppose they didn't have to, because of everything else they had going for them. But celebs aren't going there for the food. They go because they've heard about how exclusive it is. Just look at The Ivy; I always thought it had terrible food."
In fact, Hyman reckons good food is rarely the first thing diners look for.
"I'm a firm believer that people go to restaurants for reasons other than food. A lot of the time food is second, third, fourth on the list. It's about a number of other things," he says.
But if these restaurants want longevity, they must observe what regulars like to order and changes to the menu must be subtle.
"We do keep some classics on the menu," Dore says. "Lobster mac at 34, shepherd's pie at The Ivy, Dover sole at Scott's, crispy duck and watermelon salad at Le Caprice, to name a few. We'd have a riot on our hands if we didn't."
Indeed, nobody wants to see Kevin Spacey in tears because they stopped serving fish pie at J Sheekey.
Treat them like the royalty they are
These high-profile guests are used to being waited on hand and foot, so assistance needs to be top notch. But just because Elton adores the wonderful service at Hakkasan or wherever, don't assume you'll receive the same treatment. Curiously, the level of service at these places can plummet once staff have figured out that you've never won a Brit award.
"There's good service and then there's kiss‑ass service," Collins says. "If you're a celebrity, you need your arse kissed, so it's going to be amazing service, isn't it? But it's how your man off the street gets served that really counts."
That said, for those unaccustomed to the world of fine dining, staff will hopefully endeavour to make you not feel like a total berk.
"When you arrive at one of our restaurants, you'll be offered a drink and a newspaper if you're on your own and waiting for a guest," Alvin Caudwell, head of press at Caprice Holdings, says. "It's not like in Pretty Woman where someone walks in and they're met with 'Can we help you?' in an unfriendly way. We put guests at ease, make them feel comfortable."
Finally, let's face it, it doesn't hurt to hire attractive workers. The current staff at Chiltern Firehouse make the cashiers at Abercrombie & Fitch look a bit worse for wear. Beauty attracts beauty, after all.
Join our commenting forum
Join thought-provoking conversations, follow other Independent readers and see their replies