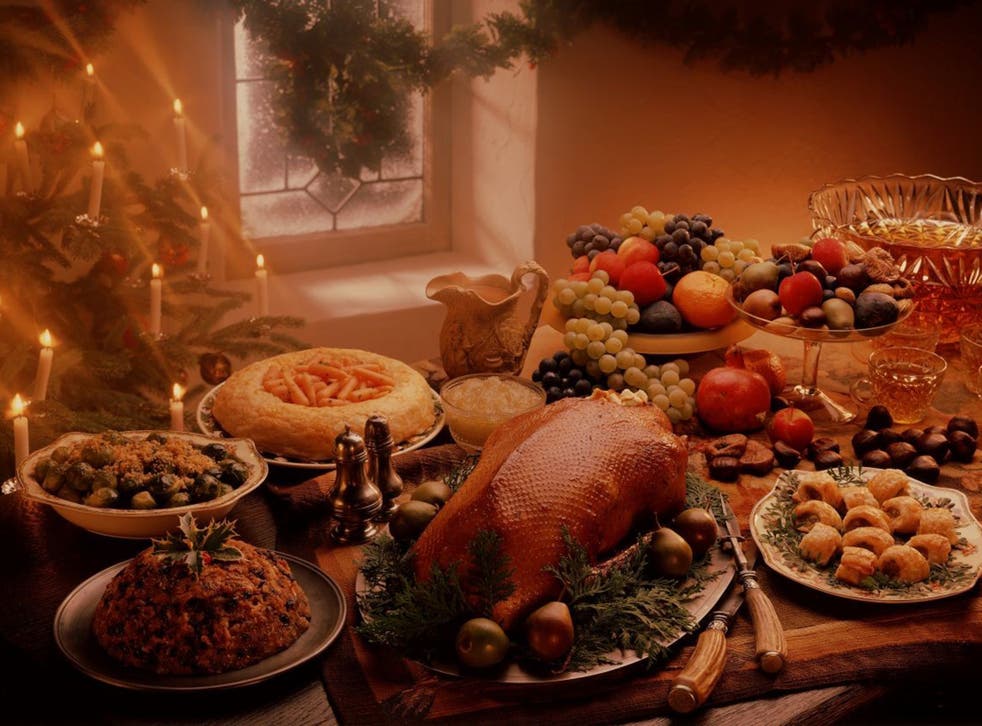 Christmas: The food hostesses in 1970s were expected to create should make you feel better about your festive attempts
Was the 1970s the decade that forgot taste?
It was the decade that taste forgot, a failing that stretched from the kitchen to the dining table, if a clutch of photographs revealing culinary highlights from the 1970s is to be believed.
And rarely did standards lapse so much as at Christmas, when the taste of turkey apparently came a distant second to the taste in dressing it up for dinner, with en croûte jackets and bow ties a particular crowd-pleaser.
Salads came either courtesy of phallic bananas masquerading as candles in shiny stars made of cherry red jelly, or featured brussels sprouts nestling with cherry tomatoes on beds of little gem lettuce.
The collection of photos, from recipes by Robert Carrier and Betty Crocker among others, has been unearthed by Anna Pallai, who works in publishing and is turning the images into a book. The haul came courtesy of her mother, Chris Payne, 72, who used to dish up similar creations to a young Anna.
Ms Pallai, 40, says she was flicking through her mother's old recipe books and partwork magazines when "it recently dawned on me how hideous they were". So she started tweeting with the handle @70s_party to share the photos "as an antidote to all the smug pictures on Instagram of people's gluten-free, avocado breakfasts". The Twitter feed has become a guilty pleasure for food fans.
Seventies Christmas favourites also included party nibbles such as stuffed grapes, or cream cheese elaborately piped on to Ritz crackers. That seasonal staple, the brussels sprout, also starred piled atop a castle made of cranberry rice to create the ultimate table centrepiece. The one constant, Ms Pallai says, is aspic. "A good half of the things are made in aspic. There's a lot of jellied food. Tongue with cherries in aspic; lots of vegetable salads in aspic." That and presentation. "It was all very ornate," she said. "Everything is covered in sliced boiled egg or olives. You can spot lots of antiquated-looking carrot 'flowers'."
One who remembers that time well is Fay Maschler, doyenne of food writing and restaurant criticism. "In 1970 I married [for the first time] at the age of 24. My husband Tom was 12 years older," she said. "He was then chairman of the publishing house Jonathan Cape, and his job and our life involved lots of dinner parties. I threw myself into them with gusto, but mine was more Elizabeth David and Jane Grigson in style than Fanny Cradock.
So she escaped the crimes against food? "A popular recipe at the time was kipper salad – raw kipper fillets thinly sliced on the bias, marinated in lemon juice and dressed with oil. We young mums/busy housewives/devoted helpmeets would tell one another that it was just like smoked salmon. It wasn't. And isn't."
Ms Pallai had a similar experience. Her mother has "cooked some of the more disgusting recipes – we had an argument recently whether peanut butter soup was a valid thing to make". Ms Pallai also has memories of "eggs cooked like tripe, and stuffed peppers, which was my dad's speciality". "It's worth saying, I went vegetarian a long time ago, when I was 12," she added.
It's no irony that the decade that launched feminism was also the one when the hostess was judged on her skills in the kitchen; just looking at some of these photos is enough to put most people off cooking for life. "In my mum's defence, she's a very good cook," Ms Pallai said, in a gesture of seasonal goodwill.
Join our new commenting forum
Join thought-provoking conversations, follow other Independent readers and see their replies