Christmas at the River Café

Show all 2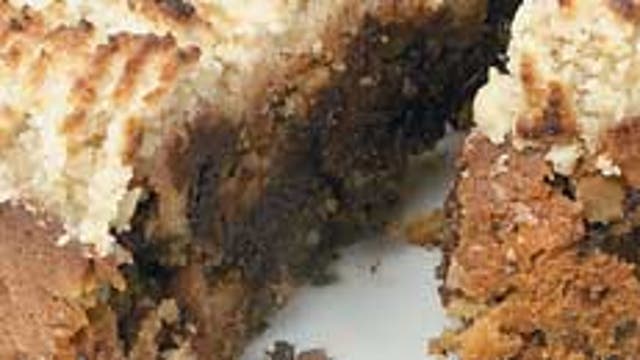 Christmas at the River Café
Ruth Rogers and Rose Gray's River Café has been a foodie favourite for nearly two decades. But what exactly do they do for the festive season? John Walsh meets the dynamic duo
Saturday 25 November 2006 01:00
comments
It's hard to think of the River Café - that legendary west London shrine to Italian cucina rustica that celebrates its 20th birthday next year - as a winter place. Its Thames-side setting, the huge windows over the herb garden, its glorious garden parties and the candlelit magic of its alfresco evenings mean you always think of it as a summery eating-house. You certainly can't imagine its sophisticated proprietors, Rose Gray and Ruth Rogers, surmounting their chefs' whites with Santa hats or serving up flaming pudding with holly sprigs. So what do they do for Yuletide?
"We don't have a special Christmas lunch," says Ruth, "we just go a bit Christmassy in the menu." "We go a bit Christmassy the moment the truffles arrive," says Rose, "at the end of October. Truffles and the game season - they both put you in a foodie frame of mind and make you think what you'd like to be eating. Last night I roasted partridge with a mixture of chestnuts, pumpkin, potatoes and pancetta, and that was pretty Christmassy." What effect does cold weather have on the chef mentality? "We spice up the vegetables and use more alcohol," says Ms Gray briskly.
I look at the immaculate napery and shiny steel of the Café. Does it go with the season of chilblains and roast chestnuts? "Of course it does," they chorus. "It's such an old idea, that modernism can't sit with comfort," said Ruth, who is married to the guru of architectural modernism. "It's all about the mood in the restaurant. You notice that people start coming for longer lunches, they sit here for longer, they want slow-cooked dishes. And they dress differently, in brighter colours. You can almost feel them starting to let go..."
Both Rose and Ruth have lived in Italy for long periods. Their conversation reveals how much they've embedded themselves in the landscape and culture of Tuscany, Umbria, the Veneto. They travel there all the time, chic hunter-gatherers in search of new cooking ideas, new vegetables, new ways with sauces. Did they find a Traditional Italian Christmas?
"As with all Italian cuisine," says Rose, "it varies from region to region. I've had Tuscan Christmases, where they serve bollito misto with all the trimmings." "The actual celebration is on Christmas Eve," says Ruth, "and the bollito typically has a bit of slow-cooked veal, some tongue, a piece of brisket, and perhaps some stuffed pig's trotter without the bone - it's just the skin of the trotter, with the meat from the leg all minced and spiced and sewn up and boiled. It takes about three hours. I think you're supposed to spend a long time in church while it's cooking...
"In Naples, the big family meal would probably be fish," Ruth continues dreamily. "Fish stew, a celebration dish with lots of strong flavours." Rose looks at her with a rivalrous gleam in her eye. "When I lived in Lucca in the early 1980s," she says, "we used to roast a whole pig in the garden." You what? "Not a big one, obviously," she says, as if spit-roasting were the most natural thing in the world, "but a reasonable-sized one. We'd make a frame with two crosses and a bar, push a stick through the carcass from its bum to its mouth, make a fire under it and turn it with a handle."
Can you just walk into a Lucca butcher's shop and buy a whole pig? "That's just what I did," says Rose. "In Montepulciano. The butcher said, 'How are you going to cook it?' I told him, 'In the Tuscan way, with fennel seeds and salt.' We had a lively discussion, everyone in the shop joined in, and one man said, 'You can't do it with fennel - that's how they do it in Siena!'" She laughs. "Siena is only 50 miles away, but it's still foreign. Italians are very proud of their regional traditions."
How they love talking about food, this seraphic pair who've been friends since the mid-1970s. Rose was a student, and a friend of the first Mrs Richard Rogers. Years after their first meeting, when Richard Rogers set up his architectural partnership in the Thames-side warehouses at Hammersmith and decided to include an on-site restaurant, Ruth (now the second Mrs Rogers) looked through caterers' applications and despaired. She phoned Rose. They met for coffee in Drummonds Café on the King's Road one morning in 1986, and foodie history was made.
Since my own gourmandising career was kick-started by the dual aroma of boiled giblets and oxtail soup every Christmas Eve, I wonder what Ruth and Rose had salivated over when they were nine or 10. "I grew up in Surrey and things were pretty frugal," says Rose. "We'd have roast chicken with bread sauce, mince pies, Christmas pudding with a tiny bit of alcohol poured over it. Everything was home-made. My mother was a pretty good cook." Her most vivid memory wasn't of smells and tastes, however. "I remember being sent out to pick Brussels sprouts in the garden. They would be frozen, and I still remember that wintry feeling in my fingers." Ruth, by contrast, grew up in upstate New York, "in a totally unreligious family, so our holiday was Thanksgiving. We didn't celebrate Christmas with a special meal. I didn't do so until I met Richard and encountered the whole Italian-family thing."
Italian authenticity governs the recipes they've chosen for the Independent Magazine. Their shin of veal, served with garlic and anchovy, is a north Italian speciality. "We love veal," says Rose, "because it's so luscious and succulent and juicy. You can do what you want with veal - you can melt some anchovies on the bottom, and enhance it with rosemary, a herb that goes particularly well with anchovy. We tried it with thyme, garlic and sweet wine the other day, and it worked well too."
Their Dada's Christmas Cake is a recipe handed down from Richard Rogers' mother, who came from Trieste and was known as "Dada". The cake is, Rose concedes, "more eccentric than any Christmas cake you'll ever come across. It's more about taste than look." Ruth's mother-in-law yearned to cook authentic Italian food in England in the teeth of post-war restrictions on ingredients, but made ingenious substitutions and put in extra ingredients on a whim. "She used rum rather than Marsala, because you couldn't get it in England," says Ruth. "She put chocolate in the cake because she loved it, and didn't like English fruit cake. She liked alcohol so she marinated the fruit. She used very little flour, but lots of ground almonds, so it's a very crumbly but wet Christmas cake, with burnt marzipan on top."
The River Café girls care a lot about vegetables. They are passionate about using only what's coming into season, as if it would be a shocking heresy to serve tomato and basil at any time but summer. What vegetables come into season in November and December? "Cavolo nero," says Rose. "It needs a touch of frost. Same with Brussels sprouts. Savoy cabbage loves cold weather. So does fennel, and chard and the chicory family." She and Ruth represent a phenomenal database of information about obscure pieces of greenery. If you've never heard of the delights of crookneck squash, Belgian endive or punterelle, they'll be most happy to introduce you. "The great thing is," says Rose, "these vegetables are starting to appear in English shops. When the River Café began, you couldn't buy cavolo nero anywhere, and now it's in Sainsbury's and Waitrose."
The girls' new publishing initiative is a re-edited version of recipes from their River Café Cook Books. They're a new set of Pocket Books, tall, slender and glossy, and they can just about fit in your pocket. Four are just published: Salads and Vegetables, Puddings, Cakes and Ice Creams, Pasta and Ravioli and Fish and Shellfish. "We wanted to have a book," says Rose, "that you could take on holiday or take to the supermarket to see what's available and match it with a recipe." "We've written quite a few books over the years," says Ruth, "and thought, how nice to have all the pastas together, or all the desserts, instead of going from book to book."
The photographs are a refreshing change from the soft-focus gastro-porn of modern cookbooks: they show well-used frying-pans, thoroughly gunged-up with burnt scrapings, oily shards of garlic or scallop, the delicious debris of home cooking. "We don't believe in prettying things up," says Rose in her best schoolmistress manner. "We cooked every single dish in these pictures, then we put them on that table over there and had them photographed." "And," says Ruth, "we said to the photographer, 'Let's try and keep it life size, shall we?'" That's the River Café ladies all over - authenticity with style, simplicity con brio, Italian passion and English charm.
'The River Café Pocket Books' by Rose Gray and Ruth Rogers, are published by Ebury Press, priced £8.99 each. To order the books at a special price, including free p&p, call Independent Books on 08700 798 897
Join our new commenting forum
Join thought-provoking conversations, follow other Independent readers and see their replies