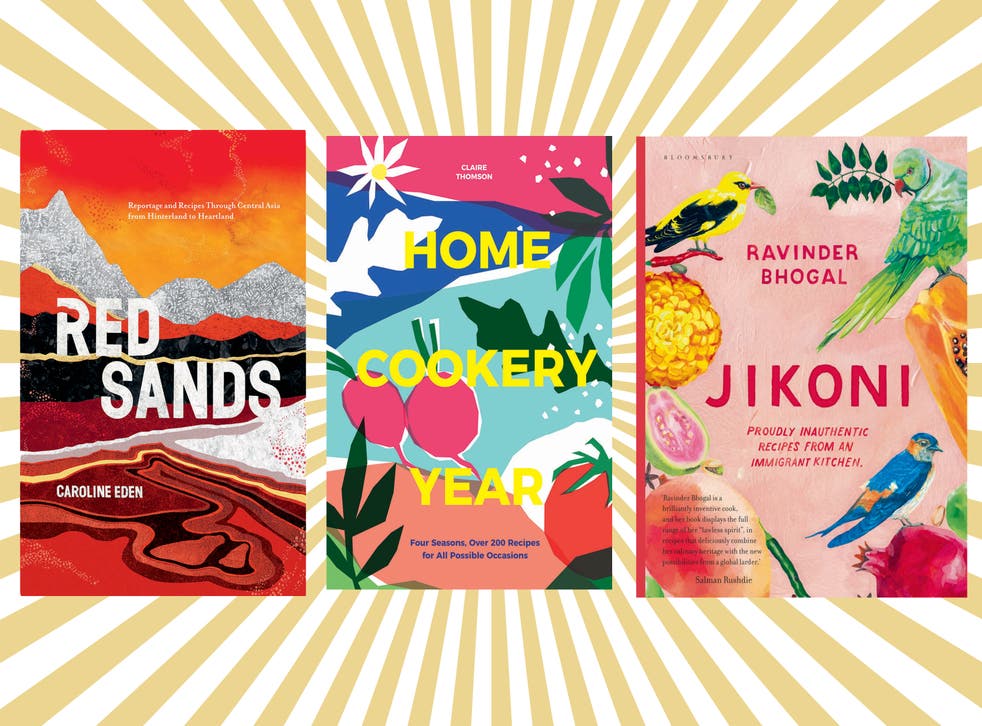 The cookbooks of 2020 you need: From Towpath to Jikoni
There has never been a year when we've needed cookbooks more. We've spent our lives at home, gotten to know our kitchens again, and even dusted off the Bundt pan stashed in the back of a cabinet.
We've had time – time to try our hand at sour dough and then decide that mixing up a quick loaf of Irish soda bread is fine, thanks very much.
But it's not only that we have more time on our hands, it's that food is our escape, the punctuation mark in days that otherwise felt pretty relentless. Food is colour and brightness and hope.
Here is my pick of the top 2020 cookbooks.
Towpath by Lori De Mori & Laura Jackson. Chelsea Green Publishing, £27
Towpath – a waterside eatery located on London's Regent Canal – is closed in the winter, doesn't have a website, a phone or takeaway. It's an anomaly: a place where you can sit back, watch houseboats chugging past and ducks paddling along while you enjoy some of the best food you've ever tasted. De Mori and Jackson have managed to translate Towpath magic into a cookbook through stories and recipes that chart the annual life cycle from eagerly opening the shutters in spring, to closing them for a final time as autumn ends. Every recipe is a keeper, but I'd gladly eat their raspberry and frangipane tart any day of the week.
Napoli sausage ragu
Most weekends we have the hearty Napoli sausage sandwich on the breakfast and lunch menu. It consists of Napoli sausages and lots of butter and ketchup on fresh bread. Sometimes we have sausages left from the weekend and so a great way to use them is to turn them into a ragu. I also make this dish from scratch as it is perfect to serve on the Towpath on a crisp day. It is a comforting, nourishing dish and a regular on the menu both at the beginning and end of our season. Serve with wet polenta.
Serves 4
4 tablespoons olive oil, plus a nice glug for serving
6 brown or red onions, halved and thinly sliced
4 cloves garlic, minced
2 bay leaves
sprig of thyme
sprig of rosemary
10 Napoli sausages or any other coarse pork and fennel sausages
200ml/7 fl oz red wine
2 x 400g/14oz tinned whole plum tomatoes, blitzed or mashed
100g/ 3 ½ oz Parmesan, grated
salt and pepper
Preheat the oven to 140°C fan/325°F/gas mark 3.
Add 3 tablespoons of olive oil to a saucepan over a medium heat. Warm and then add the onions, garlic, bay, rosemary and thyme. Cook for 20 minutes until the onions soften.
While the onions are cooking, brown the sausages in a frying pan with the rest of the oil and place in the oven for 20 minutes. Remove from the oven and place on a tray. Deglaze the pan with red wine to get all the goodness from the sausages and add the delicious red wine/sausage juice into the onion pan.
Cook for a few minutes and then add in the tinned tomatoes. Rinse the tin out with water and add that to the pan too.
Slice the sausages into 2cm-thick slices and add to the pan. Turn down to a simmer and cook for a minimum of 3 hours. The longer and slower you cook the ragu, the richer and fuller it will taste. Stir from time to time to scrape the bottom. If it's catching, add a glug of water and stir again. You want the ragu to reduce and thicken.
I always leave the seasoning right to the end. As the ragu cooks and reduces, the flavour will intensify so it's best to check the seasoning once it's finished cooking.
Serve with parmesan and a drizzle of olive oil.
Notes : We shot this recipe at Lori's house in Tuscany. When cooking in another country or even buying ingredients from other suppliers, the resulting dish can be quite different, for example, the sausages we bought in Tuscany were incredibly fatty. Delicious in flavour but once cooked, a lot of fat leaked out, which I then skimmed off. This meant that the ragu would have benefitted from having more sausages.
The Flavor Equation by Nik Sharma. Chronicle, £26
For Nik Sharma, flavour is both head and heart, part science and part emotion. He brings the two together brilliantly as explores how everything from memory to mouthfeel influence the way we perceive flavour in food. Sharma, who trained and worked as a molecular biologist, makes the science behind cooking comprehensible. Read this from cover to cover and you'll become a better cook. Cook his recipes – like his roasted cauliflower in turmeric kefir (an inspired combination with the fermented tang of kefir, char of roasted cauliflower and the crunch of cumin and brown mustard seeds) and you'll be very happy indeed.
Jikoni by Ravinder Bhogal. Bloomsbury, £26
Suggestion: first make Ravinder Bhogal's lime leaf and togarashi peanuts (fried lime leaves crushed with lime zest and a Japanese spice blend then tossed with toasted peanuts), serve with a cold beer and then crack on with her gorgeous, lick-the-pan-clean Saffron Fish Pie. Bhogal, who was born in Kenya and came to the UK as a child, calls her cooking "proudly inauthentic". I call it colourful and joyous food that will coax a smile from even the worst curmudgeon.
Banana cake with miso butterscotch and Ovaltine kulfi
Serves 12
1 tbsp black tea leaves 200ml boiling water
200g pitted dates
110g unsalted butter
350g dark muscovado sugar 1 tbsp treacle
1 tbsp date syrup 400g self-raising flour
4 eggs
1 tsp vanilla extract
1 tbsp bicarbonate of soda 200g peeled bananas
For the kulfi
50g Ovaltine
450g condensed milk
300ml double cream
For the butterscotch
500ml double cream
175g demerara sugar
175g unsalted butter
1 tbsp golden syrup
60g white miso
The kulfi will take at least 6 hours to set, so make it ahead of time. In a large bowl, mix the Ovaltine into the condensed milk until there are no lumps. In a separate bowl, whip the cream to soft peaks, then fold it into the condensed milk mixture. Pour the kulfi into a tub and freeze until set. It really is as simple as that!
Preheat the oven to 190°C/Fan 170°C/Gas Mark 5. Line a 24cm square cake tin with baking parchment.
Put the tea leaves in a heatproof jug or bowl, pour over the boiling water and allow to infuse for a minute. Strain the tea, discarding the tea leaves, then soak the dates in the hot tea for 10 minutes.
In a large bowl, beat together the butter and sugar until smooth. Stir in the treacle and date syrup, followed by the flour, and mix well. Mix the eggs in one at a time.
Tip the soaked dates and tea into a blender or food processor, along with the vanilla extract, and blitz to a puree. Add the bicarbonate of soda and pulse briefly, then add to the bowl and mix thoroughly.
Wipe out the blender, add the bananas and blend until smooth, then add to the cake batter and stir in well. Pour into the tin and bake for 1 hour or until a skewer inserted in the centre of the cake comes out clean.
Meanwhile, to make the butterscotch, put the cream in a saucepan over low heat. Add the sugar, butter and golden syrup and whisk until the sugar has dissolved and the butter has melted. Finally whisk in the miso, then remove from the heat.
Turn the cake out on to a wire rack and leave to cool a little.
To serve, cut into 12 portions, then serve warm with the hot miso butterscotch and the Ovaltine kulfi.
To confine your use of miso to just soup would be to miss out on a multitude of exciting gastronomic opportunities – one of the best of which would have to be the miso butterscotch that goes with Jikoni's famous banana cake. This dessert has such a cult following that certain die-harders will call ahead to make sure we have a portion saved for them.
The banana cake is based on the idea of a sticky toffee pudding, although it is much less dense. Then there's that dizzyingly luxurious miso butterscotch with its compelling mix of sweet and salty flavours. To top it all off, we have the "nostalgia in a bowl" of Ovaltine kulfi, a condensed-milk ice cream that has an almost chewy texture. And if that wasn't enough to make you fall in love with this dessert, making it is a piece of cake!
Dinner in French by Melissa Clark. Clarkson Potter, £25
Forget gyms or the hair dresser, what I've missed most this year is the dinner party. I want to sit cheek by jowl with my best buddies at a table heaving with food and far too many bottles of wine. If Melissa Clark could pop round to cook, so much the better. If not, I'll have my sauce-splattered copy of Dinner in French by my side as I cook for friends. It's stress-free cooking with dishes like her roasted tarragon chicken with crispy mushrooms, simple baby lettuce salad with shallot vinaigrette and a slice (or two) of blackberry frangipane tart.
The Pastry Chef's Guide by Ravneet Gill. Pavilion, £18.99
I firmly believe that baking ability is linked to an as-yet unidentified gene: some people have it, some people don't. I place myself squarely in the "don't" category, so I picked up Ravneet Gill's guide – "the secret to successful baking every time" – with a pinch of salt and a heaping cupful of scepticism. But reader, I was wrong. Her ultimate chocolate cake is indeed that and the ganache topping was glossy and covered the cake like a big chocolately hug. She may make a baker out of me yet.
The Phoenicia Diner Cookbook by Mike Cioffi, Chris Bradley and Sara B Franklin. Clarkson Potter Publishers, £25
Comfort food means different things to different people, but for me it's classic diner fare: meatloaf, pimento cheese patty melts, and an all-day breakfast. It's everything you'll find at Phoenicia Diner, nestled in New York's Catskill Mountains with its swivel stools, Formica counters, leather booths, and a chalkboard with daily specials. The cookbook delivers inspired takes on the classics, alongside dishes like pork belly blts with basil aioli, cider-braised duck and grits, and boozy butterscotch pudding that give comfort a whole new meaning.
In Bibi's Kitchen by Hawa Hassan and Julia Turshen. Ten Speed Press, £25
You probably haven't heard of Ma Gehennet or Ma Shara or Ma Khanyisa or any of the other grandmothers whose recipes and stories are at the heart of In Bibi's Kitchen (bibi means grandmother in Swahili). In Bibi's Kitchen shares their stories and those of other women who come from eight African countries that border the Indian Ocean, from Eritrea to South Africa, Madagascar and Comoros. This isn't flashy or trendy food but rather food lovingly prepared by generations of home cooks, like the dish digaag qumbe – chicken stew with yoghurt and coconut, flavoured with xawaash spice mix ("the garam masala of Somalia"). A refreshing book that is long overdue.
Home Cookery Year by Claire Thomson. Quadrille, £30
Thanks to Claire Thomson, dinner is sorted, as is breakfast, lunch and snacks in between. Home Cookery Year includes a whopping 200 recipes, arranged seasonally in six categories (everything from time-crunched midweek dishes to long and languorous celebration feasts). The recipes are well-written, easy to execute and, did I mention delicious? Salt-baked beetroots with ajo blanco dressing has a Blue Peter moment when the egg white, sugar and salt crust puffs up around the beetroot (might even convince the kids to try it) while the quince with malaga raisins & oloroso sherry is a simple yet incredibly elegant dessert.
My Korea by Hooni Kim with Aki Kamozawa. WW Norton, £30
When social distancing is a thing of the past and I don't have to check what tier I'm in, I'd like to host a gimjang – a traditional Korean kimchi making event. Making chef Hooni Kim's napa cabbage kimchi on my own was almost meditative – carefully massaging the cabbage leaves with his gochugaru (Korean red chilli flakes) marinade – but would have been even better with friends and a few of his Korean pear cocktails. This is food to share – braised beef shins slowly cooked with garlic and ginger and dashi or warm tofu with kimchi and pork belly stir-fry – and Kim, chef behind the first Michelin-starred Korean restaurant in the world, is the perfect guide.
The Good Book of Southern Baking by Kelly Fields with Kate Heddings. Ten Speed, £27.50
I'm from the American South, so I was sold as soon as I flicked through and saw buttermilk pie, bourbon-butterscotch pudding, praline brownies and blueberry hand pies. Kelly Fields has been turning out southern-inspired baking for over 20 years and knows her stuff, and like the best Southerner is happy to share. I love that she freezes her biscuits and takes them straight from the freezer to oven. As she says, "The colder they are, the higher they rise. You know what they say: the higher the hair, the closer to God." Amen to that.
Red Sands by Caroline Eden. Quadrille, £26
If you've been itching to dust off your passport and travel further than the corner shop, then snap up a copy of Red Sands. It's the follow-up to Eden's award-winning book, Black Sea and explores the people, places and food of Central Asia. How can you resist dishes with names like "A Soviet sanatorium appetiser" – a mad riot of ruby-red beet beetroot with swirls of creamy mayonnaise? Eden describes food as her passport and anchor on her travels – we're lucky that she lets us join her on the journey.
Mosquito Supper Club by Melissa M Martin. Artisan, £26.99
Growing up in the southernmost part of Louisiana, Melissa M. Martin thought that everything above Baton Rouge was the north. Now her home of Terrebone Parish faces environmental destruction, ("…if the water continues to rise at the current rate, a majority of Terrebonne Parish could be gone, and New Orleans could become a seaside town"). Before that happens, she wanted to capture on paper Cajun people and their food – dishes she proudly serves at her Mosquito Supper Club. This is generous cooking, like her Louisiana lump crab cakes or the braised duck legs that she uses in her duck jambalaya, and food that tastes of the place from where it comes.
@juliapleonard
Join our new commenting forum
Join thought-provoking conversations, follow other Independent readers and see their replies