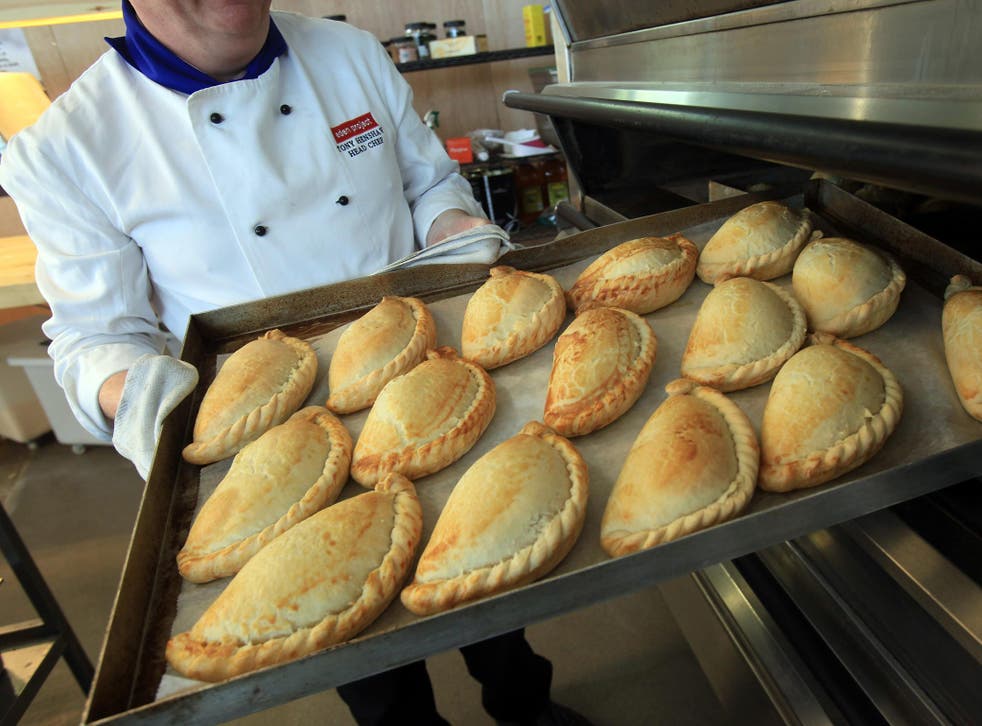 Cornish pasty sales are at £300m a year in Britain and rising
Josh Barrie looks at the nostalgic appeal of the British holiday favourite and how its authenticity – from filling to crimp – is being carefully preserved
Unless you're on a no-carb diet, or are a model, chances are that you've grabbed a quick Cornish pasty for lunch recently. Perhaps you picked one up at a station, with the assurance that it'll certainly fill a gap; maybe you decided on one after a morning's shopping.
Cornish pasties haven't simply been holiday treats for years now. While they remain very much a part of beach-time frolicking in the far West, they've steadily grown in prominence much farther afield. And as a result of the food stuff's adventures east, it was reported this month that sales have almost doubled since 2005. This simple, historic dish now turns over £300m a year.
The pasty has been around for a long time: Shakespeare is said to have indulged; King Henry VIII's third wife, Jane Seymour, apparently enjoyed the delicacy. Its fame, though, really stems from the Cornish tin-mining communities from the past 200 years.
Geevor Tin Mine is a preserved site and museum at the tip of the county. Staff there have told me that the "robust" pastry provided a perfect thermal casing for a full and hearty meal, giving the hard-working labourers much-needed protein, plenty of nourishing vegetables and replenishing stodge.
Since 2011, PGI status (Protected Geographical Indication) assures that only pasties made in the county may be called "Cornish"; the dish is celebrated at the annual Mining and Pasty Festival in Redruth; it's recognised all over the world, after adventurous folk took it overseas. A town in Mexico even has a Cornish pasty festival, as well as the very first dedicated museum.
Back home, the Cornwall-based Eden Project holds pasty-baking world championships each year. Mark Muncey, of the pasty producer Proper Cornish, and a past chairman of the Pasty Association, has been involved in preserving its heritage as well as broadening its appeal for years. He feels a number of factors are behind the increase in demand. "Cornish pasties have enjoyed good growth in the last 15 years, mainly due to the market for grab-and-go," he explains. "On-the-move snacking foods, such as the pasty, are as ideal now as they were for the miners 150 years ago."
But this is not all about convenience. "Provenance and trust have become increasingly important to the consumer, and the Cornish pasty has both in buckets," Muncey says. He suggests that the horsemeat scare has even helped to boost sales, as consumers look for produce they can trust.
Muncey also mentions that the buoyant Cornish holiday market has helped to fuel growth, noting the "fond memories" that prompt many to rekindle those sun-kissed weeks on the coast by tucking in. He's also a stickler for tradition – and believes that, now that the pasty has moved firmly into the mainstream, retaining its age-old values is ever more important. "It's ingrained in Cornish behaviour," he tells me. "It's a staple – part of our culture. There are strict guidelines as to what makes one genuine."
The Cornish Pasty Association, fortunately, indicates what these are: "A genuine Cornish pasty has a distinctive 'D' shape and is crimped on one side. The texture of the filling for the pasty is chunky, made up of uncooked minced or roughly cut chunks of beef (not less than 12.5 per cent), swede (not carrot), potato and onion and a light, peppery seasoning."
There are finer details, too: an egg or milk glaze; no additives or preservatives – all natural. Many makers also tell of the need for strong white flour, and getting the filling ratio right. A word must also go to "skirt" – or "chuck" – beef as the best cut. It retains moisture and tenderises slowly during baking.
Steve Grocutt is another producer who stresses the need to keep pasties authentic. His company, Pasty Presto, one of the many retailers springing up on high streets, sells 2.5 million pasties each year and is a past winner at the Eden Project's World Pasty Championships. He's proud of a "great food", but says he also understands that those outside Cornwall need more than sentimentality to get on board. "It's all in the quality," he explained. "Sourcing good beef and fresh vegetables; getting the pastry light but substantial. We use a mix of shortcrust and puff pastry. We source our produce locally as much as possible."
Like Mark Muncey, Martin Caws, the development chef at Waitrose, says our love of those holiday moments are what's keeping us biting into the warm, buttery pastry of Cornwall. The store's pasties are hand-crimped at Tamar Foods. "It's no surprise that pasty sales are on the up," Caws says. "They're a great British example of a nostalgic food that still has a place in today's society. People are respectful of the traditional recipes."
Among Cornish people, pasties spark serious tribalism. A past colleague of mine, Scott Hamilton, who moved to Cornwall to settle in its relaxing embrace, mused: "Are Rowe's better than Warren's? Are Philps' too salty or Lavender's too dry? Everyone has a favourite and they'll fight you if you disagree – to the extent that no one batted an eyelid when the hero in the Grand Theft Auto Cornwall spoof beat a lifeguard unconscious for preferring a different brand of pasty."
Dave Pollard, another native of the county, is the most Cornish person I've ever met, and he says that the widening appeal is great to see. But after talking of their importance and listing a few of his favourite shops, he concludes: "My mum's are still the best I've ever had."
To Cornwall, the pasty is a way of life. To the rest of us, it's a holiday treat-turned-lunchtime institution. As a nation of foodies then, we should ensure we don't fall prey to a soggy imitation. If you see a crimp on top: run.
Cornish tasties: local delicacies
Seafood & Eat It
Delicately flavoured Cornish crabmeats from the young Newlyn-based company can be found in branches of Waitrose and Booths, and ordered from Abel & Cole. seafoodandeatit.co.uk
Polgoon
Award-winning artisan Cornish wines and ciders from vineyards overlooking Mount's Bay, now available in supermarkets and upmarket delis on the other side of the Tamar. Look out for the Sparkling Raspberry Aval (local dialect for cider). polgoon.com
Nicky Grant
The artisan chocolatier specialises in handmade chocolates, truffles and cakes, including wedding cakes. nickygrant.com
Elemental Cornish Gin
That's right, it's not all cider and ale. With gin very much in, this small-batch family distillery is making waves with its botanical formula. cornishgin.co.uk
Rodda's
The Cornish producer has been making clotted cream since 1890 and now exports to cream-tea lovers all over the world. roddas.co.uk
Join our new commenting forum
Join thought-provoking conversations, follow other Independent readers and see their replies