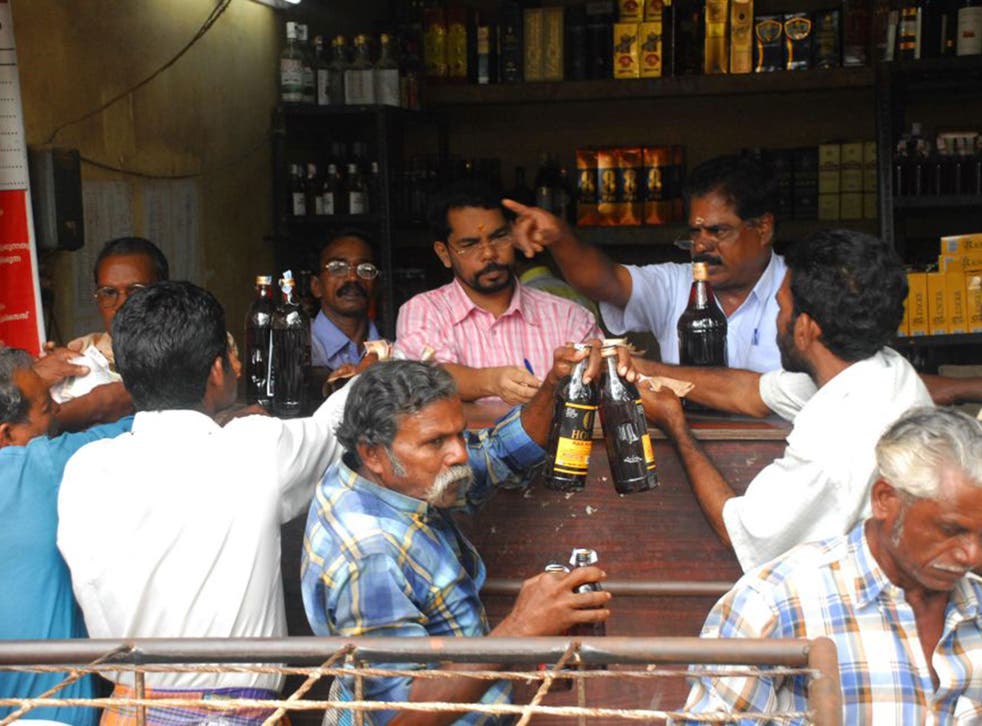 Could alcohol prohibition work in Kerala?
The Indian state of Kerala hopes to curb a growing 'drinking culture' with prohibition. But, wonders Simon Usborne, has this drastic solution ever had the desired effect?
Trouble is brewing in Kerala, where the government is about to call last orders on almost all alcohol. In an Indian state that crams 35 million people and almost a million annual visitors into an area not even twice the size of Wales, planned prohibition represents a social revolution that is comparable in scale to the doomed policy that America pursued during the 1920s.
First up, some more stats. Kerala is, in Indian terms at least, a pretty sozzled state, knocking back 8.5 litres of pure alcohol per person per year, more than twice the national average (but a modest amount compared to the 17.6 litres consumed in Belarus, according to the latest World Health Organisation figures, or the 11.6 litres we drink in Britain).
And it's serious. The Alcohol and Drug Information Centre in India says that 69 per cent of crimes, 40 per cent of road accidents and 80 per cent of divorce and domestic violence cases in Kerala can be linked to the consumption of drugs and alcohol (it does not say how much of this is related only to alcohol). Liver, heart and other alcohol-related diseases are also on the rise.
Rum, brandy and whisky are the tipples of choice in a society where booze now runs in the blood, with the state's financial capital at its heart. The Keralan government owns a monopoly on alcohol, with almost 400 licensed stores. By 2010, it was selling $1bn (£0.6bn) of alcohol, up from just $12m (£7.2m) when it nationalised the industry in 1984.
As younger generations also take up the habit, a drinking culture has taken hold. As a result, a temperance movement, led by Christian churches, has grown rapidly and now Kerala is preparing to cut licences in 400 bars. Stores, too, will be closed in phases until none are left. If the plans are pursued, only five-star hotels will be allowed to sell alcohol and India's wettest state will be almost completely dry by 2024.
It is a drastic solution to a serious problem, but has it ever worked? "Never," Daniel Okrent, an American journalist and author, says by phone. His 2010 book, Last Call: the Rise and Fall of Prohibition, is a bestselling and award-winning account of the US policy enforced from 1920 to 1933. "We have an inability to legislate against human desire. If people want something badly enough and don't consider it to be injurious to others, they will find a way to get it."
Okrent finds a pattern in the causes and outcomes of prohibition in almost all places where it has been enforced: Muslim or protestant ideology; and economic and social disaster. "In America, it deprived the government of needed revenue, fostered and created organised crime, undermined respect for the law, and killed thousands of people," he says.
The massive loss of tax revenue when the Depression hit ultimately compelled Washington to ditch Prohibition, Okrent continues. He views the period as an "historical hiccup that seems to make no sense… I wanted the subtitle of my book to be 'How the hell did that happen?'," he adds. It's not clear how Kerala's economy hopes to survive; revenues and tax from alcohol account for 20 per cent of the state's income. The vast tourism industry, which itself contributes 10 per cent of the GDP, is also concerned that visitors will be put off.
Another common result of prohibition: a disproportionate effect on the poor, who are more likely to drink potentially unsafe or even deadly moonshine, and more vulnerable to the black market that inevitably explodes when prohibition kicks in. In Kerala, anti-prohibition campaigners fear that alcohol tax revenue that currently flows into social projects to help alcoholics will instead line the pockets of criminal gangs and corrupt officials.
Okrent finds another case of economic failure in Iceland, where prohibition started in 1915, until Spain refused to buy Icelandic fish if Iceland declined to buy its wine. The fish trade was important enough for Reykjavik to relax its alcohol laws in 1921. They were only fully lifted when beer sales were made legal again in 1989.
Kerala's government need not even look so far for a case study. Several states in India have experimented with prohibition in a hangover from the time of Gandhi, who really didn't like a drink: "Those who take to drinking, ruin themselves and ruin their people," he said. In Gujarat, his home state, prohibition is still in effect. Wealthier drinkers buy drink smuggled from neighbouring states, while the poor drink bootleg liquor, often made using poisonous chemicals. In 2009, in one of several similar cases, 122 people died after drinking a deadly batch. At the time, Vijay Mallya, an Indian spirits tycoon, described the state's prohibition as a "farce".
Join our new commenting forum
Join thought-provoking conversations, follow other Independent readers and see their replies