Culinary crossroads: Afghan cuisine blends its neighbours' flavours but has a charm of its own

Show all 4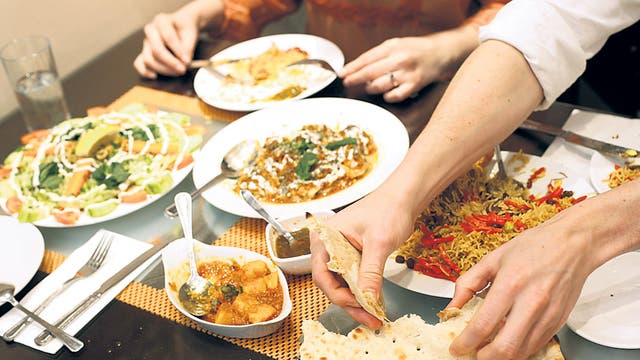 Culinary crossroads: Afghan cuisine blends its neighbours' flavours but has a charm of its own
Afghan food features Turkish, Middle Eastern and Indian flavours. Now, its diverse dishes can be enjoyed here, as Charlotte McDonald-Gibson discovers.
Often, the best meals take us completely by surprise. It was 2009 and election season in Afghanistan. I was among a group of reporters weaving through the Hindu Kush to see President Hamid Karzai stump for another term. After six hours on the road, our convoy lurched to a halt outside a run-down building at the junction of two dirt tracks. "Lunch," barked one of our gruff military escorts, and out we piled.
Men in grubby tunics fanned specks of meat on a charcoal grill as livestock scratched on the ground. Inside, a handful of diners on dirty mats cast a wary glance our way, the unmistakable waft of open drains hanging in the air. I made the calculations – another six hours on the pot-holed mountain road, the only "rest-stop" so far a bombed-out farmhouse – and decided to stick to the naan and bottled water.
But as plates of the fragrant meat threaded on metal skewers arrived in front of our uncomfortably crossed legs, I relented – and it was divine. The cubes of grilled lamb were full of flavour, but it was the chunks of fat, perfectly rendered and melting into the warm bread, that still make me shiver with pleasure today. Another treat awaited us at our destination. A whole cow strung up in the shade of mulberry trees was being noisily butchered by a man squatting in the dust. My caution now firmly flying in the wind, later that night I tucked into that delicious beef, now nestled on a bed of Afghan rice.
So it was with great excitement that I spotted Ariana II – the first London branch of a successful New York restaurant – in the Time Out Eating and Drinking Awards 2011. The restaurant, tucked away in Kilburn, north-west London, is beginning to win this unique cuisine the plaudits it deserves, and not just from the lucky ones who have spent time in the country. "We have customers who were working before in Afghanistan... we have diplomats from the embassies," says Mohammad Wali, the jocular proprietor of Ariana II. But, he boasts: "Our food is for everybody."
He's not wrong. If there was ever a cuisine that deserved a wider audience, it's Afghan food, which is influenced by a vast geographical spread reflecting its position as a much fought-over crossroads of the world. Grilled meats and curries improve on similar offerings from Pakistan and India, fragrant rice gives of hints of Persia, steamed dumplings manage to evoke both China and Central Asia, while desserts laced with rosewater and cardamom conjure up Turkey and Lebanon.
"Afghan food is very varied – it's like a cross between Turkish, Middle Eastern and Indian. But I think it's got more taste than the Middle Eastern food, and it's not as spicy and rich as the Indian food," says Helen Saberi, a food writer who first fell in love with the cuisine – and her future husband – while working for the British Embassy in Kabul in the 1970s. "A lot of influence came from Central Asia, from along the Silk Road," she adds. Saberi returned to Britain with her Afghan husband when the Soviets invaded Afghanistan in 1979, and wrote a cookbook – Afghan Food and Cookery, now in its second edition – to raise funds for refugees from the country.
And it is those refugees, joined by a second wave fleeing the Taliban and the US-led war, who have brought their ever-evolving cuisine to Britain. "What Afghans eat in London is changing because they are influenced by the Indian restaurants and the food that they can get here," says Saberi.
Indeed, there are many terms on Ariana II's menu familiar from the local curry house: tikka, pilaw, kebab, samosa, korma. But – as Wali confesses – they bear little resemblance to their Indian namesakes. Take the Kabuli Pilaw: rather than the dry pilau rice studded with cardamom pods and dyed orange grains, the Afghan version is a rich, moist mix of raisins, pistachios, almonds and grated sweet carrot. The raisins give the dish a tart tang perfectly complementing the enormous lamb shank hiding underneath the rice, which just falls off the bone, ready to be scooped up into the warm embrace of a steaming naan and dipped into an eye-wateringly fresh chutney of spicy chillies.
The dish for me that encapsulates the diversity of flavours and influences in Afghan cooking is mantu. Minced lamb laced with Middle Eastern spices is wrapped in wafer-thin pastry and steamed to create little parcels reminiscent of Chinese dumplings. These are then covered in a lentil curry similar to an Indian daal, drizzled in a garlicky yoghurt sauce, and topped with mint leaves. Another dumpling usually served as an appetiser is aushak, where the pastry is this time stuffed with a vegetable called a gandana – similar to a leek – and topped with ground lamb.
The most recognisable item on the menu for many patrons will be the kebabs, and indeed the shish kebab and the kofta kebab, a cylinder of minced lamb, will be familiar to anyone who has set foot inside a Lebanese or Turkish establishment. More distinctive is the chapli kebab, popular in Pakistan and Afghanistan, a flat patty similar to a spiced lamb burger. The vegetable curries that accompany the main dishes range from a familiar and simple potato curry to more adventurous fare such as a pumpkin, aubergine and okra curries.
Dessert brings further delights, with the tooth-achingly sweet firnee, a cardamom-infused custard dusted with almonds and pistachios. Rounding it all off is more potential work for my dentist:
nuql, whole almonds encrusted in sugar and rosewater, the perfect accompaniment to a pot of hot green tea with more cardamom.
And Mr Wali, whose family left Afghanistan during the Soviet occupation and divided themselves between Britain and the US, seems to be on to a winner: most nights his 100-seat restaurant is packed, he says, with people coming from all over London. "First, the crowd was mostly Afghan, now it is mostly English people," says Wali, who is scouting for another location in central London. It's not just his food they are interested it: "People want to talk about Afghanistan, about the war."
But, alas, my hopes of recreating that memorable Afghan meal appear remote. Wali says he tried marketing the kebabs of juicy fat from the lamb's tail to his fashionable Manhattan clientele, but it was not a great success: "They just say 'you want to make me fat,'" he laments.
Where to sample Afghan food
Ariana II
Authentic Afghan food in satisfyingly orient-themed surroundings, with welcoming staff and very reasonable prices. Make sure you err away from the more familiar Indian-sounding dishes and plump for the Ariana Specials. It doesn't serve alcohol, but you can bring your own.
241 Kilburn High Road. Tel: 020 3490 6709
Zeytoon
Not far from Ariana II, Zeytoon is a recent addition to the Afghan scene. It styles itself as an Iranian-Afghan fusion restaurant, meaning there is more emphasis on rice dishes and the décor has a distinctly Persian feel, but there are Afghan staples too.
94-96 Cricklewood Broadway. Tel: 020 8830 7434
Afghan Kitchen
This Islington institution was set up by an Afghan cameraman in the 1990s and offers four meat and four vegetable dishes each day. The utilitarian décor does not exactly give you a flavour of the country, but it's a decent place to try some of the simpler curry-style dishes.
35 Islington Green. Tel: 020 7359 8019
Afghan Cuisine
Branch out from the kebabs and sample the special dishes such as boulani and mantu at this casual Afghan cafe on Rusholme's "curry mile", where Middle Eastern and other cuisines are proliferating among the Indian restaurants.
86 Wilmslow Road, Rusholme, Manchester. Tel: 0161 248 5333
Kabul City Restaurant
Catering to the area's expatriate Afghan population and other adventurous types, Kabul City Restaurant offers up all the authentic flavours in no-fuss modern café-style surroundings. It is also bring your own, with no corkage fee.
32 -34 Station Road, Edgware. Tel: 020 8952 6036
Join our new commenting forum
Join thought-provoking conversations, follow other Independent readers and see their replies