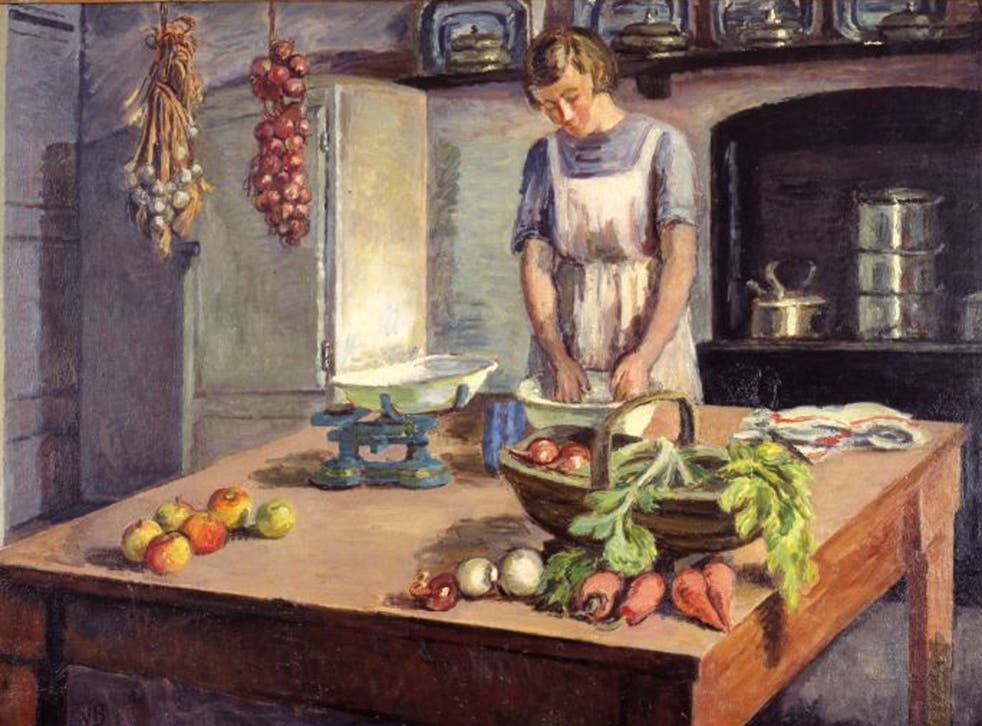 A dining room of one's own: The Bloomsbury Group's heady relationship with food
The Bloomsbury Group were, among other things, the foodies of their day, their enthusiasm for the heady flavours of southern French cuisine in tune with their love of French art. Now a new book offers a delicious taste of life at their tables
It's unclear whether it was Michael Holroyd's biography of Lytton Strachey or Quentin Bell's life of his aunt Virginia Woolf or the rise of the women's movement that sparked off the vogue for the Bloomsbury Group in the early 1970s, but the spark soon became a blaze. In the last quarter of the 20th century, the Group that had done so much to change, and scandalise, the first quarter became a publishing phenomenon: titles such as Edwardian Bloomsbury, Georgian Bloomsbury, Bloomsbury: A House of Lions, Bloomsbury Rooms and The Loving Friends: A Portrait of Bloomsbury were joined by biographies of all the participants, films about Virginia Woolf and Dora Carrington, exhibitions of paintings by Duncan Grant and Vanessa Bell, memoirs of the Woolfs' publishing house, the Hogarth Press… You'd have thought that, by the 2010s, every drop of interest had been wrung from the subject.
Now, however, comes The Bloomsbury Cookbook: Recipes for Life, Love and Art, and my first thought is: why has nobody thought of this before? Jans Ondaatje Rolls has inspected letters, diaries and memoirs for references to food, and found a treasure trove of lunches, dinners, celebratory feasts, descriptions of gastronomic treats, and umpteen recipes. It shouldn't be surprising – after all, the Group's main activities, apart from lying in deckchairs and having sex with each other, involved talking at tables laden with food and drink – but it's still a surprise. One somehow cannot imagine Virginia Woolf eating a boiled egg, let alone peeling potatoes.
The friends' interest in food was more in the consumption than the prepping, but it blended in with their other passions, as Ondaatje Rolls explains: "Despite a profound ignorance of all aspects of food preparation, the members of the Bloomsbury Group were the foodies of their day: enthusiastic about tasty, 'unfussy' dishes and passionate about Côtes de Provence wines and the heady flavours of southern French cuisine, which tied in well with their love of French Post-Impressionism in art. Their servants were sent on cooking courses, and provided with the latest French-style cookery books…"
Her book is considerably more than a cookbook. Along with 170 recipes, there's a vivid potted history of the Group from its inception in 1905, at Thoby Stephen's "Thursday Evenings" with his Cambridge pals, to its decline in the late 1930s at the onset of war. There are pungent extracts from letters and memoirs, lots of photographs and gorgeous paintings in that very English Post-Impressionist style, especially by Grant, Bell and Carrington.
The presence of food as an index or emblem of character gives the most delight. How piquant to discover that Woolf was a huge fan of crème brûlée and that Lytton Strachey, the bearded homosexual beanpole with the squeaky voice ("How simply too extraordinary"), ate nursery food – rice pudding, milk and rusks – in his late twenties. How pleasant to find that the intellectual super-élite at Cambridge, the "Apostles" (to whom most of the Group belonged), interrupted their elevated discussions about "the Good" to eat their favourite snack, "whales", aka sardines on toast.
How splendid that Lady Ottoline Morrell, the long-jawed, sexually voracious socialite and MP's wife, invited guests to lunch, tea, dinner or an after-dinner party and served plum pudding at all of them (to go, you see, with the celebrity "plums" of society she'd invited). How delightful to find that, when Lydia Lopokova, the delicate Russian ballerina ("Sergei Diaghilev's doll-like protégée", as Ondaatje Rolls describes her) with whom the enthusiastically homosexual John Maynard Keynes fell passionately in love, was asked to supply a recipe for The Ballet Cook Book, she nominated a surprisingly hefty stew involving turnips, potatoes, carrots, onions and three pounds of mutton.
The Bloomsbury Group, Dorothy Parker once observed, painted in circles, lived in squares – Gordon Square, Brunswick Square, Bedford Square, Tavistock Square (the home of the Hogarth Press) – and loved in triangles. The most creative ménage involved Clive and Vanessa Bell (Virginia Woolf's sister) and Duncan Grant, who had an affair with Vanessa, but also with John Maynard Keynes. The most complex set-up, however, was that at Ham Spray House in Wiltshire, between Lytton Strachey, Ralph Partridge (whom Strachey loved) and Dora Carrington (whom Partridge loved and who, rather hopelessly, loved Strachey). In this emotional Gordian knot, food was a constant release. Carrington was a fine and ambitious cook, and her letters were full of seductive promises to regale her friends with treats: "The dinner was indescribably grand," she wrote to Strachey when he was away. "Epoch-making: grapefruit, then a chicken covered with fennel and tomato sauce, a risotto with almonds, onions and pimentos, followed by sack cream, supported by Café Royal red wine, perfectly warmed… We all became very boozed."
Ondaatje Rolls, the author behind this arty-gastro-extravaganza, was born in Canada and immigrated to England in 1988. She's the niece of Michael Ondaatje, the author of The English Patient, and the daughter of Christopher Ondaatje, the businessman and philanthropist, among whose books is Woolf in Ceylon: An Imperial Journey in the Shadow of Leonard Woolf. One appealing facet of her book is that, when no obvious recipe from a Bloomsbury source or the Mrs Beeton edition of 1907 suggests itself, she makes one up, taking her cue from glancing allusions in the Group's letters. Mention of Clive Bell's many layers of personality (country gentleman, Paris decadent, prostitute and innocent dingbat), along with his family heritage (his great-great-grandfather founded the Fry's chocolate company) encourages her to celebrate him with her own witty invention, "Clive's Chocolate Layer Cake".
The book is divided into seven chapters: "Before Bloomsbury" (the early lives of the Stephens and Stracheys), "Old Bloomsbury" (the founding members, from 1904 to the First World War), "Bloomsbury in Wartime", "An Appetite for Bloomsbury" (the 1920s, the Group's apogee of success and influence), "Bloomsbury Abroad" (Duncan Grant and Vanessa Bell travelling in France and Spain, painting, reading Proust and discovering boeufs en daube et bourguignon and avocado pears), "Bloomsbury in Eclipse" (the 1930s), and "Bloomsbury's Offspring" (the next generation's choice of food and drink).
The penultimate chapter offers the chance for the Bloomsbury fan to emulate his or her heroes. Readers can have Breakfast at Charleston (a peeled orange, porridge and coffee, then scrambled eggs, and homemade brown bread), Sunday Lunch at Charleston ("heavenly aromas of roast Southdown mutton, sirloin or ham wafted through the house and mingled with the sweet smell of hot apple pie, treacle tart, roly-poly pudding, spotted dog or queen of puddings"), and boiled gammon just like that enjoyed by Leonard and Virginia Woolf at Glyndebourne. And there are two poignant vignettes at the end.
One is Christmas Day at Charleston, 1939, when Angelica Bell (the daughter of Duncan Grant and Vanessa Bell) celebrated her birthday. The Group all caroused with turkey, champagne and speeches, and Virginia Woolf "got absolutely drunk in about five minutes and shrieked and waved her arms". The party continued for several days; it was the last time the Bloomsburys ever partied together.
The other vignette is from 22 June 1940. The Woolfs were having supper with three authors, T.S. Eliot, William Plomer and John Lehmann, when news arrived that France had fallen to the Germans and England now faced invasion. A terrible silence fell. The Blitz was about to begin, and rationing (though the Woolfs loaned some of their land to the local people, so they could grow vegetables). Writing literature suddenly seemed impossible, as did elevated conversation and hope of the future. Suddenly, the raison d'être of the Bloomsbury Group – to live as independent beings, lovers, thinkers and artists, celebrating "the Good" – seemed woefully beside the point.
Civilisation as they knew it seemed to be coming to an end – and with it, all the elegant meals, the picnics, conversational dinners and epoch-making risottos that had fuelled their discourse since the turn of the century, and which this richly entertaining book movingly chronicles. "In the end," Virginia had said back in 1919, "it turns out that civilisation is a lunch party at No 50 Gordon Square."
The last entry in her journal was on 8 March 1941. It read: "Occupation is essential. And now with some pleasure I find that it's seven; and must cook dinner. Haddock and sausage meat." Three weeks later, fearing she was going mad, she filled her pockets with stones and drowned herself in the River Ouse. µ
To order 'The Bloomsbury Cookbook: Recipes for Life, Love and Art' by Jans Ondaatje Rolls (Thames & Hudson, rrp £24.95) for £18.95 free p&p, go to independentbooksdirect.co.uk or call 08430 600031
Join our new commenting forum
Join thought-provoking conversations, follow other Independent readers and see their replies