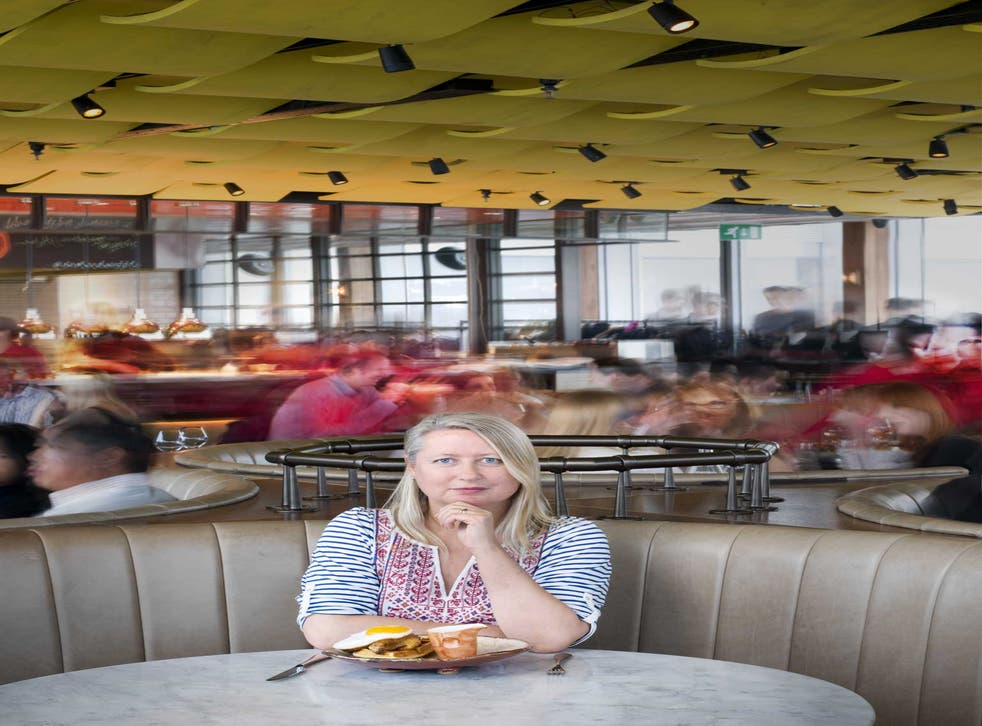 Duck & Waffle: Lisa Markwell spends 24 hours at the restaurant that never sleeps
Duck & Waffle is always open. Always. How on Earth does that work? Our restaurant critic Lisa Markwell rides up to the 40th floor of London's Heron Tower with an access-all-areas pass to the never-ending mealtime
Wednesday: 12pm
I've eaten at London's popular Duck and Waffle restaurant a few times and I've always wondered what goes on during the 22 hours when I'm not there (it's open a full 24/7). When do the napkins get washed? Do they have a nap room for staff? When are the carrots delivered? And who carries them up to the kitchen?
So I'm here to find out. I've got comfortable shoes, a supply of guarana and a fully charged laptop. First hurdle – the lift. It's glass, on the outside of the building and thrillingly fast up to the 40th floor, all of which is terrific if you're not scared of heights. I am. On previous visits to Heron Tower in the City, I've faced the lift doors with my hands over my eyes. This time, joined by the Wolves of Liverpool Street, I can't do that.
In his eyrie, executive chef Dan Doherty is ready. He's pulled a few all-nighters since the restaurant opened and has some words of guidance: "Don't drink with dinner. Don't drink coffee until you're absolutely desperate. And we'll go down to the terrace to watch the sun come up and get some fresh air." Pal, the photographer, adds his advice: "If you're scared of heights, just stand right by the window and that'll get the adrenalin up." He's not wrong.
1PM
Things are buzzing – Dan is diving between the kitchen and the recently installed "raw bar", where shellfish gleams. The talk is of "risk management" and "social-media policy" to one side of me, where a pair of suits barely break off from their conversation to order. They order the duck and waffle. Everyone wants the duck and waffle, the signature dish – a thick waffle, confit duck leg and fried duck egg, served with a maple mustard sauce – which costs £17.
On the other side, a young couple have the brownie sundae for pudding but the waitress also brings a plate with "Happy Birthday" in chocolate writing and chocolates with a candle. They leave beaming – clever strategy.
2PM
Dan breaks off from the kitchen to talk about some of the stuff that goes on unseen. There's another kitchen in the basement (shared with sister restaurant Sushi Samba) where the food is delivered and a lot of the prep takes place. Doesn't sound as much fun as upstairs. "And there's an off-site changing-room where the chefs go and are issued with their uniform for the day. There are 250 staff, so we need it. That's also where the napkins get folded and so on."
3PM
The waiters have no let-up: tables are re-laid as soon as guests leave as there's no "down time" between services, and lunchers are still arriving.
A seagull flies past the window, and in the distance, almost at our height, a small jet whisks past out of City airport. A father arrives with his small daughter for lunch and they take their seats by the window. Cue gasps. "I feel like I'm still moving," she says. Everyone takes selfies with the jaw-dropping views behind them. I turn to see what's on the horizon and catch sight of two men in a window-cleaner's basket – 40 floors up! I swiftly swivel my eyes back to the room.
4PM
I know if I eat carbohydrates I'll want to doze, so for energy I have grilled octopus with chorizo, fried capers and coriander. The octopus is insanely soft; somewhere in that kitchen there's a sous-vide machine working overtime.
A woman sits at an unlaid place with her back to the window – she must be scared. Cecs, my new waiter, who has just come on duty, tells me some people come up in the lift and take their seats only to start sweating and ask for a table away from the edge. Once two couples came and both men had to leave as they were so scared.
This is probably as quiet as it's going to get. About half the tables are full. The maîtresse d' takes a table for her own lunch (yes, when do staff eat?). There's always something going on – wines being tasted, raw bar being topped up.
A group of eight Japanese women order the duck and waffle and sit in silent contemplation.
5PM
The staff changeover looks like a military operation. Charts are consulted, the room carved up. I note that two waitresses operate at the "pass" (the counter between kitchen and tables). One puts the dishes into groups for tables, the other "runs" them (takes them to the tables). One hardcore lunch table has been here since 1.30pm.
My first yawn creeps up on me. Meanwhile, manager Costas comes over and we discuss the room. I point out the lunchers still here. "That's nothing," he says. "I had a table come in at 8am and leave at midnight." Tricky to deal with drunks when there's no closing time to contain them. "As long as they're well-behaved they can stay as long as they like."
5.15PM
I move to the bar. Pink champagne, a round of beers, a boy waiting wistfully alone. Some suits with their suit jackets off bray: "Let's take the bus. I haven't taken the bus in years."
6PM
In the kitchen, brioche that has been soaked overnight in custard is being pan-fried; balls of dough are rolled out for the five different breads on the menu; Chris (the Taylor Lautner-look-alike sous chef) is trimming lemons and there is a hum of low industry.
Huge cricket ball-sized ox-cheek doughnuts are lined up and paper bags full of crispy pigs' ears start going out. (I once ordered these for my teenagers without telling them what they were. They loved them.) Thirteen tables are back in business (the lunchers finally left), and the staff are stepping it up.
7PM
The light is starting to fade but the noise level is on the rise – the music has become more insistent, as has the table chatter. The confit ducks are flying (they served 7,908 of these last month), there are whole roast chickens on the pass and the tables are turning. It can take months to get a table at peak time, and everyone wants not only to eat the food, but to Instagram the views and do selfies with the Gherkin. Apparently sometimes people ask for a discount if it's hazy.
The private dining-room has been booked for a whisky-pairing event by Square Meal magazine. It's a prime spot, with a view of the best of London from the floor-to-ceiling window, and the menu is all the greatest hits. Dan gets ready to go through with bags of crispy pigs' ears to say hello to the guests. These days a chef can no longer get away with hiding behind the stoves. Some work the room, some tweet voraciously – Dan is a fan of social media and is chatty, but his eye is never far from what's going on behind him as he surveys the room and calls the orders. "Oui chef" rings out constantly.
This place did 19,000 covers in March, I've seen the data. There were 510 for dinner last Saturday night, and a table of 10 booked in for 2.45am. It begs the question: why aren't there more 24-hour restaurants in London?
8PM
Pierre Noublanche, the general manager, explains the primary challenge: "People's expectations – they might have waited ages to book, waited ages for their booking to come around, then they arrive. There are so many stages to their experience – walking from Liverpool Street, coming in the lift, walking through the bar, and into the restaurant… And if they want a window table, they can't all have one, so that is difficult – they will find fault more easily if they're not by the window."
Then there's maintenance: "For instance, when we have to service the wood oven, it takes five hours to cool down, four hours to work on and then about two hours to heat back up, so that's difficult and we have to do it at midnight so that in the morning we are ready to bake the bread – we must have the bread!"
9PM
I take my seat – the best table in the house – for dinner with my husband and teenage son. We give the menu a good work-out:
Crispy pigs' ears.
Caramelised onion and caper bread.
Dan's home-made bresaola.
Beef carpaccio.
Pollock meatballs.
Braised octopus with potato, capers and chorizo.
Smoked aubergine with naan bread.
Then duck and waffle, of course.
Whole seabass.
…and no space for pudding.
10PM
Another round of "Happy Birthday" rings out. Beneath, the city glows and it's easier to see your way from east to west as the landmarks are lit up. The music is now high-energy. The bar is thronging; on weekends, this is when things start to get wild.
11PM
Another group takes selfies by the window. The changeover to the night menu usually means the kitchen can take their feet off the gas slightly and clean down the ovens and so on. But tonight a couple have ordered the whole roast chicken seconds before the main menu finishes, which means 45 minutes before the chefs can do their wind-down. The whole chickens are cooked sous-vide then finished in the real oven, presented whole then brought back to be jointed in the kitchen. Chris, who's been on chicken duty for hours and was about to clock off, shows astounding cheerfulness in the circs.
Thursday: 12AM
People are still arriving – and they don't look like they've just come from working late. They're eating duck, and grilled cheese and ox-cheek sandwiches, and creamy, fishy dishes. I'm not sure that I could.
There's a couple by the window, clearly on a date. She's very pretty, he's very drunk. Then it turns out they have no money to pay. One card, two cards declined. Lots of phone activity to "move money around". No dice, but despite racking up a £130 bill, they sit sipping wine.
1AM
They're still here and at the pass we are watching, and waiting. It's hard to do a runner when you're on the 40th floor and security is on patrol.
One woman orders banana waffles without the banana, and with the ice-cream and the peanut crunch on the side. The customer is, to the kitchen's dismay, always right (well, if they pay).
The order tickets make for fun reading. Dan shows me one with "Eggs well done. Lady is pregnant. With baby."
2AM
The couple who couldn't pay have finally gone, having left a passport for security. We're getting a bit tired and a bit hungry – in the kitchen most of the staff have left, but Luca who's on night duty is steadfastly turning out more of that duck, bacon-wrapped dates, and ox-cheek grilled cheese sandwiches. The music is Archie Bell & the Drells and Sam Cooke – quite poppy and bouncy to stop utter torpor.
Meanwhile, quietly, Dan dispatches waitress Diana to a nearby nameless fast-food outlet for late-night team treats (how she gets the bags in without diners seeing is indeed a skill).
3AM
Down in the service lift, the cleaners are emptying vast bins of scraps and general rubbish. k A security man sits by the lift, which serves all of Heron Tower, and makes sure anyone getting in or out is supposed to. Staff have to sign in and out, and for payroll purposes there's thumbprint technology.
We retire to the PDR (private dining-room) to drink tea and eat (whisper it) chips. Suddenly on the outside a couple lean up against the opaque glass door, him all octopus hands and her not fighting him off. She does say, somewhat unconvincingly, "I need your trust as a manager…" Night manager Ricardo breezes through the sliding door to disrupt them. Apparently at this time of night, couples searching for a quiet corner to, er, carry on the party, are not uncommon. They're moved on and go back to the restaurant, where (amazingly) they're sitting with another couple. Things are getting messy for this work outing.
4AM
A waiter refills pepper grinders and Luca gets the garnish tubs stocked. The bread oven blazes away. The foursome's conversation switches between "I could be sitting on Simon's face" and something unclear about market strategies.
5AM
The restaurant is completely empty now. The lights go on. "Great, now it really feels like an airport," grumbles Dan. Then the men arrive to clean the floor and the vacuum cleaner is like an assault. Listless squabbling over the Spotify playlist ensues but no one really has the energy. It's much harder when there are no guests and everyone is at pains to point out that, "It's not normally this quiet."
Then the kitchen phone goes – it's a breakfast chef calling in to say he can't work his shift. He wasn't expecting to get the boss at the other end of the phone at 5am.
So Dan has to mobilise. He shows me a neat trick for poached eggs – a box of eggs in their shells. They've been slow-cooked in a water bath for 45 minutes at 65 degrees and when you break the egg it's just holding enough to make a perfect sphere once dropped into hot water.
At 5.41am, with the first breakfast guests booked for 6am, all the prep is done and the kitchen is gearing up. But chewing gum is discovered under some of the tables, and on some chairs, so one poor waiter has to rush around and scrape it off.
6AM
Just before 6am, the manager, Dan and I go down to Sushi Samba two floors below and sneak out on to the terrace. The lighting gives a pink hue and the Gherkin is glowing blue in the background. London is just starting to wake up – below, the toots of taxis can be heard – and the oxygen is most welcome.
As soon as we're back, the first breakfast guests arrive, and things start to lift. The sun isn't breaking through the mist yet but fresh people make things seem fresher. The "Colombian" is one of the most popular dishes – Dan explains it was born from the afternoon-after-the-night-before scrambled eggs he was served in Miami. This one is more refined, and with avocado.
7AM
Fully light now and the trickle becomes a flood. There are plenty of suits in, but also three ladies having champagne breakfast, and a family with young children, who swoop for window seats. Dan's senior sous chef and partner-in-crime Tom Cenci has arrived and is full of beans, which is good news for a flagging chef.
And then, just when the "ouis" are a constant call from the kitchen, the fire alarm goes off. Everyone freezes, just for a moment, before heading for the nearest staircase, with staff marshalling carefully. Wow, a full 40 flights of stairs – I pity many of the people around me, who didn't manage to get a swig of Americano or a bite of their full English before they have to leg it.
By the time we hit G, it's all over and we can scoot back up. Guests come back in dribs and drabs (some don't return at all, having missed their breakfast "window"). The chefs are hugely disappointed. "Here come 30 bad reviews on TripAdvisor," they mutter.
8AM
The kitchen is a blur, with Tom pushing everyone to go faster. A pair of businessmen tuck into the signature duck dish (at 8am, woah) and the duck egg en cocotte with wild mushrooms, gruyère and truffle oil. That takes stamina in itself. We are now no longer in catch-up for the fire alarm, but full-blown breakfast service, and it is ferocious.
9AM
The kitchen is preparing for the arrival of a very prestigious restaurant critic. Her visit goes smoothly and as she exits, stopping to say hello to the two chefs, the relief is palpable.
10AM
At the daily staff meeting downstairs for the two restaurants' senior staff, yesterday's numbers are noted, special events and VIPs planned for and general business talked over. On the subject of famous names, Dan says he's seen Premiership footballers carousing here 12 hours before a match. And there was a moment recently when the sister of One Direction's Harry Styles tweeted about D&W and the website crashed…
11AM
The last hour goes by in a haze, if I'm honest. No wonder the staff rota is a military operation, because tiredness just won't do. The restaurant is at capacity again, serving brunch – guess what everyone's ordering? Dan and Tom are discussing a team outing tomorrow night and new dishes for the menu. The beat goes on.
Duck & Waffle is at Heron Tower, 110 Bishopsgate, London EC2, tel: 020 3640 7310
Join our new commenting forum
Join thought-provoking conversations, follow other Independent readers and see their replies