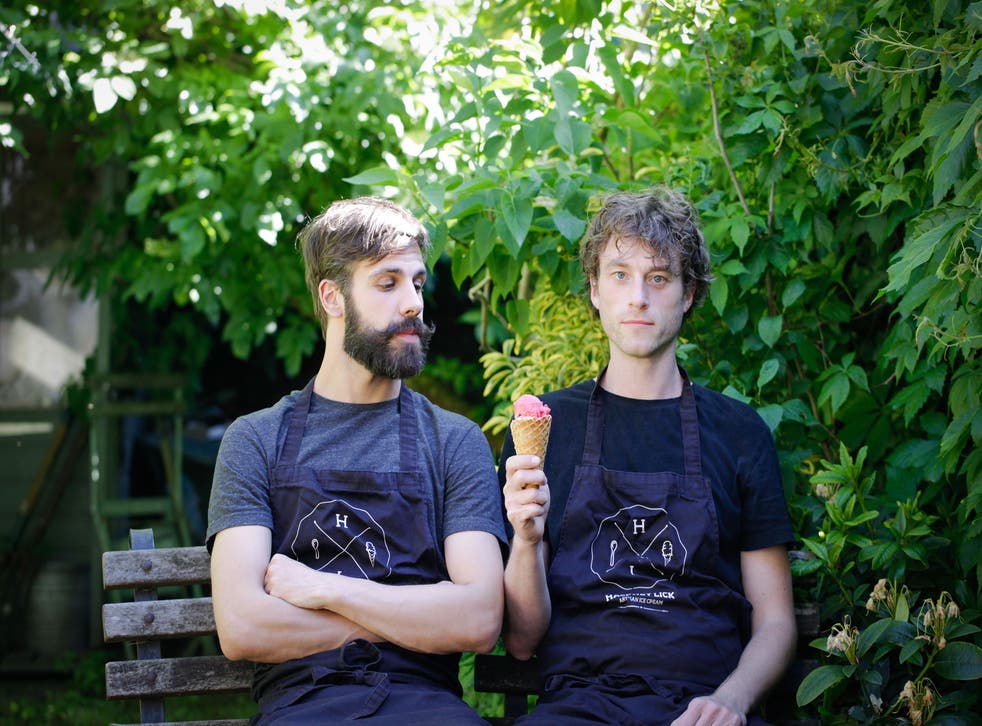 An exciting new generation of ice-cream makers reveal how to make their favourite concoctions
Cool treats on a sunny day are about so much more than dodgy gloop in a rubbish cone. From cappuccino gelatos to Mexican-chocolate lollies, the latest generation of ice innovators reveal how to make their greatest hits at home
Ice creams and lollies are pleasing as a treat can be, putting smiles on the faces of children and adults alike. And at this time of year, they're a simple accompaniment to so many pleasures: village fêtes, beach outings, country fairs, festivals, big sports events.
But if you're looking for a cool treat that's more discerning than your average ice-cream van fare, you need some know-how. As authority Kitty Travers of La Grotta Ices, says: "The higher ice cream is piled and the shinier it is, the further I stay away from it." If you make it at home, you can choose your flavours and style, and know exactly what's going into your chilled sweet. Thankfully, making ice cream is a cinch with a specialist maker, and nowadays you'll find these machines are about as affordable as a kettle or toaster. To get you started, three of the new ice-cream guard reveal their secrets below…
Top 10 foods that make Brits happy

Show all 10
The gelati duo
Hackney Lick's Sam Newman and Enrico Pavoncelli
Explaining the difference between gelato and British ice cream, Pavoncelli, who set up Hackney Lick with Newman last summer, muses, "Gelato has a more intense flavour than ice cream. Ice cream has more than 10 per cent fat, while gelato is around 8 per cent. So you'll find you have less fat coating the tongue when eating gelato, which leaves more space for other flavours to shine through.
"Gelato machines whip the mix slowly and incorporate less air; ice-cream machines whip it at high speed and can even double the volume of the initial mix."
The pair use traditional Italian techniques and recipes but also put an English twist on them, says Newman. "We'll do traditional mango. But then we'll also make a bacon and avocado gelato. We supply restaurants, so we often do bespoke creations. At the moment we're developing a pink champagne gelato with sparkling wine from Camel Valley in Cornwall." Two of their most fêted include a bread-and-marmalade edition and a blood-orange sorbet they make for chef Tomos Parry at Kitty Fisher's.
Their own cheffy backgrounds have had an impact on their approach. The boys, now aged 34 and 30, first met at Locanda Locatelli, where Newman, who had completed a year at Leiths, was doing a stage and Pavoncelli was junior chef de partie.
Italy has influenced them, too. "I grew up in Tuscany and Enrico is Italian," says Newman. "We just thought there was a gap in the market for good-quality gelato in restaurants." So they left Giorgio Locatelli's place and went off to Sicily and Calabria to learn from the gelato masters.
Of their new life dedicated to icy delights, Newman concludes: "We do spend a lot of time eating and sampling gelato; you have to get the balancing of fat and flavour correct. Do I get bored of eating it? Never – but now I taste it rather than guzzling."
Hackney Lick's favourite gelato and sorbet
Lemongrass and pandan sorbet
The pandan leaf gives a lovely savoury finish to this simple, delicious sorbet.
Serves 4
180g fresh lemongrass
210g caster sugar
750ml water
1 small pandan leaf (available from seewoo.com)
40ml lime juice
Grind the lemongrass and sugar together in a food processor. If you don't have one, bash the stalks to release their flavour then finely chop. Tip the mix into a saucepan, add the water and bring to the boil. Simmer for a minute, add the pandan leaf and allow the mix to infuse at room temperature for 30 minutes. Transfer to a heatproof container and cool in the fridge. Once the mix has chilled completely, strain through a fine sieve and add the lime juice. If you don't have a gelato-maker, churn in an ice-cream maker until set.
'Cappuccino' gelato
The cacao nibs add a nice crunch to the gelato, but omit them if you want a smoother finish. Strong, good-quality coffee is essential.
Serves 4
480ml whole milk
240ml double cream
65g liquid glucose (Dr Oetker's is available in the supermarkets)
105g caster sugar
100g espresso
120g skimmed milk powder
2tbsp cacao nibs (optional)
Pour the milk and cream together in a pan and warm until tepid (about 30C), then add the liquid glucose. Mix well, and warm further (to about 40C), then add the rest of the ingredients except the nibs. Heat the mixture up to just below a simmer, then remove from the heat. Pour the mix into a heatproof container and allow to cool completely in the fridge. Add the nibs if using, and churn until set.
The artisan
Ice-lolly maker Cesar Roden, founder of Ice Kitchen
When Cesar Roden visited his aunt in New York in 2011, he was smitten. "She had a small-scale ice-pop company and we'd wheel her cart across 20 blocks. I helped for three months. Then I thought, why not do something similar in the UK? Let's make ice lollies for the discerning grown-up."
Roden, who hand-makes his with a kaleidoscope of fresh fruit, yoghurt, cream, nuts, chocolate, herbs and spices, believes there is more to the lolly than those fluorescent sticks you buy at the petrol station. The 25-year-old brews, simmers and experiments with ingredients inspired by puddings. His creations include a Middle Eastern-style apricot and pistachio and English blackberry and Greek yoghurt ices. "We use fresh mint in our mojito ones, we do peach hibiscus soaked in lemon sugar, we always use whole fruits – every strawberry is pulped by hand. I don't think lollies made on an industrial scale can be this quality as it's so labour-intensive."
When he started in 2013, such devotion to flavour development wasn't easy. "I worked morning, noon and night. We took over my mum's kitchen." Two years on and he has a "proper" kitchen in Park Royal, north-west London, and a team of four to six helping him. "We do markets at weekends but now we distribute through Cook, online and in its shops. That's our biggest step yet."
icekitchen.co.uk, cookfood.net
Mexican chocolate
This is inspired by the Aztecs' chocolate and chilli drink.
Makes 8-10 lollies
10 ice-lolly sticks and moulds
500ml whole milk
250ml double cream
1 cinnamon stick, broken up
3-5 generous pinches of cayenne pepper plus extra to sprinkle on top
150g dark chocolate, finely chopped
65g granulated sugar
Put the milk, cream, cinnamon and cayenne pepper into a saucepan. Simmer for 5 minutes. Remove from the heat, add the chocolate and sugar, stir till well-blended and creamy. Set aside to cool and allow the flavours to infuse. The longer it sits, the smoother and creamier it will be.
Strain through a fine sieve, then pour into moulds, leaving 5mm at the top to allow for expansion on freezing. Insert the sticks and freeze (4 to 6 hours). Sprinkle a tiny bit of cayenne on the frozen lollies, if you like.
Strawberries and cream
An English classic, in season now.
Makes 8-10 lollies
10 ice-lolly sticks and moulds
110g granulated sugar plus 2 tbsp
125ml water
450g strawberries, rinsed, hulled and cut in half
2 tbsp freshly squeezed lemon juice
40ml double cream
To make a sugar syrup, simmer the 110g sugar and water in a small saucepan until the sugar has dissolved. Place the strawberries, sugar syrup and lemon juice into a food processor and blend to a purée.
Stir the 2 tbsp of sugar into the cream. Divide this cream between your moulds, then pour the strawberry mixture on top, leaving 5mm at the top to allow the mixture to expand when it freezes. Insert the ice-lolly sticks and freeze.
'Ice Kitchen: 50 Lolly Recipes' (£12.99, Quadrille) is out now
The ice-cream queen
Julie Fisher, owner of Ruby Violet
"I'm very focused on childhood memories of ice cream," says Julie Fisher, who runs a parlour named after her grandmother, Ruby Violet. "I always ate it with her; she loved choc ices."
The 56-year-old clearly has a talent for making icy treats. Based in north London's Tufnell Park, you'll find her rustling up the likes of peanut-butter ice cream and a black-sesame confection. It's a relatively new career for Fisher. "I had been a food photographer but when photography went digital, it lost its camaraderie. I missed that."
Redressing this, her shop has a strong sense of place. "Tufnell Park has a lovely community; customers pop in and talk to us as we churn. We do classes for local children. The other day, someone turned up with some beautiful horseradish, so we tried it in an ice cream. It's good to have that link with your surroundings."
Keeping true to that local ethos, she uses ingredients from nearby allotments. She doesn't grow her own, but of her suppliers, she says, "We've just made strawberry and rhubarb, with rhubarb from a customer's allotment in Highgate, which we swapped for ice cream. We use mint from another customer's patch; quince comes from a tree in Tottenham; damsons from a neighbour down the road; honey from John on the next road."
Her other secret: "The fewer ingredients, the better" – which means as little sugar and as few additives as possible. "So our mint ice cream hasn't any fake green colouring, it's just a creamy colour," she says. "Sometimes children are shocked at first."
Easy ice cream from Ruby Violet
Honey ice cream
My honey is supplied by our local apiarist, from the hives in his garden – the bees live just half a mile away from us.
Makes 1 litre, serves 6-8
500ml double cream
250ml whole milk
150ml honey
40g flaked almonds, to serve
Heat up the cream and milk in a saucepan. Once boiling, remove from the heat and add the honey. Stir well and leave to cool to about 4C (it's best to check on a food thermometer). This will take about an hour-and-a-half. You can also cool the mixture by placing it in a pan in a sink filled with cold water and ice cubes.
Pour the mix into an ice-cream maker and churn until set. Meanwhile, toast the almonds in a dry frying pan over a medium heat, until lightly coloured. Serve the ice cream with the toasted almonds (and honeycomb if you wish).
Ruby Violet's mint chocolate chip ice cream
Serves 6-8
500ml double cream
250ml whole milk
75g granulated raw sugar
45ml egg yolk (3 large egg yolks)
Pinch of salt
40g mint leaves stripped from the stalks
100g chocolate (at least 60 per cent cocoa solids)
Bring the cream, milk and sugar to the boil in a saucepan then remove from the heat.
In a bowl, whisk together the yolks and salt until combined well. Slowly pour the slightly cooled milk and cream on to the egg mix, stirring constantly.
Pour the mixture back into the saucepan and slowly heat, stirring with a wooden spoon all the time, until it has reached a good heat but doesn't boil (about 85C).
Stir at this temperature for 4 minutes. Add the mint leaves. Remove from the heat and leave to cool (to about 4C) for about an hour-and-a-half. Place in the fridge and leave for 6 hours or preferably overnight. Strain through a sieve, pressing the mint leaves firmly. Pour into an ice-cream maker and churn.
Melt the chocolate in a bain-marie and leave to cool, but stir occasionally so it remains runny.
Remove the ice cream from the machine and layer it in a container, interspersed with dribbles of melted chocolate to form chocolate chips. Keep in the freezer until ready to serve.
These recipes can be found in 'Ruby Violet's Ice Cream Dreams' (£16.99, Hardie Grant)
Join our new commenting forum
Join thought-provoking conversations, follow other Independent readers and see their replies