Exposed: The big waste scandal

Show all 5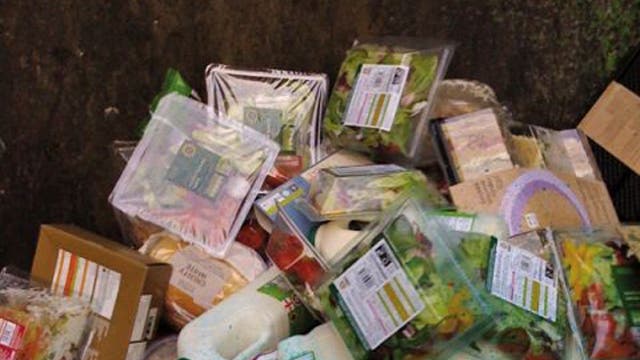 Exposed: The big waste scandal
We know our eating habits are careless. But shocking new research lifts the lid on the masses of food dumped before it even reaches the shops. Martin Hickman reports
Thursday 09 July 2009 00:00 Comments
Lamb chops rotting in the fridge, bananas blackening in a bowl, potatoes mouldering in a cupboard. We all know that wasting food is wrong. After all, we're lucky to have enough food in the West.
Thankfully, being an Independent reader, you probably don't waste food. Indeed, almost no-one wastes food – or thinks they do. Some 84 per cent of the public told the state-funded Waste and Resources Action Programme (Wrap) they didn't throw away a scrap. Wrap wondered about that.
When it asked 2,715 householders to monitor their food use, their profligacy rose grubbily from the complacency. Using the food diaries, Wrap estimated last year that the average home spent £420 and families £610 a year on discarded food, adding up to 4.4 million apples, 1.6 million bananas, 1.3 million yoghurt pots, 660,000 eggs, 440,000 ready meals, and 5,500 whole chickens. A day. We might as well throw one in three shopping bags straight into the bin, Wrap complained.
If this weren't bad enough, new research has identified and quantified a whole new layer of waste that has been obscured until now. A new book, Waste: Uncovering The Global Food Waste Scandal, based on three years' research by author Tristram Stuart, suggests that at least 25 per cent of fresh fruit and vegetables produced in Britain is wasted before it even reaches the shops. Piles of imperfect potatoes, spinach, tomatoes and other produce are left in the ground to rot, sent to landfill, or to anaerobic digestion, which generates power from the foul gases that arise.
European rules setting cosmetic standards for fresh produce and the supermarkets' own, even stricter cosmetic standards are culprits. Until this month, the EU banned the sale of oddly-shaped or knobbly versions of 46 different fruits and vegetables. Now, 36 can be sold, allowing curvy cucumbers, knobbly carrots and wizened cherries onto the shelves for the first time in 20 years. However, the rules will stay in place for 10 fruits and vegetables, which account for 75 per cent of fresh produce sales, including bananas, which must have a specifically bendy curve.
As well as being as much as 40 per cent cheaper than unnaturally perfect shop specimens, such fruit could alleviate the environmental damage done by agriculture, which across the globe is marching into forests and other wildlife-rich areas. This "ugly" produce, though, may never make it onto the shelves because supermarket standards are even more stringent than the EU rules, hence the rows of straight carrots and spherical potatoes, with the honourable exception of Waitrose's misshapen line.
Stores pack shelves with every single line, because disposal is financially viable for them given the upside from potential profits on manufacturing costs (though this is not so for the public, which pays environmentally and financially for deforestation, soil erosion, water depletion, landfill pollution and climate change arising from squandered resources). Much food waste could be, but is not, used to feed the poor through community distribution schemes such as Fareshare.
The mass waste of fruit and vegetables is only part of the story, though. The EU's common fisheries policy results in between 40 and 60 per cent of fish caught by trawlers being thrown back into the sea dead, because there is no quota trading system as there is in Iceland.
Setting aside the extra resources used to produce it, meat is wasted because – in addition to household disposal of lean cuts – most people refuse to eat offal. Pig's trotter's, cattle kidneys, liver and other offal shunned here are treated as delicacies around the world.
Developing nations have a different attitude towards food waste. In 2008, a global crisis sparked by rocketing wheat and rice prices raised the average cost of food by 54 per cent, triggering riots in countries such as Haiti and Bangladesh, where the poor could no longer afford staples. This is where food waste, in addition to its financial and environmental effects, assumes an intense practical and moral dimension. Not because we should send mouldy tomatoes or stale bread to Africa, but rather because the West's needless consumption raises demand and prices for global supplies that would otherwise be bought and eaten by the hungry.
A more efficient food chain could also relieve pressure on resources; the energy poured into the 61,300 tonnes of tomatoes thrown away annually by Britons could be used to produce enough wheat to relieve the hunger of 106 million people.
The UN estimates there are 923 million malnourished people in the world, the vast majority in developing nations. The US wastes enough food to bring up to adequate nourishment two times this number. Stuart calculates: "If food wasted by consumers and the food industries of the UK is estimated and added to that total, there would be enough food to satisfy the needs of the world's hungry between three and seven times over."
Moreover, cutting 20 per cent of unnecessary world food production and using the spare land to grow willow to burn instead (rather than coal and gas) could slash climate change gases by 40 per cent.
There are practical ways to end the gluttony. Householders should start making shopping lists, freeze ingredients and make use of leftovers to ensure they eat up everything. Britain should force supermarkets to disclose their waste and tax edible food waste, and end its ban on feeding swill to pigs, who convert discarded unwanted scraps into meat.
In the Second World War (when there was a tangible enemy, rather than a seemingly abstract environmental problem like climate change or a moral imperative such as alleviating hunger), a Government poster proclaimed: "A Clear Plate Means A Clear Conscience". Sixty years on, we should salute the sentiment.
'Waste: Uncovering the Global Food Scandal' by Tristram Stuart, published by Penguin, £9.99. To order this book for the special price of £9.49, go to independentbooksdirect.co.uk or phone 0870 079 8897
Meal by meal: What's thrown away
Breakfast
Fruit salad, yoghurt
A healthy fruit salad of apples, strawberries and grapes masks a hidden profligacy. EU fresh produce standards require 10 fruits and vegetables to be classified. Those too small, strangely-shaped or blemished to meet Class II cannot legally be sold for eating (though they can now, thanks to a change in the law that took effect on 1 July, be sold "for processing").
Together with uniformity standards imposed by retailers, between 25 and 40 per cent British-grown fruit and vegetables are sent to landfill, anaerobic digestion or fed to livestock without reaching the shops. In stores, retailers overstock to maintain margins and provide an illusion of abundance. Vast amounts of edible produce are dumped into bins, destined for landfill, or sent to anaerobic digestion. The yoghurt is fine – provided it is eaten. British households throw 384m unopened pots into the rubbish annually, many within their use-by dates.
Morning snack
Bananas
Like apples, strawberries and grapes, bananas are subject to the EU's bizarre rules, which insist they have a certain curvature. The rules specify "the thickness of a transverse section of the fruit between the lateral faces and the middle, perpendicular to the longitudinal axis, must be at a minimum of 27mm (1.06 inches)."
Why are all shop bananas the same size? Because foreign producers have to "grade out" small or misshapen bananas, which are dumped in ditches.
Statistics are hard to come by but one study in the West Indies in 2002 found 40 per cent of the banana crop was wasted. Retailers often throw out green (ripening) bananas due to over-ordering, along with single bananas that have become separated from a bunch. British householders bin £370m of the bananas that survive the beauty pageant every year – which adds up to £6 per person.
Lunch
M&S Tuna and Sweetcorn sandwich
Stores exert strong cosmetic and freshness standards in other areas. Marks & Spencer instructs its sandwich supplier, Hain Celestial Group, to jettison four slices from every loaf – the crusts and the slice next to each crust, for quality control reasons. It adds up to 13,000 slices a day.
M&S is switching its tuna supply to sustainable pole- and line-caught skipjack, but other sandwiches contain tuna caught by purse seine boats, which negligently catch huge quantities of endangered whales, dolphins, and turtles.
Other fisheries are vastly wasteful, too. Given the absurdity of EU fishing quotas, the jettisoning of bycatches and smaller species in favour of perfect specimens, plus retailer and processing waste, and domestic disposal, we may eat just 10 per cent of the marine life we catch.
Dinner
Tesco Chicken Balti ready meal, tomato salad
Ready meals are over-ordered to maintain 100 per cent stock availability, thanks partly to the one-sided nature of contracts with suppliers.
At home, shoppers dump ready meals into the bin because they have not calculated how much food they need. Only a minority make a shopping list. Many consumers confuse "display until" or "sell-by" dates with "use-by" dates (the only food safety instruction). Our use of meat is particularly wasteful. Despite requiring 10 times more energy to produce than vegetables or grains, much practical meat is wasted because we have lost our historic taste for kidneys, lungs, trotters and other offal, considered a delicacy in other countries, including on the Continent. Tomatoes are energy-intensive to grow but 61,300 tonnes are thrown out, rather than made into chutneys or sauces. By value, 60 per cent of lettuce ends up in household bins, the single most wasted food. Storing them in water like flowers preserves them.
Register for free to continue reading
Registration is a free and easy way to support our truly independent journalism
By registering, you will also enjoy limited access to Premium articles, exclusive newsletters, commenting, and virtual events with our leading journalists
Already have an account? sign in
Join our new commenting forum
Join thought-provoking conversations, follow other Independent readers and see their replies