Extreme eating challenges are hot stuff in the UK

Show all 3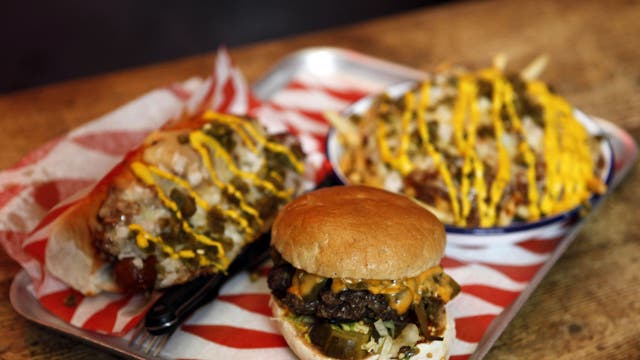 Extreme eating challenges are hot stuff in the UK
We may like to tune in to 'Man v. Food', but Britons are way too civilised for food challenges, aren't we? Not any more, writes Gareth May, who takes on a mountain of chilli.
It's a Tuesday afternoon in mid-June and I'm sitting in MEATliquor, a widely revered burger joint in the heart of one of the world's most popular culinary capitals. I have an eclectic audience: a girl in a gas-mask and knitwear, and an owl in a tuxedo peer down at me from the walls; a tattooed and crescent-moon mob of "burgerettes" whoop and holler; while "the man with the megaphone" exuberantly narrates my mouth's brief but interesting encounter with the trendy canteen tray of food in front of me. The Triple Chilli Challenge.
A Frisbee-sized plate of Chilli Cheese Fries, one grinning Chilli Dog, and a Green Chilli Cheeseburger, with a spit-and-shine bun. Everything but the burger is smothered in beef chilli, onions and jalapeños and criss-crossed with Jackson Pollock-inspired squirts of mustard and ketchup.
If I eat it all in 10 minutes or less, I get a free meal and a spot on the leader board. Go over the 10-minute mark and I've got to throw down £20. The audience members are expectant. They've all got front-row seats and they want a performance. The second the timer hits 9.99, the crowd is baying for meat sweats and mustard tears – for the latest sacrifice to the great Chilli God in the sky…
I start with the fries. Cramming handful after handful into my mouth in a display which Debrett's would no doubt call "horrifying". At the half-way point – fries down – I start on the dog. Within bites the chilli (no kick of heat, just a tickle) is everywhere. On my hands, in my beard and, rather fascinatingly, my hair as well. Two minutes to go and only a mouthful of dog and the burger remain. I haven't hit a wall, I've been knocked out cold with a breeze block. Panting, sweating and shivering, I throw the napkin in. The buzzer goes off. My challenge is over.
To anyone who's heard of Adam Richman, the infectious presenter of US TV show Man v. Food, this will be a familiar scene. But what will come as a surprise is the setting. You won't find framed "football" jerseys and star-spangled serviettes here. This is not the Land of the Free. This is the land of porridge oats and builders' tea, of 99s and fish 'n' chips shared off the dashboard because it's raining on the beach. This is England. We're all far too civilised for that eating challenge lark, surely. Or are we?
Richman may have hung up his oven gloves in January 2012 (in the US, the show ran from December 2008 to April 2012) but, fuelled by repeats ad nauseam on Dave, just like a bad kebab the effects are still being felt some time after its departure and the big man's greasy-palmed legacy lives on. According to The Food Project, there are 35 clarified major eating challenges in the UK and many of these – from Blackpool to Brighton – carry the Man v. Food moniker. It's a tag that sells.
But for Louise Orcheston-Findlay, editor of London lifestyle website Who's Jack and organiser of The London Eating Challenge, a series of competitive eating events running throughout the 2013 summer, there's more to Man v. Food than simple gluttonous voyeurism. She says it's "not just about gorging yourself, it boils down to real appreciation of flavour and popular culture – and what makes the masses tick".
When Richman first graced our screens in 2010, with his gladiatorial feats of eating that would make Henry VIII reach for the remote, the initial meat-addled disgust soon gave way to open-mouthed intrigue. Watching some random bloke stuff his face with a burger with the same amount of calories it would take 15 hours of boxing to burn off when you're settling down to beans on toast isn't the most attractive sight in the world.
But the first time you see a grown man pack away a 72oz steak in 29 minutes, you just have to sit up and take note. And when that same man, who's just made himself sick from over-eating, enthusiastically talks about the stories behind these often family-run restaurants, with big hearts and even bigger grills, you can't help but feel admiration. The gamut of emotions is nothing short of falling in love with a bad influence – you know you really shouldn't go behind the bike shed after school but those nicotine-kisses just feel so good. It was only a matter of time then, before admiration turned to inspiration.
But the Man v. Food phenomenon isn't the only reason for the upsurge of eating challenges this side of the soup bowl. In London, in particular, this recent interest in American food has spawned US-themed restaurants such as MEATliquor and BBQ joint Pitt Cue Co; these places have, in turn, brought with them a more laissez-faire and liberal attitude to portion control.
For Yianni Papoutsis and Scott Collins, the founders of MEATliquor, for whom the whole Triple Chilli Challenge started as a joke ("a friend of ours wanted to do an eating competition – somebody saw him doing it and asked to be next"), that old US trait of showmanship plays a key role. "Being the centre of attention is a big part of it, although it can be a double-edged sword when you start hitting 'The Wall'," they say, and there's another factor that needs to be taken into account and it's a very British one: alcohol.
But let's not forget the core freak-show values of the eating challenge. Who's Jack has run two events so far and what's interesting, Orcheston-Findlay says, is the sheer volume of people showing up just to watch; rendering the challenges just as much "a spectator sport as a participation sport". "There's been a sense of togetherness and team spirit. There's a real camaraderie attached to the challenge of eating something large or eating something spicy," she says. And as with anything involving a heady mix of peer-pressure and promotion, there's a profit to be made from it, too.
Punch "triple chilli challenge" into Twitter and this "camaraderie" is there for all to see – and the bravado, of course: "Need to have a go at the Triple Chilli Challenge. Reckon I'd take this shit down." As well as the kudos: "Just seen Dripback actually complete the Triple Chilli Challenge at MEATliquor. Respect." And, bizarrely, the romantic: "My darling #meateasy. I'm sorry I didn't come to say goodbye, but we'll always have the triple chilli challenge x."
As I experienced first-hand, whenever the challenge is attempted, by two dozen people or so a week, there's a palpable buzz about the place. But in the world of social media, it's a buzz that transcends the moment. Instagram and Vine flash into life as photos and videos are instantly uploaded to Twitter and retweets are sent to friends of friends who they'd like to see take on the challenge. The whole thing becomes a bit of a circus. A circus which has no doubt helped the challenge become one of the most popular in London. It's priceless promotion – in more ways than one – and for a company that started out as a food truck in an industrial estate in Peckham and built its three-restaurant burger empire off the back of word-of-mouth, it all slots nicely into place. Everyone's getting something out of it.
As with all American trends that we've welcomed into our foodie fold, we've tailored eating challenges to our own audience – melding the shock and awe of an attempt with the spontaneity and surprise of a rare social event – and with so many foodie experiences already available to the casual gourmand in London and beyond, it seems eating challenges are just another chapter in Britain's ever-blooming love affair with food.
Join our new commenting forum
Join thought-provoking conversations, follow other Independent readers and see their replies