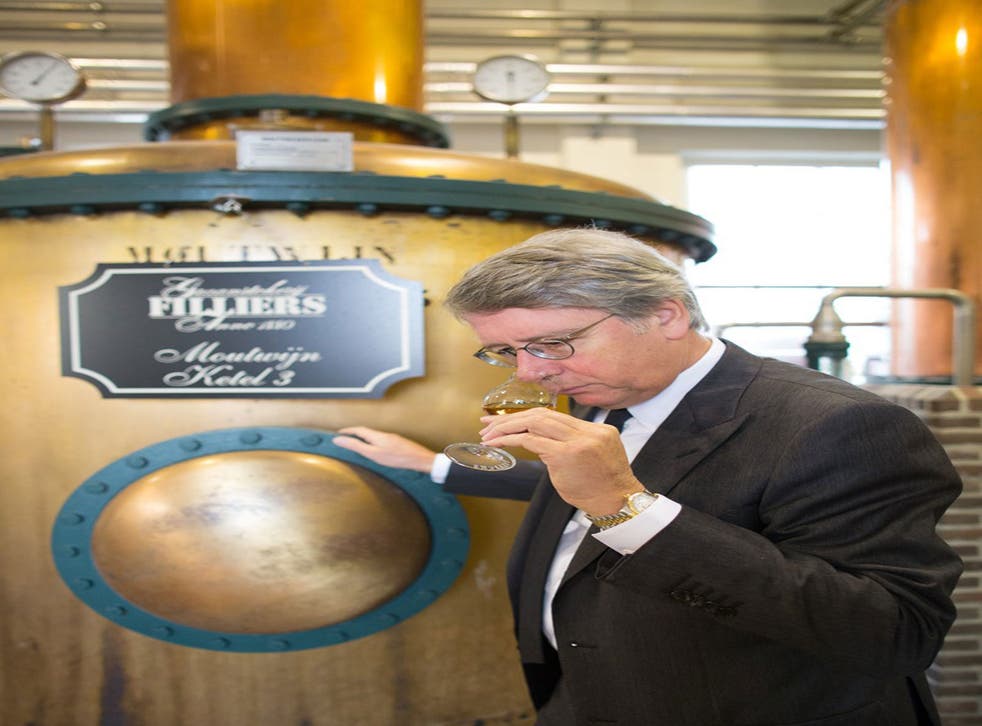 Genever invention: The rich and malty ancient spirit is making a comeback
The ancient spirit – forerunner to the G in your G&T – was made in the Low Countries. It soon came to Britain, where it was distilled and renamed as the gin we love today
Chasing the provenance of a cocktail is always a tricky business, but when it comes to a Tom Collins, Bernard Filliers of the Filliers distillery in Belgium is not going to let gin claim another victory. When it was first shaken up at a bar in New York at the end of the 19th century, he insists it was not the clear, crisp spirit beloved of the British today that gave the famous cocktail its kick.
"The original Tom Collins recipe," says Mr Filliers, "had genever in it." He has reason to be proprietorial: for centuries it was the rich, malty spirit from the Low Countries that filled glasses worldwide, was raised in toasts to the new Dutch King of England in 1688, then prized by early mixologists during America's cocktail revolution 200 years later.
Few nations, however, took to genever quite like the Brits, who drank it, distilled it, renamed it and eventually even changed its very taste and appearance. So successful was the transformation that few people whipping up a G&T in Britain today even know what genever is.
Now Filliers believes it is time for a comeback. His family has been distilling genever in the Belgian countryside since 1833 and he has been keeping a keen eye on the gin and cocktail revival currently in full swing across Britain. "Anyone who wants to know what it's about in the very beginning is interested to see what gin and genever taste like and what the difference is," he says. "Then they see that genever is not bad at all!"
One such person is Tom Proud, general manager at Pleased to Meet You, a gin bar in Newcastle. Like many specialist bars across Britain, he stocks a range of genevers alongside a boggling array of gins. Customers expecting to find a slight variation on the familiar bitter tang of juniper, however, are in for a surprise: many of the traditional genevers have more in common with a whisky or a sherry, with an added botanical kick. "They enjoy them, but it is a different product and it's only once they try them that they really get to find out that for themselves," says Mr Proud.
To understand how the same drink ended up at such extremes of taste and fashion, you need to go back to the first spirits produced in the 16th century in what is now The Netherlands and Belgium. Methods for distilling alcohol were rough at best and the result not particularly palatable. So to render their grain spirit drinkable, the Dutch added juniper, then large amounts of sugar and then as their trading empire expanded, threw in pretty much anything that turned up on their shores.
"You have all these wonderful exotic things pouring into Amsterdam and Rotterdam... spices, lots of exotic flavours that Westerners have never tasted before and all of these go into genever," says Dr Richard Barnett, author of The Dedalus Book of Gin and a Wellcome Trust engagement fellow. Pepper, ginger and cumin were just a few of the ingredients spicing up the national drink.
But the Dutch had their rivals in their quest for supremacy at sea. "The Dutch and the British are very, very similar," says Dr Barnett. "They are these two maritime Protestant nations with global ambitions and it's like twin brothers: they are so alike, they can't stand the sight of each other."
Inside the Filliers distillery in Belgium

Show all 5
So they fought a few wars and during this time discovered they had something else in common: a taste for strong juniper-flavoured spirits. When peace was finally restored, genever was widely consumed throughout the British Isles. Its popularity further increased when the Dutch king, William III, came to the throne in 1688. He eventually passed a law allowing distillation by anyone in England, as long as they used the domestic grain.
By this time, Brits had decided that the word "genever" was a bit of a mouthful and the drink became widely known as gin. But even at the time of the infamous Gin Craze, it was still heavily sweetened and based on a malt wine, giving it a taste more akin to a sherry or whisky. It was not, however, of quite the same quality as the Dutch original, with Lesley Jacobs Solmonson, author of Gin: A Global History, likening it to moonshine. This all changed with the invention in 1827 of the continuous still; distilling apparatus that enabled the British to produce a much purer alcohol, which did not need its base taste disguised. This became known as London Dry Gin.
"By the early 1800s, gin drinking – of gin made in England by the English – was acceptable for the middle classes, thanks to James Pimm and his Pimm's Cups, as well as gin punch, which encouraged convivial drinking," says Solmonson. "Soon enough, dry gin was fashionable and genever's whisky-like flavour fell out of favour."
Britain had also surpassed the Dutch as a seafaring power, thus English gin became the choice outside of Belgium and The Netherlands and has largely remained so.
That's not to say gin has remained consistently popular – it was largely relegated to the back of drinks cabinets in the 1960s and 1970s. But there is no question that Britain is in the grip of a gin renaissance, with hundreds of different brands now on sale, from artisan varieties produced in basement stills to the mainstream premium brands.
The Dutch company Bols, which has been producing genever since 1664, was the first to spot an opportunity and relaunched its classic genever in Britain and America in 2008. The online retailer, Master of Malt, started stocking genever in 2010 and last year became the first outlet to sell Filliers products in Britain, with prices starting at £19.95 for a tasting set.
Jake Mountain, Master of Malt's online editor, credits both the gin revival and the retro cocktail craze with reviving interest.
"Genever or 'Holland Gin' would have been part of the arsenal of the great American bartenders before Prohibition," he says.
The start of the centenary of the First World War this year has also opened up another opportunity for genever distillers to remind drinkers of their role in history. British troops on the Belgian stretch of the Western Front partook of the spirit to steady their nerves, including one version distilled by Mr Filliers' grandfather. He is planning on replicating the 1914 formula and reissuing it later this year to commemorate the Great War.
Before going on a genever-buying spree, it is crucial to know the difference between your "jonge" [young] and "oude" [old] genever. A jonge genever is a more modern concoction, with much in common with a London Dry Gin and can thus be used in the same way, mixed with tonic or in gin-based cocktails. It is often sweeter than gin, with juniper competing as the predominant flavour with other spices and botanicals.
An oude genever is closest to the genevers consumed in the Low Countries and Britain before the invention of the continuous still. It is a darker colour, with complex layers of flavour. Using malted barley and often cask-aged, it is more similar to a whisky with the juniper notes harder to pick out. An oude genever is best enjoyed neat or on the rocks, or in whisky-based cocktails, such as an Old Fashioned.
Few experts are willing to take sides on whether they would rather sup a gin or genever, claiming they are too different. But a classic gin and tonic aside, Mr Proud is a fan of drinking genever like the Dutch.
"A fantastic old grain genever served as a headbutt – a shot of genever alongside a cold beer – that's perfect," he says with a wide grin. "Absolutely delicious!"
Join our new commenting forum
Join thought-provoking conversations, follow other Independent readers and see their replies