Get the party started: Top gourmands reveal their perfect nibbles and celebratory drinks

Show all 5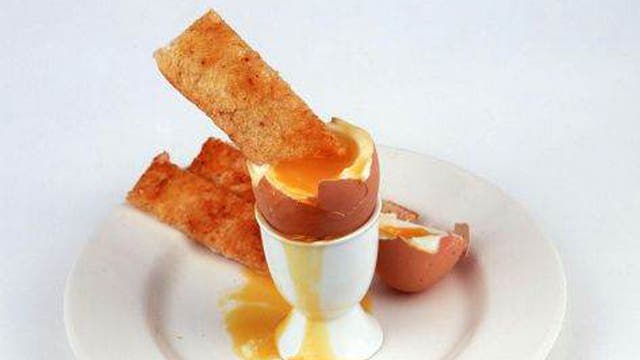 Get the party started: Top gourmands reveal their perfect nibbles and celebratory drinks
Tristan Welch
Chef-patron of Launceston Place
Special egg and soldiers
These are fun, messy and a good conversation starter. First soft-boil some eggs, cut their heads off. Pour out the yokes into a warm ramekin and mix in a bit of truffle paste (which you can buy online for about £15). Now pour the mixture into the egg carefully and serve with soldiers. The jar of truffle paste last ages and eggs are quite cheap, so it's impressive without being pricey.
Tom Kerridge
Chef-patron of the The Hand and Flowers in Marlow, the only double-starred pub in the Michelin guide
Parmesan puff canapés
If you're pushed for time and want something tasty and hearty, try these. Get some puff pastry, roll it out thinly and cut it into little squares or triangles. Then put as much grated parmesan as you fancy and dust with cayenne pepper. Stick another bit of pastry on top and squeeze the edges together. Then bake in the oven on a medium-high heat until they brown.
Jacob Kenedy
Chef-patron of Bocca di Lupo
Cenci pastries
250g plain flour
1 large egg
100ml white wine
25g caster sugar
1 teaspoon baking powder
Finely grated zest of half a lemon
Vegetable oil
To serve:
Icing sugar
A little Sambuca
Combine the flour, egg, wine, sugar, baking powder and lemon zest - knead to make a smooth dough.
Leave to rest, covered, for at least half an hour in the fridge. Roll the dough very thinly (1-2mm) using a rolling pin. Cut it into irregular strips (2-5cm wide, 10-15cm long) and fry them in oil (150C) until golden and crisp. Drain and serve dusted liberally with icing sugar.
Before serving, sprinkle a little Sambuca on them (though not so much to make them soggy).
Angela Hartnett
Michelin-starred chef-patron of Murano restaurant
Rosemary nuts
Get a 500g mixture of cashews, peanuts (not dry roasted), almonds and hazelnuts.
Heat 2 tablespoons of olive oil and 1 tablespoon of butter until the butter bubbles.
Add in the nuts and fry them for a minute or two. Just before you take it off the heat add in some chopped rosemary and then serve straight away.
Tony Conigliaro
Bartender/owner of 69 Colebrooke Row and Zetter Townhouse Bar
This is a light, fluffy creation. It's a bit like a light egg nog, however without the dark spirits.
I find that Beefeater 24 works particularly well in it because of its citrus flavouring.
24 Gin Egg Nog
6 eggs
300g sugar
300ml single cream
600ml whole milk
150ml Beefeater 24 gin
150ml triple sec
Lemon zest to garnish
Separate the eggs into whites and yolks. Beat the yolks together with the sugar to form a batter. Add the cream and milk and whisk thoroughly. After that, add both spirits slowly into the mix.
In a separate bowl whisk the whites to stiff peaks and then fold into the batter. Serve in a small cup with lemon zest garnish.
Jason Atherton
Michelin-starred chef-patron of Pollen Street Social
When it comes to canapés, simple is always better – otherwise you end up with something that looks messy and is hard to eat.
Salmon tartare with horseradish cream
200g diced fresh salmon fillet
Juice of one lemon
2 teaspoons of olive oil
Salt and pepper
30g creamed horseradish relish
20g sour cream
Small bunch of finely chopped dill
Thinly sliced rye bread.
In a bowl, combine the salmon, all but a squeeze of lemon and the olive oil with a pinch of salt and pepper and set aside.
In another bowl, combine the creamed horseradish relish, sour cream and dill and put the rest of the lemon juice in at the end.
Now take the thinly sliced rye bread and use a biscuit cutter to slice 24 circles out of it. Crisp the bread in a hot oven for 5 minutes.
Allow to cool, then put horseradish mixture on the rye bread followed by a teaspoon of salmon tartare.
Ladislav Piljar
Bartender at the American Bar at The Savoy, winner of World's Best Hotel Bar 2011
This simple, zesty cocktail can be served both hot and cold. The recipe currently makes ones large cocktail but is good served to guests in small glasses as a mini aperitif.
Savoy Winter Punch
30ml gin
30ml port
15ml fresh lemon juice
15ml fresh orange juice
15ml Cinnamon sugar (put cinnamon sticks in caster sugar)
Lemon zest
Simply mix all the ingredients together in a cocktailshaker and serve over straight up in any glass you have. Garnish with lemon peel.
Marcus Wareing
Double-Michelin starred chef-patron of Marcus Wareing at The Berkeley
What we've tried to do with the prawn sesame toast is take a classic nibble and refine it a little. It sounds quite long winded but is really pretty simple.
Sesame prawn toast
600g rough cut prawns
400g pureed prawns (use the same kind, blitz them in a blender)
80g duck fat or olive oil
60g egg white
40g sesame oil
Sliced white bread
Sesame seeds
Mayonnaise (and sweet chilli sauce or a lime to add to mayo for dip)
Combine all the ingredients, except the bread and mayonnaise. Once mixed, make a 2cm-width line of the mix on a large square of cling film.
Roll the cling film around it to form a tube and pop it in the freezer. Take the slices of bread, spray with water on both sides and roll out until it doubles in size. Now remove the cling film from the frozen mixture, re-wet the bread and roll it around the prawn.
Re-wrap and freeze again. Cut into 1cm disks, dip the prawn mix ends in sesame seeds and fry in plenty of oil until golden and crispy. Serve on a cocktail sticks.
Sam Harris
Chef-patron of Zucca and Maltings Café
Bagna Cauda
A good dip is great at a party. But this warm Bagna Cauda is even better. Serve with unusual seasonal chunkily-chopped vegetables like radishes, carrots, fennel and cauliflower.
Place 200ml of olive oil and 3 crushed garlic cloves in a pan and gently heat for 5 minutes, until the garlic softens. Then add 10 anchovy fillets and stir them into the oil and garlic until they dissolve. Now add 115g of butter in five pieces, letting it melt before you add the next block. Serve immediately in the pan (so it retains its heat).
Join our new commenting forum
Join thought-provoking conversations, follow other Independent readers and see their replies