Go the whole hog with roast pork this Christmas

Show all 5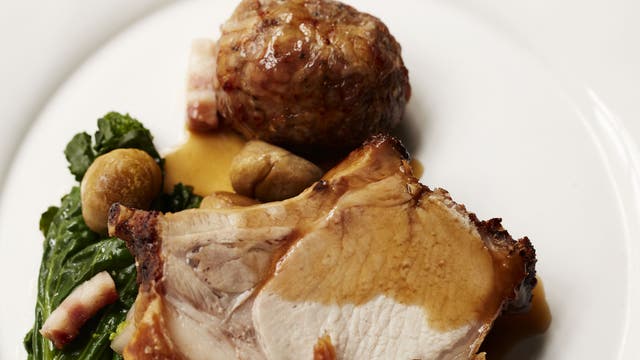 Go the whole hog with roast pork this Christmas
Turkey on Christmas Day doesn't really cut it for our man in the kitchen. This year, he's recommending succulent roast pork with all the trimmings
Are you fed up with trying to cook a turkey at Christmas? Many people don't really know how to cook the turkey properly and the result is a bland-tasting, dried-out bird. I reckon that many of us tend to overcook the bird by at least 1-2 hours, often even more. I much prefer the idea of having an alternative roast meat on the festival table, or even a fish.
So this year I am suggesting cooking a rib of pork, which I would choose any day over a turkey. But it's worth bearing in mind that pork is also often overcooked, because in the past we have been told to cook pork well for reasons of hygiene – which means that it gets the hell cooked out of it!
Fortunately, recently we've developed a bit more passion about the provenance of our pork and there are many tasty options out there available at good butchers.
So here's my alternative feast suggestion for you: it consists of roast pork with delicious apple dumplings, side dishes of greens and chestnuts, a baked pumpkin accompaniment, and a simple-to-prepare gravy that can be made the day before.
Roast rib of pork
Serves 6
1 six-bone rib or rack of pork, chine bone removed
Salt and freshly ground black pepper
A little vegetable or corn oil
Preheat the oven to 220C/gas mark 7. Place a roasting tray with about 2-3cm of water on the stove, then place the pork, rind-side down in the water, and simmer for about 5 minutes, moving the pork around if necessary so the rind and fat gets a good blanch.
Remove from the water; place on a board, skin up, and discard the water from the tray. With a sharp knife, score the rind about 1cm apart and place in the roasting tray with the bones down, season; drizzle over a little oil.
Roast for 20-25 minutes, basting a few times, then turn the oven down to 180C/ gas mark 5 and cook for a further 35-40 minutes.
Remove the pork from the oven, rest for approximately 10 minutes, remove the string (if appropriate) and carve into chops.
Apple dumplings
Serves 6
These delicious dumplings make a great accompaniment to roast pork or you could choose to serve them as a starter with some braised lentils or split peas or even crushed potatoes.
180-200g coarsely minced fatty pork
50g fresh white breadcrumbs
1 large Bramley apple, peeled, cored, cooked and coarsely mashed
Salt and freshly ground black pepper
80-100g pig's or lamb's caul fat
Preheat the oven to 220C/gas mark 7.
Mix the minced pork, breadcrumbs and apple together; season. Divide the mixture into 6 and mould into balls.
Cut the caul fat into pieces that are large enough to double-wrap the dumplings and then wrap them around the dumplings a couple of times.
Place the dumplings on a tray or with the pork; roast for 15 minutes.
Pumpkin gratin
Serves 6
1 small and sweet-fleshed, ripe pumpkin, peeled, seeded and then cut into 2cm chunks
A good knob of butter
1 large onion, peeled and finely chopped
2 garlic cloves, peeled and crushed
1 litre single cream
Salt and freshly ground black pepper
150g mature cheddar, grated
50g fresh white breadcrumbs
20-30g pumpkin seeds
Preheat the oven to 180C/gas mark 4. Melt the butter in a pan, add the onion and garlic and cook gently for 2-3 minutes.
Add the cream; bring to the boil and season to taste. Stir in 120g of the grated cheese. Arrange the pumpkin chunks in an ovenproof serving dish and pour over the hot cream mixture.
Place the dish in the centre of a deep roasting tin. Fill the tin with boiling water to halfway up the sides of the gratin dish (this will act as a bain-marie, or water bath) and transfer to the oven. Bake for 45 minutes.
Mix the remaining cheese with the breadcrumbs and pumpkin seeds, scatter over the gratin and continue cooking for another 15-20 minutes, until browned.
Perfect gravy
This can easily be made a day in advance and if there is any left over you can freeze it for future use. I've added some cider here, or you could use wine (if you do, use half the quantity).
500g chicken wings, chopped
1 large onion, peeled, halved and roughly chopped
2 carrots, peeled and roughly chopped
1 stick of celery, roughly chopped
1 leek, trimmed, washed and roughly chopped
2 cloves of garlic, peeled and chopped
1tsp tomato purée
1tbsp flour
500ml cider (optional)
2ltrs chicken stock (alternatively, 2 good cubes will do)
6 black peppercorns
A few sprigs of thyme
1 bay leaf
Preheat the oven to 200C/gas mark 6. Roast the chicken wings, the vegetables and garlic for about 15-20 minutes until they are lightly coloured, giving them a good stir every so often.
When the chicken wings and the vegetables are a nice golden-brown colour, add the tomato purée, then the flour, and stir well with the bones and vegetables in the roasting pan. Return the pan to the oven for another 10 minutes.
Remove the roasting tray from the oven to the hob. Add a little of the stock and give it a good stir over a low flame. This will remove any residue from the tray and begin the thickening process.
Transfer everything into a large saucepan, cover with the rest of the stock and the cider (if you are using), and some cold water if the stock doesn't quite cover the bones.
Add the peppercorns, thyme and bay leaf. Then bring to the boil, skimming off any scum as it forms and simmer for approximately 2 hours. The pan may need topping up with water in order to keep the ingredients covered. Skim occasionally as required.
Strain through a fine-meshed sieve and remove any fat with a ladle. Check its strength and reduce the gravy if necessary. If the gravy is not thick enough, you can dilute some cornflour in a little cold water and stir it in.
Greens, bacon and chestnuts
Serves 6
You can use whatever greens you want for this, kale, cabbage, sprout tops and even add some sprouting broccoli as I've done here. If you don't fancy the shlep of roasting and shelling chestnuts for your Christmas lunch guests, there are lots of good frozen and vacuum-packed prepared examples available on the market.
250-300g fresh chestnuts
500g greens, one variety or a mixture, thick and woody stems removed and washed
4 shallots, peeled, halved and thinly sliced
125g lardons or bacon
60g butter or rapeseed oil
Salt and freshly ground black pepper
With a sharp knife make a slit in the ends of the chestnuts and place them on a tray under a medium grill for 5-6 minutes, turning them occasionally. Beware, a few of them may explode. Remove from the grill, leave to cool and peel them. If they break up, don't worry.
Melt a little of the butter in a pan and cook the shallots for a couple of minutes without colouring. Add the lardons and fry for about 3-4 minutes. Meanwhile cook the greens in boiling salted water for 3-4 minutes until tender, then drain well. To serve, toss the greens, shallots, bacon and chestnuts in butter and season to taste.
Join our new commenting forum
Join thought-provoking conversations, follow other Independent readers and see their replies