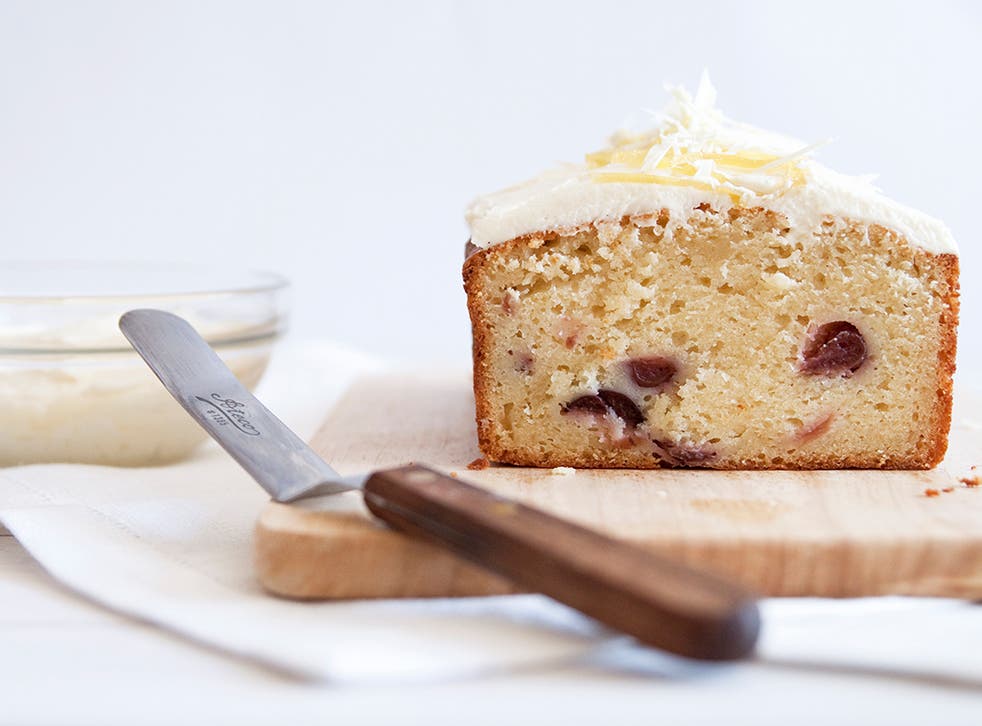 Great British Bake Off 2014: recipes from the first ever winner
As the new series begins on the BBC, here are a few delicious baking recipes to get you in the mood
Four and half years ago I was stepping into a freezing tent wondering what on earth I had signed myself up for, huddling next to an oven to keep warm - it didn't initially seem like this was going to be brilliant TV.
Baking in that tent was definitely odd, and it presented more than a few obstacles, but filming The Great British Bake Off was an amazing, ridiculous, crazy experience that I wouldn't change for anything.
Since winning the first series of the show in 2010 I have been lucky enough to have a job that I love, and I have now written three cookbooks - the latest out in October.
This time round I will definitely be tuning in to watch the new series and enjoying the fact I get to be a spectator!
Lemon Yoghurt and Cherry Cake
I love complex baking, where you spend an afternoon in the kitchen whipping up something that will wow your family, but sometimes you just want something quick and easy and this lemon cake is just that. It requires just two bowls and can whipped up in minutes!
Ingredients
225g plain flour
2 tsp baking powder
1/2 tsp salt
175ml lemon yoghurt
200g golden caster sugar
3 large eggs
Zest of 1 lemon
1/2 tsp vanilla extract
150g unsalted butter, melted and cooled
150g cherries, pitted and quartered
Frosting
100g unsalted butter
200g icing sugar
1/2 tsp vanilla extract
80g lemon curd
1 tbsp milk
Preheat the oven to 180C/160C fan and grease a loaf pan, lining with a strip of parchment paper.
In a large bowl mix together the flour, baking and salt. In a separate bowl mix together the yoghurt, sugar, eggs, lemon zest, vanilla and the butter. Sieve the flour mixture over the yoghurt mixture and fold together to combine. Add the cherries and mix to incorporate. Pour the batter into you're prepared loaf pan and bake in the preheated oven for 60-65 minutes or until a toothpick inserted into the middle of the cake comes out clean.
Allow the cake to cool in the pan for 15 minutes before turning out onto a wire rack to cool compleltey.
To make the frosting beat the butter with an electric mixer until soft and pale then slowly incorporate the icing sugar. Once all the sugar has been combined add the lemon curd, vanilla and milk and beat on high speed until the frosting is light and fluffy. To finish spread the buttercream over the top of the cake, if you fancy you could also grate some white chocolate and lemon zest on top.
Kept in a sealed container this cake will keep for up to three days.
Melting Moments
These little biscuits are so easy to put together but they are a firm favourite in my house, they are kind of a cross between a shortbread and a custard cream, with a little raspberry jam thrown in for good measure. Whilst I have given you a classic version you can easily play around with these, I have flavoured the filling with freeze dried passion fruit powder before, to great effect.
Ingredients
250g unsalted butter, room temperate
1/2 tsp vanilla bean paste
250g plain flour
85g icing sugar
40g custard powder
1/2 tsp salt
Filling
75g unsalted butter, room temperature
150g icing sugar
1 tsp vanilla bean paste
Pinch of salt
Raspberry jam
Preheat the oven to 160C (140C fan) and line two baking trays with parchment paper.
Place the butter and vanilla into a large bowl and beat together until smooth and creamy. Soft the remaining biscuit ingredients into the bowl and gently mix together until you form a uniform dough, this can easily be done by hand with a wooden spoon or with a stand mixer.
Using your hands roll the dough into small balls (I weigh these, 20g each) and place onto the prepared baking trays, leaving about 2 inches between each biscuit. Using a fork that has been dipped in flour press onto the back if each biscuit leaving an indent.
Bake the biscuits in the preheated oven for 20-25 minutes or until a light golden brown colour. Allow to cool on the baking trays for 5 minutes before transferring to a wire rack to cool completely.
To make the filling place the butter into a large bowl and beat until smooth and creamy. Slowly incorporate the icing sugar. Once all has been incorporated add the vanilla and salt and beat together until light and fluffy. Place the filling into a piping bag fitted with a small plain round piping tip, about 1cm in diameter.
To finish the biscuit pipe a circle of the filling onto the base of half the biscuits, filling the centre with raspberry jam and finish by topping with a second biscuit.
Kept in a sealed container these will keep for about three days.
Speculoos Ice Cream
I'm in love with speculoos biscuits, those little spicy dutch biscuits, completely in love. They're a little spicy, with lots of crunch and brown sugar, and caramelised flavours. To do something with them, I have churned them into a basic ice cream mixture. Absolutely delicious!
Ingredients
500ml double cream
250ml whole milk
5 large egg yolks
150g caster sugar
1/2 tsp vanilla bean paste
2 tbsp vodka (optional but it keeps the ice cream soft)
125g speculoos biscuits, roughly crushed
In a medium saucepan place the cream and milk and over medium heat bring to the boil. Meanwhile place the egg yolks, sugar and vanilla into a medium sized bowl and whisk together until pale. Once the cream mixture is at a boil remove from the heat and slowly pour into the egg yolk mixture, whisking all the time. Pour this custard back into the pan and stir constantly until it has thickened enough that it coats the back of a wooden spoon. Pour the custard into a clean bowl and pour in the vodka, mixing to combine. Press a sheet of cling film onto the surface of the custard and refrigerate overnight.
Once fully chilled churn the custard according to your machines instructions and as the ice cream finishes churning add the biscuits. Scrape the ice cream into a container and chill for a few hours before serving. Homemade ice cream is best within a few weeks of making.
Edd's new book Patisserie Made Simple (Kyle Books, 2014) is released 16 October, photography by Laura Edwards. For more recipes, check out his website, or Follow Edd on Twitter
Join our new commenting forum
Join thought-provoking conversations, follow other Independent readers and see their replies