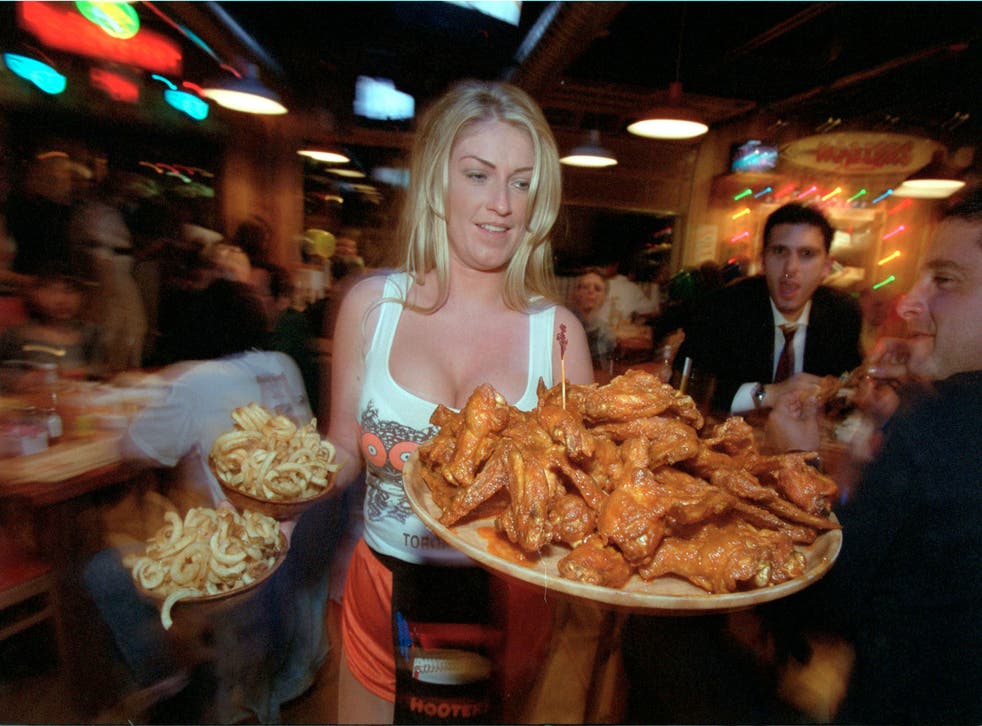 Grim second life of the 'breastaurant': The oft-loathed sector is booming in the States thanks to Hooters, Twin Peaks and Tilted Kilt
The last time Hooters made the news in Britain was when it shut up shop in Cardiff after a barrage of protest and disinterest. But in the States, the 'breastaurant' sector is expanding. So what gives?
It's Sunday lunchtime in St Louis, close to the very middle of Middle America, and there's a healthy crowd at Hooters for the weekend's big football game.
This particular branch of the beloved, reviled restaurant chain is within spitting distance of the city's Anheuser-Busch brewery, and the clientele is suitably Budweiser. There's a group of roofers at the next table, drinking 'Big Daddy'-sized beers. Across the beach-themed dining room, a pair of uniformed cops chat over nachos.
Several men sit alone at the bar with one eye on the barmaid and another on ESPN, where the Patriots are pounding the Detroit Lions. A father and his young son perch side-by-side on high stools, Sr schooling Jr in the twin pleasures of hot wings and hot pants. A sign is pinned to the wall above my head, instructing me politely not to "touch the wildlife" – by which it means the staff.
My waitress is a friendly brunette named Kate, whose tight vest top is emblazoned with the brand's 'Hootie the Owl' logo. Like every 'Hooters girl', she has on a push-up bra, tiny orange shorts and white knee socks. In October, she won the Hooters Girl of the Month award, doubtless deserved.
Fortunately, there's a napkin on my table with her name and a heart drawn on it, because otherwise I might have had to glance at the name-tag that's pinned to her chest – which is exactly the point at which the etiquette of a joint like Hooters becomes complicated.
This isn't a strip club, where the whole idea is for men to stare at women's chests, but nor is it just another restaurant. Hooters is to TGI Fridays what Page 3 of the Sun is to Page 3 of the Mirror. A chain of sports bars founded in Florida in 1983 by six US businessmen, staffed almost exclusively by scantily-clad young women, Hooters may seem like a prehistoric concept in the era of third-wave feminism. And yet, in an otherwise flaccid restaurant market, 'breastaurants' are ballooning.
In 2011, as the rest of America's food service industry struggled to emerge from the Recession, the three biggest breastaurant chains in the US behind Hooters each enjoyed sales growth of at least 30 per cent.
The Attentive Service Sector (ASS), as some prefer to call it, outperformed all of its mid-range competition, such as the family-friendly Applebee's, and Bennigan's, a chain of Irish-themed casual dining spots. One ASS brand, Twin Peaks, is the fastest growing restaurant chain in the US, according to Bloomberg Businessweek.
Twin Peaks – which, suffice to say, is not named after the classic David Lynch TV series – was founded in 2005 and already has almost 60 locations, many in former branches of Bennigan's, whose parent company filed for bankruptcy in 2008. The Alpine-themed chain promises its customers 'scenic views', and its managers regularly score waitresses on their looks.
Twin Peaks girls are offered discount rates at gyms and tanning salons, and encouraged to follow a special diet menu to prevent them popping out of their cleavage-squeezing plaid tops. "We only hire spectacular talent," Twin Peaks CEO Randy DeWitt has said: "They have to fit into that costume." Eric, a Yelp reviewer from Houston, is a convert: "Hands down better wings than Hooters if you are looking for some big juicy ones," Eric writes. "Speaking of big juicy ones..."
Hooters around the world

Show all 9
With more than 430 locations in 28 countries, Hooters remains the big daddy of the breastaurant sector, but its sales have sagged from $960m (£615m) in 2007 to $828m (£528m) last year. In 2011, a group of private investors took over the firm and announced plans to refurbish every branch in the US, installing bigger, better screens for sports viewing, and reaching out beyond the core demographic of 18- to 35-year-old men, who make up almost 80 per cent of ASS customers.
"Hooters is kind of PG," says Darren Tristano, executive vice president at the food industry consultant Technomic. "Hooters girls always wore nylons; they don't show much exposed skin. Today, so many restaurants have voluptuous servers with short skirts that it doesn't seem out there. Newer concepts like Twin Peaks have become progressively more R-rated. Restaurants have to have good food, good value and good service – and Twin Peaks excels at service, because of what it calls its 'talent'. They don't interview for jobs, they 'audition'."
The food at Hooters is far from dreadful compared to other, similar casual dining venues. I start with an appetiser plate of tater tots: crunchy, fried potato pieces slathered in nacho cheese, sour cream, bacon bits and chopped spring onion. It's pleasurable in the mouth, pursued by a mild aftertaste of shame and regret. The house speciality is hot wings, and Kate – who is nothing if not attentive – comes to check on me just as my face and fingers are messy with habanero hot sauce.
She likes working here, she says, except during the all-you-can-eat special on Monday nights, when the tips are bad and the clientele can be disrespectful. As soon as they accept the job, Hooters girls must sign a contract acknowledging that "the Hooters concept is based on female sex appeal and that the work environment is one in which joking and innuendo based on female sex appeal is commonplace". That disclaimer, however, has not stopped Hooters from being subjected to several sexual harassment lawsuits over the years.
The company insists that it does not objectify women, but celebrates them, describing Hooters girls as "the quintessential, all-American 'Girl next door'." According to its website: "We've endured our share of frivolous lawsuits, but none have put a dent in our ability to provide some good, old-fashioned fun in a casual atmosphere... We're proud of who we are. Yes, we have a pretty face. And sex appeal is part of our thing, but it's not the only thing."
Naturally, Hooters has faced criticism from feminist groups. In 2010, the California chapter of the National Organisation for Women (NOW) alleged the chain had used its official status as a purveyor of "vicarious sexual entertainment" as a loophole to avoid complying with sexual discrimination legislation when hiring.
Meanwhile, the breastaurant was busy marketing its children's menu and merchandise including a baby's bib that reads: "I like my milk from JUGS". NOW said a venue offering "sexual entertainment" could not also claim to be family-friendly.
Also in 2010, a feminist group mounted a campaign to prevent a Hooters opening in Cardiff, claiming that it would contribute to sexual harassment of women in the Welsh capital. The campaign failed to stop the opening, but the breastaurant was a flop and closed after less than two years. Of 36 new UK Hooters locations announced in 2008, only Cardiff and Bristol ever opened. Both have since closed, leaving behind a single UK branch, in Nottingham.
Taylor Fogarty works as a Hooters girl in New York City and blogs about feminism. "Places like Hooters exist because we live in a world that thrives on female objectification and sexualisation. As a feminist I'm against that, but if you're going to objectify my body anyway, then I should have some control over it," says Fogarty, who is 21 and studied English in college.
"Strippers do it, models do it, waitresses do it. I don't think criticising Hooters girls is the way to address that objectification. That's just women being smart, saying that objectification exists, and so they're going to make a dollar off it. When you sign up to be a Hooters girl, you know people aren't just coming for the food. Men might stare at my ass, but they're also willing to give me a 50 dollar tip because they like the way it looks."
Tristano explains that large tips aren't the only incentive for a Hooters or Twin Peaks girl. "It's also an opportunity to be recognised, to get into modelling or acting," he says. "The number of people who follow some [breastaurant] servers on Facebook is amazing. They can build fan-bases, and that can lead to recognition and a career."
It's Saturday evening at the Tilted Kilt Pub & Eatery, a dimly-lit establishment in a long, low strip mall in suburban Los Angeles County. The crowd here is scanter than at Hooters, and even more male. Regulars chat with the barely-dressed barmaids, whom they appear to know by name.
Saturday is college football day, and many customers are glued to the screens for USC versus Notre Dame, also known as the Fighting Irish. It's not surprising to find that breastaurants share a demographic with sports coverage.
NFL cheerleaders sign up for the same sanctioned ogling as Hooters girls. During a break in the on-field action, one of the sports channels loudly airs a commercial for Cialis, the erectile dysfunction medication.
Founded in Arizona in 2003, Tilted Kilt has 91 branches in the US, which for now makes it Hooters' closest ASS rival. The theme is Celtic: the waitresses here have tartan bras and flimsy miniskirts that purport to be kilts. No sensible young woman in Glasgow or Dublin would ever wear so little so late in November. Unable to fathom the innuendo in the words 'Tilted Kilt', my friends and I spit-ball alternatives. One suggests changing the logo to a set of bagpipes and renaming the restaurant 'Funbags'. Another wonders why Hooters never set up a delivery service called 'Knockers'.
As if it weren't already sufficiently tasteless, Tilted Kilt serves cocktails called the Belfast Boom and the Paddy Bomb: three olives, orange vodka and blue curacao dropped into half a pint of Red Bull.
On the wall of the gents is an inscription that reads: "No matter how good she looks, some other guy is sick and tired of putting up with her shit!". Frankly, this place is not as classy as Hooters, which is a phrase that I never expected to write. Even the service is a tad glum, though I suppose that makes it authentically British.
Christopher, a Yelp reviewer from New Jersey, disagrees with my assessment. "While the food [at Tilted Kilt] has not improved much ... the amazing service and attention we got from our server Amanda most certainly made up for it. Finally, a server with brains to go with an amazing pair of boobs," Christopher writes. "What a sweetheart. These poor girls have to put up with so much working here. I hope the bigger losers and geezers that frequent this place at least pony up good tips to compensate for their creepiness."
The menu at Tilted Kilt features ersatz British-Irish dishes such as 'Gaelic Chicken', 'Olde Dublin Stew' and 'Irish Nachos', made with potato chips, not corn tortillas. Its signature dish is the 'Big Arse Burger' (note the UK spelling), which comes in a somewhat cardboard bun with bacon, cheese, onions and Guinness BBQ sauce. I wash it down with a pint of Leggy Lass IPA. It's briefly satisfying, but ultimately unwise: the sort of meal I'd rather my wife didn't know about.
My Californian friend Trevor is not impressed, but he does his best to estimate the appeal of Tilted Kilt, and of breastaurants in general. "People want to watch a game, and I guess this is somewhere they can go that has OK food and drinks," he says. "It's not that it's the best place to watch sports, but it's comparable to other places – and it has boobies".
Join our new commenting forum
Join thought-provoking conversations, follow other Independent readers and see their replies