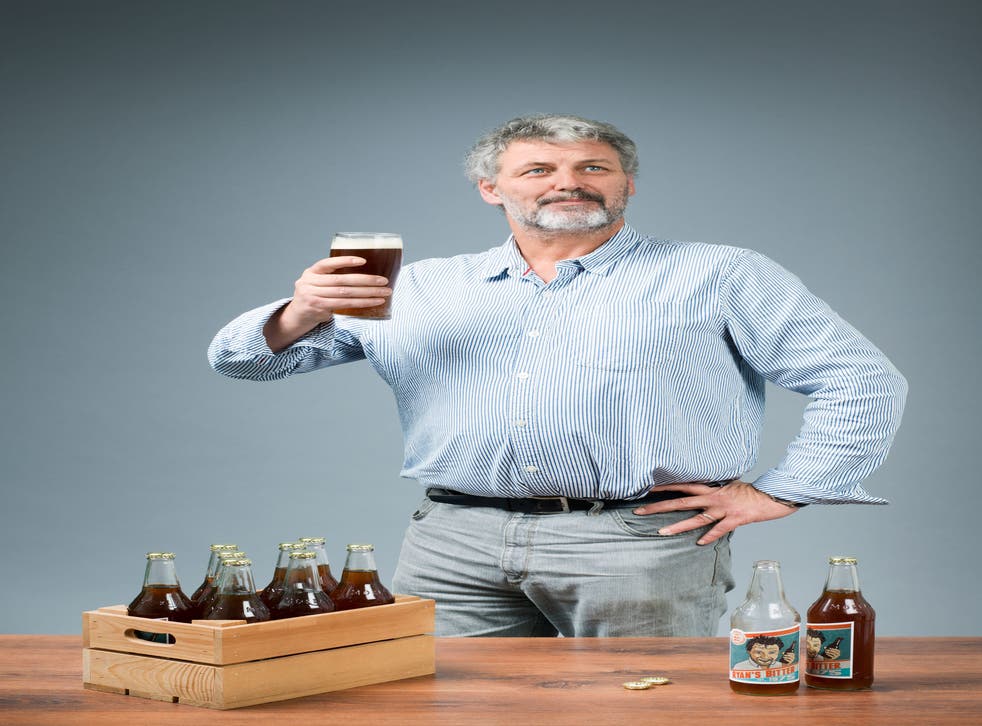 How to create your own microbrew: 'Craft beer' is staging a resurgence (this time without the explosions…)
Homebrewing is more popular than at any time since its 1980s heyday, and the 'craft beer' scene is fermenting nicely. Four decades after his first, explosive experiments, David Ryan rolls out the barrel to create his very own microbrew
The last time I attempted beer-making, I was a callow teen. In fact, it's a sobering thought that my son, Tim, is significantly older than I was the first time I attempted homebrewing back in 1975. Heady days, when "we sang shang-a-lang as we ran with the gang" (or, indeed, not), and our 30 pints of bitter, made with a starter kit from Boots, sat fermenting in the cosy warmth of Mum's airing cupboard.
My first batch, back then, went well. A certain artisan's pride allowed me to overlook the globulous sediment that others might have found disturbing; after all, it tasted like beer, and cost only a few new pence per pint. Emboldened, I progressed to a trickier lager variety, and was even considering the marketable value of "Ryan's Porter". Then it all went wrong.
That same year, brewing my second batch of lager, I added too much sugar at bottling, with explosive results. Imagine Mother's joy at finding her towels and bed linen showered with shards of glass and amber nectar. We never spoke of it again.
Now, almost 40 years later, armed with a wealth of experience from the consumer's end, I'm back. Except this time it's Ryan & Son. I would concentrate on the technical end of the family homebrew operation (I wouldn't call it a microbrewery yet…), while Tim would design a trendy label for our trendy "craft beer", lovingly produced in the Royal County of Berkshire.
Homebrewing had been in decline since its heyday in the mid-1980s, but, with pubs closing faster than you can say "last orders", it is staging a resurgence, along with a boom in commercial microbreweries (around 50 a year are opening in the UK).
In 2012, a single company, Muntons Ingredients, sold 500,000 homebrew kits in the UK, and a quick look online reveals an enormous variety of hops, malt and yeast available to buy, and a host of discussion forums to help you along.
No excuses, then, to mess it up this time around, especially with an enthusiastic Tim to advise and Brew UK on my team. In particular, I was able to call upon Brew UK's man Greg Hughes, author of Dorling Kindersley's Home Brew Beer, which forms an invaluable guide to new starters as well as some amazing recipes for fantastical brews: Japanese rice lager, dark American lager, Belgian pale ale and Baltic porter.
On the day my large, boxed Micro Brewery kit arrives in October, I swing into action with childlike glee. I add the warmed malt and hop extract to hot water and mix a total of 40 pints in the fermentation bin, where it is to spend around six days as sugar turns to alcohol. k As I stir in the gloop and add the powdered yeast and some sugar, the treacly smell reawakens my inner teen – especially as I note the warning, printed in red: "Do not store in airing cupboards, lofts, next to radiators, in direct heat or any place where extremes of temperature are likely."
Having nurtured my brew at 18-20C, I remove it to a conditioning barrel which is to stand for two days in a warm place, then for at least 14 days in a cooler place, until the beer has cleared. Simple! What could possibly go wrong? Well, I hate flat beer, and fearful that I might have under-clubbed on sugar, I look to my kit's little CO2 bulb and handy barrel cap with dispenser to provide some fizz. I practise assembly of the gas injector and… it goes off, prematurely, in my hand, leaving me with cold fingers and flat beer.
Fear not – I remember spotting another gas bulb in a kitchen drawer. I inject the gas, into the barrel this time, and all is well. Over my following two-week wait, I do a little research. Or rather, I read the research done by Muntons Ingredients.
The UK homebrew market peaked in 1984 at £80m, then went into a steady decline until, by 2008, it had shrunk to only £10m. However, since the credit crunch and subsequent recession, the market has more than doubled. Retailers such as Tesco and Morrisons now have small homebrew sections in some stores. Something, as they say, is brewing.
The craft-beer market is also booming. This year, "take-home" beer consumption is expected to exceed sales from licensed premises for the first time. The reasons reflect, in mirror image, why pubs are in decline: post-recession austerity (obvious), taxes on alcohol, tighter drink-drive legislation, the ban on smoking in public, the growth of home entertainment, from large-screen televisions to Blu-ray movies and gaming consoles, and food delivered to your door.
All this has usurped the jolly, ruddy-faced publican, but there's something else at play, too: a growing "allotment culture" driven by health concerns and trendiness as much as cost. We want to know that what we are consuming is free of extraneous ingredients and chemicals. Then there is the satisfaction of having produced something yourself that's the equal of shop-bought.
It's that desire for quality that Greg Hughes thinks is different this time around. "The new breed of home brewer is more interested in creating a quality, crafted product," he says. "The internet has opened up a huge range of ingredients from all over the world and there is so much knowledge-sharing online, all of which means home brewers are now making products that are equal to, if not better than, much of what's on shop shelves."
Hughes has every reason for optimism. He is a director of BrewUK, which exists to inform and support home brewers as well as sell them a huge range of ingredients and kit. "We also embrace social networks, and provide a forum to enable this brewing community to help each other improve the quality of their end product," he says.
I ask myself whether I am now a member of this "brewing community", this people's army brandishing malt, hops and yeast. And who else is in it? I am slightly surprised to learn that one in five is female (in fact, the earliest known production of alcoholic drinks happened around 5,000BC in the Middle East and, like most home crafts, was probably the lot of the womenfolk). A similar ratio falls in the 18 to 35 age bracket; and around 40 per cent of the homebrew trade relates to wine, of which white is the most common variety. In the case of beer, bitter is by far the most popular at 67 per cent, and that reminds me … back at my pressurised barrel, things are afoot.
Two weeks have sailed by, and it is time to taste my batch. The design studio, aka Tim, has produced his label, which is now gracing a bottle full of Ryan's Bitter. It's a little cloudy, but Hughes tells me that's no bad thing. Indeed, some craft-beer makers these days are deliberately going for a cloudier product as a selling point. "It's all about the taste," he says. And Ryan's Bitter tastes fine, if a little less vibrant than I had hoped.
Further inquiries soon reveal why. The serendipitous gas find in that kitchen drawer was not carbon dioxide but nitrous oxide (aka "laughing gas"… please, don't ask). I call Hughes, wondering whether he will see the funny side. He assures me that the beer will not be harmed. Apparently some brewers use nitrogen on products such as porter to provide a smoother, creamier head.
Just as importantly, my label designer gives it the thumbs-up.
But most important of all, our appetite has been whetted – so much so that Ryan's Bitter, batch two, should be on the Ryan table for Christmas dinner. Cheers!
Join our new commenting forum
Join thought-provoking conversations, follow other Independent readers and see their replies