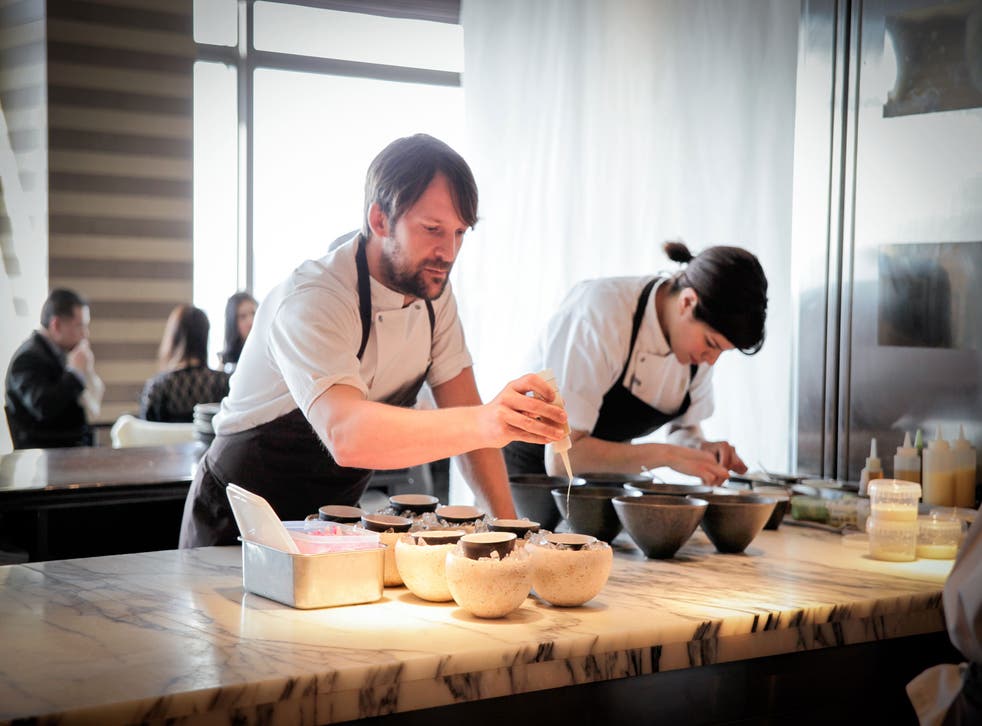 How Noma took Tokyo: What happened when the planet's best restaurant moved to the gourmet capital of the world?
René Redzepi took 'local' to the height of culinary success. So why did he and his team leave Copenhagen to start from scratch with the unfamiliar ingredients of Japan and its notorious gourmands? Joe Warwick reports from the pass
The dining room will have been dismantled by now, the tableware and furniture packed up. The final cuttlefish soba noodles and iced rose-petal broth have left the kitchen; the last wild duck has been barbecued and carved; no more sweet potatoes will appear at the pass, simmering in molten sugar. After two years of planning for a five-week run of 32 lunches and 32 dinners, with 3,584 guests fed approximately 57,350 courses, the labour of love that was Noma's time in Tokyo came to an end yesterday.
Regularly rated as the world's best restaurant, Noma receives 100,000 enquiries a month for tables back in Copenhagen; 60,000 names ended up on the waiting list for reservations in Tokyo. The Japanese capital is a place of gastronomic pilgrimage, one that even the Michelin guide, that proud bastion of French culinary imperialism, accepts outshines Paris, as the most starred city on the planet.
René Redzepi, the force behind Noma's restless creativity, is not the first famous European chef to have fallen in love with Japan. He joins a long and distinguished line that goes all the way back to Paul Bocuse, who first travelled there in 1970 to teach French cooking, and includes fellow Gallic masters Joël Robuchon and Alain Ducasse. All three have businesses in Tokyo, French restaurants that make use of local produce to varying degrees.
But Redzepi wanted to go further: he didn't want to open a Nordic restaurant in Tokyo; he wanted to turn Noma Japanese for a winter. "To move a restaurant the way we are doing is going to be hard to pull off," he told me last October. "We're taking a huge risk." To see how it worked out, I flew to Japan to join them for a week – my time to include a couple of shifts working the floor as a waiter.
When I arrive, 10 days after they opened on 9 January, Noma at Mandarin Oriental, Tokyo, to give its official title, already feels like a well-oiled machine. The whole team is here – chefs, waiters, managers, back-of-house staff, even the dishwashers – a total of 63 having made their way over from Copenhagen. They started arriving after Christmas, the first party landing on 26 December, the final members of the team just three days before opening.
Joining them at various stages of the residency are 10 family members. Redzepi's wife, Nadine, and his three daughters are here for the duration – and a strong sense of family extends to the entire team, as they undertake an adventure that comes across as a combination of serious sabbatical, team-building exercise and ambitious logistical challenge.
How Noma took Tokyo

Show all 15
Behind the scenes, much of the latter has been attended to by Annika de Las Heras, partner of Noma's head chef, Dan Giusti, who has acted as project manager. She describes her role as travel agent-meets-human resources-meets-psychologist. "I don't think I've ever been more stressed out in my life," she confesses, sitting in the lobby outside the restaurant. From booking flights to getting visas for all the staff and setting up a completely new booking and payment system for the ¥40,200 (£225) menu, much of the past year of her life has been consumed by the project.
From the 37th-floor dining room that Noma is occupying, you can see Mount Fuji on a clear day, while at night the Tokyo skyline provides a dramatic backdrop. Normally home to Signature, the hotel's Michelin-starred French restaurant, it's been completely redesigned for Noma's stay – earthquake-proof chandeliers removed, a new private dining room built, walls whitewashed, rice paper and bamboo hung, the kitchen pass opened up and a new set of their now-trademark Carl Hansen & Son tables and chairs shipped from Denmark.
Noma has done this sort of thing before, popping up in Claridge's during the Olympics in 2012. Successful as that 10-day stint was, this feels very different. They're doing the same number of covers – roughly 56 each service – that they do back home, with a 16-course menu of a similar length and equal, if not greater, ambition. It's less a pop-up, more like a relocation of the restaurant.
Unlike in Copenhagen, where the restaurant opens five days a week, closing on Sunday and Monday, it's six days a week here, with only Sunday off. Lunch and dinner services tend to blend into each other in a way that they don't back home, the diners keen to linger. The redesigned pass is surrounded by what looks like a picture frame and every day a steady stream of guests appear at it to have their pictures taken. "Everything is much more intense here," says James Spreadbury, Noma's Australian restaurant manager.
It's Monday 19 January and René Redzepi has just had his first day off since arriving in Japan on 26 December. It's a clear day and we can see Fuji as the dining room is set up for lunch. The original plan was to open for three weeks, another two added to the run after overwhelming response. "The Scandinavian part of me wanted to see if we filled up first. Then it all went crazy," he recalls, as we watch a helicopter weave its way between skyscrapers.
He's clearly excited to be here. Tokyo is agreeing with him, perhaps even more than he thought it would. "Now I wish we'd done it for longer. Because even though I've had to work like a fucking monster to do this – we all have – it's really lovely to be here."
The first reviews are in. The Japan Times has declared it "a magnificent success", one where "a generation of chefs and customers have had their eyes and palates opened wide, beyond the confines of Japanese tradition".
"I didn't expect us to be so well received," admits Redzepi. "I didn't expect us to be able to surprise the Japanese, and also guests that have been with us in Copenhagen. It's wonderful being in a place where they cherish the sublime. They want to do everything in the best possible way, with the best possible tools, looking the best they can. Japanese society is like that, from the man sweeping the street upwards, so it's easier to be here and to cook like this. At home it's always about justification. 'Why are you doing fine dining? Why aren't you just serving a bowl of something simple?' There's always this corrosive cynicism. The Japanese have some of the most sophisticated palates that you can come across and they're such kind people to cook for because they're so appreciative of hard work. It's been a joy."
The Noma team has worked with 14 different Japanese artisan manufacturers on creating tableware – plates, bowls, serving vessels and utensils – especially for the run; it is being put up for sale online when they leave Tokyo. "I don't want to tell you exactly how much we've spent," says Redzepi, "but it's cost us more than the 77 air tickets we've bought."
He could have made his life easier by being less ambitious, but that's not what Noma does. Instead, they've taken their strictly seasonal and regional agenda and applied it to the islands of Japan instead of the Nordic region. "I made seven trips here in the past year. I've been everywhere in Japan," he explains. "We've done the same thing that we did when we opened Noma, a discovery journey followed by lots of reading of traditional ways, then remixing things the way we do. What strikes you about Japan when you travel around is the sheer diversity. You can go from near arctic to subtropical – it's like going from northern Norway down to Barcelona."
Before I do my turn on the floor, I get to eat. There's no space in the dining room and I'm about 60,001st on the waiting list – but they've made me a makeshift table for one in the corner of the kitchen, right by the pass.
It starts with a raw botan ebi shrimp, which, freshly killed, is still twitching, its shelled body seasoned with juicy ants from Nagano that add a citrus tang. The main event is wild duck, caught in nets in Aomori Prefecture in the very north of Japan. Aged for 24 days to deepen its flavour, it's barbecued over charcoal, its skin blackened and its flesh bloody.
In between, I'm seduced by a selection of Japanese citrus fruits dressed with kelp oil; ribbons of frozen monkfish liver on toast; a labour-intensive freshwater-clam tart; a steamed cabbage leaf stuffed with plump sea urchin; a fermented black garlic "leather", folded, origami-style, into a leaf; and a cloud of aged, aerated scallops. The final serving is a fermented cep coated in dark, salted chocolate. I have a couple of days to digest before I return to do my stint on the floor.
I'm not a complete novice, having spent a decade working front of house, from waiter to restaurant manager. But I'm nervous: it's been a while and this is a huge step up. I've decided to work lunch and dinner in the same day. My modest aim, although it's soon evident that I don't have the beard or the cheekbones to blend in, is not to make a fool of myself.
It all goes by in blur – a 15-hour blur that starts at 9am and finishes just before midnight. The detailed briefings that k take place before each service start with Redzepi talking through any changes to the menu. New dishes are being introduced throughout the run, with plans to use ingredients such as yellowfin tuna collar ("It's mostly thrown away here, so I like the idea of working with it," says Redzepi), snapping turtle and sea eel, too.
That's followed by a detailed run-through of each table, listing any dietary requirements and giving the lowdown on each guest – be they a famous Japanese boxer, banker or blogger – and whether they've visited Noma in Copenhagen. As in the kitchen, no detail is left to chance.
I mainly run food from the pass. And there's lots of food to run. At one point during dinner it seems like everyone with a plate in front of them has their cameraphone out. The pace at which the kitchen is working to keep those courses coming is furious, while out in the dining room all appears calm, as the diners post their dishes on Instagram.
The next day, I speak to Redzepi again. It's sad, I say, that once they leave Japan, they'll leave behind all the dishes they've created here. "We're talking about getting inspiration for the next 10 years of our lives," he says. "To see everything that we have with refreshed eyes. It's not necessarily about that one little thing or specific dishes."
The team will engage in some well deserved R&R in Kyoto together before they return home. Will Redzepi find it hard to return to Copenhagen? He smiles. "You mean going back to the bleakness and the protestant cynicism?" He shakes his head. "You understand more about what you've left behind by travelling," he says. "I'm excited to go home with all that we've learnt here and to start working again with what we've got."
Plates, bowls, utensils and furniture used during Noma's five-week residency at the Mandarin Oriental in Tokyo are available for sale at tokyostore.noma.dk. Joe Warwick was a guest of Airbnb. The Tokyo apartment in which he stayed is available from £39 per night (airbnb.co.uk). He flew to Tokyo with British Airways from Heathrow (britishairways.com)
Wandering Michelin stars
2011: The French Laundry at Harrods
Following a three- day appearance at the Mandarin Oriental in Hong Kong in late November 2010, Thomas Keller took his celebrated Napa Valley restaurant to Knightsbridge in October 2011. Seventy seats were sold out for lunch and dinner daily over the 10-day run. Keller brought 15 members of his team (and shipped 90 per cent of the ingredients) from California to serve a £250, nine-course menu that included Sacramento sturgeon and sweetcorn-and-celeriac chowder.
2012: A Taste of Noma at Claridge's
The London Olympics provided the stage for Noma's first foray abroad. The Mayfair hotel's ballroom was revamped to house René Redzepi's team for 10 days, from 28 July to 6 August, while their Copenhagen base was being refurbished. Imported Danish ants served live grabbed the headlines on the £195 eight-course menu that elsewhere made use of British ingredients in servings such as neck of Romney Marsh lamb served on a smouldering bed of hay. The 3,400 seats available were gone in a couple of hours.
2015: The Fat Duck goes to Melbourne
With Heston Blumenthal's Bray HQ undergoing extensive refurbishment, the restaurant has relocated to Australia for six months, taking up residency in Melbourne's Crown Casino from 3 February. It's already sold out for the £270-per-head menu for its whole run; the restaurant that has been built to house the residency is being rebranded as a branch of Blumenthal's deluxe brasserie Dinner, the original incarnation of which opened in Knightsbridge in January 2011.
Join our new commenting forum
Join thought-provoking conversations, follow other Independent readers and see their replies