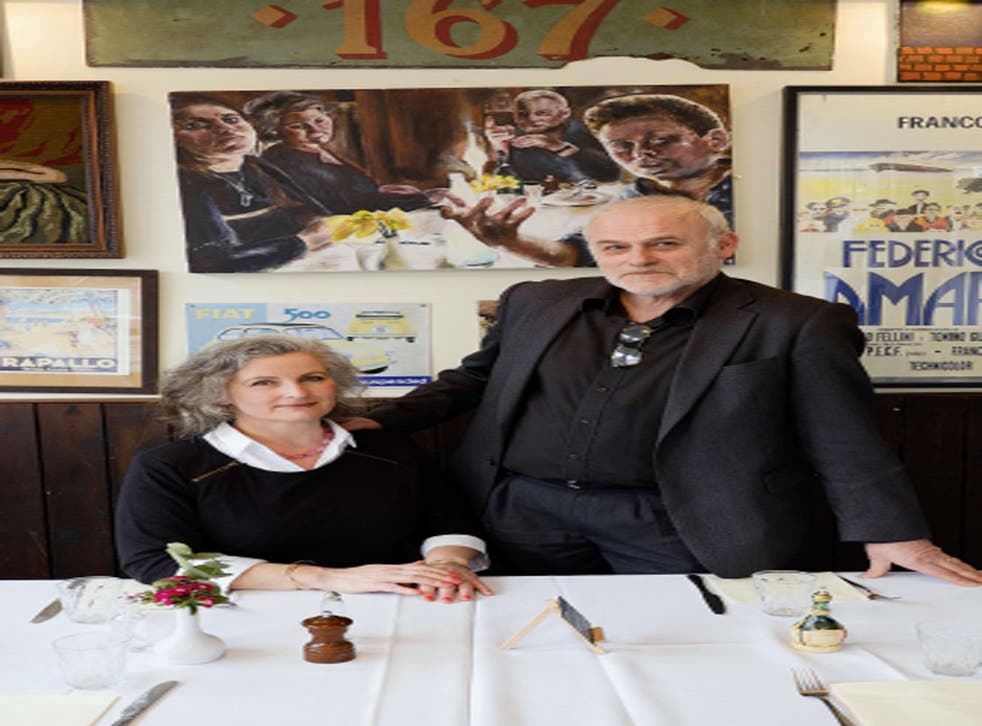 How to run a restaurant: As two newbies discovered, there's more to it than good food
When Simonetta Wenkert opened a restaurant, she had big dreams – but no idea how to manage order books, needy chefs, touchy waiters or picky customers. Eight years on, she describes what she's learnt
"Is this your first time here?" I asked the couple on table 12, as I brought them the card machine. They seemed familiar, but I couldn't place them.
They looked at each other awkwardly. Then, the wife spoke.
"Not exactly. We came about eight years ago, when you first opened…"
The words hung unspoken, as I tore off their receipt: "But we haven't been back since."
Who knows what we had done to displease them back in the summer of 2007? As novice restaurateurs, the possibilities were endless. Perhaps they had waited too long for their food; or else there had been a mistake on their bill. Maybe a meltdown in the kitchen? It could have even been the night that the coffee machine broke and I'd served luke-warm espressos from the stove.
Restaurants, especially new ones, are volatile places at the best of times – any number of things can go wrong for diners. A dish not being as delicious as you remembered; something a bit off about your waitress; or perhaps your friends weren't quite as charmed by your latest discovery as you were. I know all this from eating out myself. The time the manager at the little Thai where we'd been celebrating family birthdays for the past 15 years pointedly turned up the dimmer switch at the end of the evening turned out to be the last time we would eat there.
World's best restaurants 2015

Show all 10
The fact that my husband and I – an engineer and a novelist – were amateurs made us especially prone to mistakes. As the Italians say, non si nasce imparati, which roughly translates as: "You live and learn". Most restaurateurs are either tough chef-proprietors who have worked their way up through the brigade until they take the plunge and open their own place; or else they are faceless investors who have spotted a gap in the market and, aided by research and design teams,and brand consultants, do everything according to tick-boxes in order to minimise the risk of failure.
The one thing we had on our side was a purity of vision. Ida, named after my husband's mother who taught him how to cook, would serve hand-rolled pasta and the kind of simple, regional food that he grew up eating at home. We both had a horror of cheffy swirls, reductions, foams and ingredients assembled in vertical stacks. While we weren't so naive as to totally ignore the cost of a dish, we refused to be bound by the 40 per cent mark-up rule.
Left in peace to cook at his own pace, my husband Avi could make you weep with the simplicity of his food. Dark ragu from the Marche, his mother's homeland, made with hand-cut beef, pork and gizzards, with puffy gnocchi, which one customer simply calls "clouds"; a cuttlefish risotto, glistening with black squid ink; or a strange family recipe of potatoes cooked in water, olive oil, parsley and garlic, which looks like pond sludge but tastes extraordinary.
A restaurant, however, is all about volume and speed. People lead busy lives and haven't the time to sit around waiting for their supper. After a few Monday night pop-ups at a friend's restaurant around the corner while the refurbishments at our place were in progress, we realised that Avi was not going to cut it alone in the kitchen. We would have to hire a chef.
Think of a new mother employing a maternity nurse to help her set up a routine for her baby. While she is grateful for the professional's years of experience and the order she brings to the frazzled household, a tiny bit of her resents being told what to do, when she'd like to be the one in charge.
There, in a nutshell, you have the relationship between a novice restaurateur and chef. Who did we think we were to lord it over people who had been doing this job for years (and were no doubt sniggering behind their hands at our rookie mistakes)? The fact that instead of table numbers I used to write "couple beneath the Fellini poster" or "man and dog by the window", copying out everything in duplicate because I hadn't discovered order books? Thus, while we might have known what we wanted for our restaurant, we ended up deferring to our chefs, at least in the beginning, because they held all the cards.
What we hadn't reckoned on was how exhausting it would be keeping those fragile egos in check. In hindsight, all our chefs had a number of qualities in common: most were undisciplined adrenaline-junkies, hot-headed drifters who yearned for the quasi-military discipline to be found in a brigade – entirely lacking in our open-plan kitchen, where there is no hierarchy and every meltdown happens in full view of the customers, as though on a stage. Diners can watch the chef and sous-chef shoving each other out of the way during a rush, observe the checks being bumped either forward or backwards on the grabber, while the really sharp-eyed can probably even work out when I am pleading with them to prioritise one order over another.
But, because all of them – the cage-fighter, the porn addict, and the ex-con (whose brother, a kitchen porter, ended up getting our first chef pregnant) – had a passionate pride in their work, we turned a blind eye to a lot of challenging behaviour. In fact, we were grateful to them for teaching us what they knew.
We helped them find accommodation; fed their visiting families when they descended upon us en masse; booked their flights home to Italy; argued with their landlords and gave them the keys to the restaurant when they were temporarily homeless. We learned to couch our suggestions and criticisms in the most craven terms, so as to not cause offence, and tried not to take sides when arguments broke out between the chefs and the waiting staff (which they did with dismaying regularity).
Thankfully, after eight years, we've toughened up a bit, too. We've learnt to dial the drama down a notch, both in the kitchen and dining room. Local colour is one thing but no one likes being eyeballed by a maniac at the pass while they're eating their dinner. The moment you bare a soft underbelly, chefs are like sharks scenting blood; the worst thing you can do is let them think they are irreplaceable.
We might have forced them to cook what they grumblingly called "grandma food", but when they do eventually pack up their rubber clogs, their knife roll, and their checked trousers, and move on to another job, they leave behind a legacy of dishes that have entered Ida's lexicon: the Puglian broad bean and spinach dip; a sea-bream baked in a crust of shaved potatoes so that the fish steams to perfection; tagliatelle alla Marisa, named after one chef's mother (and pointedly renamed by his successor) with prawns, pecorino and vine tomatoes; a sublime Nutella cheesecake.
For me, the greatest discovery has been how much I love being a restaurateur. I like meeting our customers' out-of-town families, celebrating their engagements, landmark birthdays and the arrival of new babies . In fact, I am proud that we have contributed something lasting to the area, that we rode out the recession and stayed put. This side of Queen's Park was a desolate arterial road before we opened our restaurant. Now, zoom in on Fifth Avenue on Google Maps and there we are: a yellow knife and fork symbol inside a circle. A landmark. We exist.
Join our new commenting forum
Join thought-provoking conversations, follow other Independent readers and see their replies