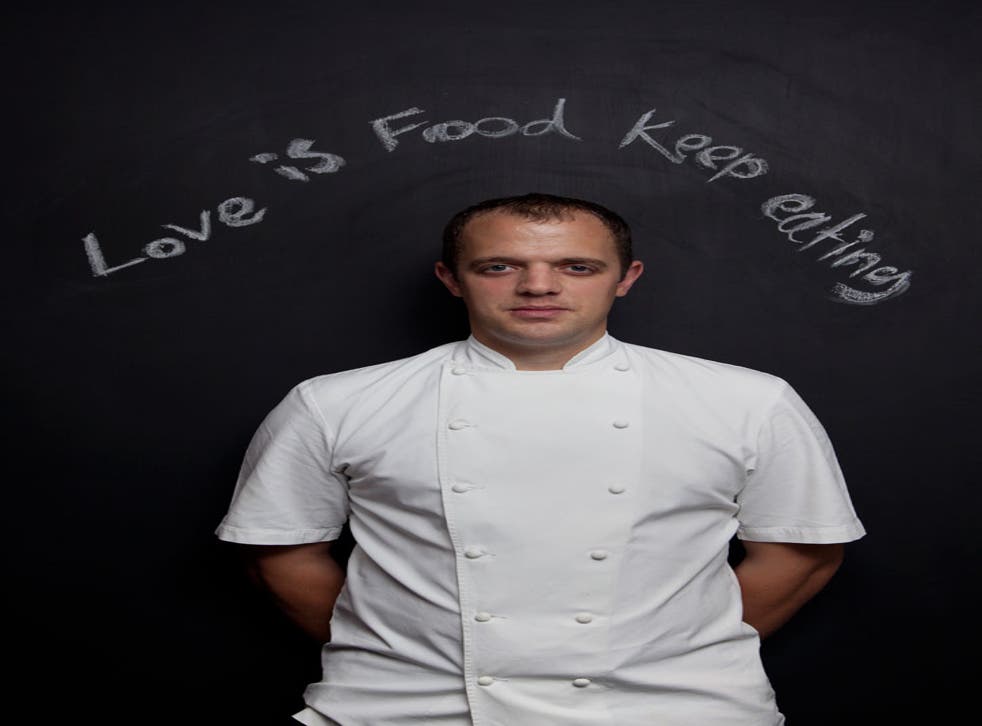 James Knappett: 'I'll pretty much eat anything, but stinky tofu is really wrong'
My earliest food memory… Prawn cocktail. My mum would make it as a treat, and she always used to sprinkle prawn cocktail crisps on it, too – that was about as gourmet as it got [in our house].
My store-cupboard essentials… Marmite, tea bags and HP sauce. I also love Sriracha sauce, which is an Asian hot sauce – it's a really easy way to add spice. Another thing my wife [and co-owner of "hot dogs and champagne" restaurant Bubbledogs] Sandia and I love is something called furry pork, which is Asian dehydrated shredded pork. We get jars of it with dried seaweed mixed in, which Sandia's mum posts over from California. It's great in noodles or rice, or on cheese on toast.
My favourite cookbook… I have two. Thomas Keller's The French Laundry Cookbook is the first book I got when I got into serious cookery. It was published more than 10 years ago, but the food still feels cutting-edge. Also Nigel Slater's The Kitchen Diaries: he's an incredible food writer. When I was working at Noma, I took that book with me and when I was missing England and English food, I used to read it. He can really capture a time and a place and a feeling.
My top table… Koya [a Japanese udon-noodle house in London's Soho] is brilliant. I'm good friends with the chef there, Junya Yamasaki, and his food always makes me think. The last time I went he did this steamed tomato, and the flavour he got into it and the broth around it was so brilliant – it's something so simple, but through his technique and skills, he made it amazing.
My dream dining companion… David Jason. Only Fools and Horses has been a massive part of my life – it's such a great programme to put on if you're down – and I think he's an incredible actor.
My guilty pleasure… Buffalo chicken wings. I grew to love them when I was working in America and now, whenever I go back, it doesn't matter how many fine-dining meals I go out for, I have to have them. At Bubbledogs we even have a buffalo dog inspired by my love for them, where we coat the dog in buffalo [hot barbecue] sauce, add fresh celery, pickled celery and celery leaf salad, then crumble Stilton cheese on top, because traditionally the wings come with celery sticks and blue-cheese dip.
The strangest thing I've eaten... Snake in Taiwan, along with a soup made out of its heart and bones. It was pretty weird, but also quite tasteless. Also, I recently went to Thailand and did all the insects – grubs, cockroaches, crickets, that kind of thing. I tried them in a sort of spicy salt, and they actually tasted good. I also had live ants this year at MAD, Rene Redzepi's food symposium. Personally, they weren't for me.
My pet hates… Restaurants that make people feel unwelcome. That's something that annoyed me in the early days [of my career]: as a young chef, you'd save up to go to expensive places to try the food out but if you're young and you don't order an expensive bottle of wine and just order tap water, then some places will treat you differently. Also, I'll pretty much eat anything, but I think stinky tofu is really wrong, as is durian, which is a spiky Asian fruit. The smell is so nasty when it's cut into that it's banned on public transport in certain countries.
My tipple of choice… Gin and tonic. Me and Sandia have actually made our own gin for Bubbledogs with the help of a distiller friend of ours and called it Chappett's. It's flavoured with wild liquorice root and a herb called sweet cicely, and it was incredibly fun to make.
James Knappett is the chef and co-owner of Bubbledogs (bubbledogs.co.uk) and fine-dining restaurant Kitchen Table, both at 70 Charlotte Street, London W1. For reservations, tel: 020 7637 7770
Join our new commenting forum
Join thought-provoking conversations, follow other Independent readers and see their replies