The juiciest cuts: Mark Hix cooks with succulent and nutty acorn-fed Iberico pork

Show all 4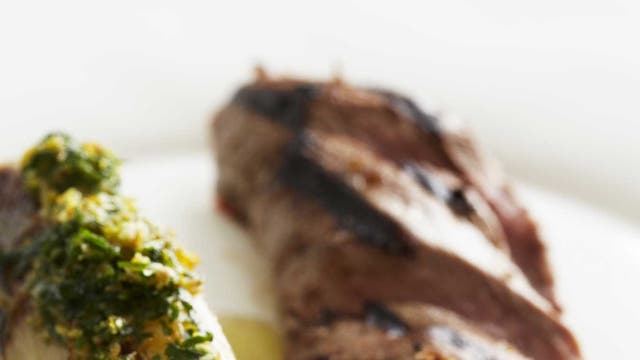 The juiciest cuts: Mark Hix cooks with succulent and nutty acorn-fed Iberico pork
In the UK, unfortunately, we don't have an annual pig slaughter, but in Spain the animal is a little more revered and many Andalucian families still carry out the traditional celebratory matanza. This involves killing the animals humanely and dissecting the various cuts and curing and brining them to ensure that the family has a supply of good-quality meat to last through the year.
The pigs are fed on acorns to provide the meat with a delicious nutty flavour. The slaughter happens during the cold winter months and often involves the whole town or village. I was recently sent a few cuts of amazing Iberico pork from Monika at Brindisa (brindisa.com), and felt inspired to create these recipes as a result.
Loin of pork with chicory and orange
Serves 4
The loin is the most tender part of the beast and it cuts like the best fillet steak.
600-300g pork fillet or tenderloin
Salt and freshly ground black pepper
4 medium heads of chicory
3-4tbsp olive oil
Salt and freshly ground black pepper
Juice and zest of 1 orange
60g butter
½tbsp chopped parsley
Preheat the oven to 180C/gas mark 5. If the chicories are large, cut them in half lengthways. Lay them in a roasting tray, season and spoon over a couple of tablespoons of the olive oil.
Cook for 20 minutes, basting and turning every so often, then pour in the orange juice, zest and butter and continue cooking for another 20 minutes, basting every so often until the juice has almost evaporated. Meanwhile, preheat a ribbed griddle or heavy frying pan, season the pork fillets and lightly brush with oil.
Cook for 5-6 minutes on each side, keeping them nice and pink; leave to rest for a couple of minutes. To serve, cut the pork into 1cm-thick slices, arrange on warmed serving plates with the chicory. Stir the remaining olive oil and chopped parsley into the chicory cooking pan; spoon the juices over.
Morcilla on toasted sourdough
Serves 4
The Spanish have a couple of types of black pudding – the cured and dried version, which you can eat just sliced like chorizo, or the soft, fresh one. The air-dried type is a great snack that you can keep in your fridge to slice away at; or alternatively, you can serve it on toast like this with some tasty small salad leaves or with some grated or shredded apple.
4 slices of sourdough
A clove of garlic peeled
150g or so of air-dried morcilla, thinly sliced
1-2tbsp extra virgin olive oil
A handful of small salad leaves and shredded apple
Toast the sourdough bread, then drizzle on a little olive oil; rub with the peeled garlic cloves, arrange the morcilla and leaves on the bread, season and spoon over a little olive oil.
Pork cheeks with sherry
Serves 4
A few butchers and supermarkets are now selling pork cheeks – when I went into Waitrose the other day they were on the meat counter. They have great natural marbling, so the meat stays moist during slow cooking.
500-600g pork cheeks, cut into 4-5cm chunks or left whole
1tbsp vegetable oil
60g butter
2 medium onions, peeled, halved and finely chopped
Salt and freshly ground black pepper
50g flour, plus some for dusting
250ml dry sherry
1ltr chicken or beef stock
Season and lightly flour the pork cheeks. Heat a frying pan with a tablespoon or so of vegetable oil and fry the cheeks on a high heat for a few minutes, browning them on all sides, then drain on kitchen paper.
Meanwhile, melt the butter in a heavy-based saucepan and gently cook the onion for 2-3 minutes until f soft, add the flour and cook on a low heat for a minute, then gradually add the sherry and stock, stirring carefully to avoid lumps forming; bring to the boil, add the pork cheeks, season and simmer gently for about 1-1½ hours or until the cheeks are tender.
The sauce should have reduced and thickened by now; if not, remove the cheeks and simmer the sauce until it's thickened, then return the cheeks and serve in a warmed sharing dish or individual plates.
Presa with romesco sauce and shaved fennel
Serves 4
Presa is a fantastic cut at the end of the pork loin next to the neck. I must say that the flavour and texture of this cut is second to none and just needs a simple grilling or even barbecuing.
800g or so of presa
Salt and freshly ground black pepper
A little vegetable or corn oil for brushing
1 bulb of fennel, quartered and finely shredded
½tbsp sherry vinegar
1tbsp olive oil
For the romesco sauce
2 cloves of garlic, peeled and roughly chopped
1 small slice of bread, cut into rough cubes
2-3tbsp olive oil
60g whole blanched almonds, lightly toasted
1 small dried red chilli (preferably guindilla), soaked for an hour in warm water
2 piquillo peppers or 1 small red pepper, roasted, peeled and seeded
½tbsp sherry vinegar
1tsp tomato purée
A good pinch of smoked Spanish pimenton
Salt and freshly ground black pepper
First make the romesco sauce: heat the olive oil in a heavy-based frying pan and then fry the garlic and bread briefly for approximately 2-3 minutes. Next, transfer to a food processor with the other ingredients for the sauce and coarsely blend; season to taste. Toss the fennel in the vinegar and oil and season.
Preheat a ribbed griddle or heavy frying pan, season the pork, lightly oil the pan and cook the pork for 6-7 minutes on each side, depending on the thickness, keeping it a little pink.
Leave to rest on a plate for a few minutes then cut into ½-1cm-thick slices and arrange on serving plates with a pile of the fennel and a spoonful of the sauce.
Join our new commenting forum
Join thought-provoking conversations, follow other Independent readers and see their replies