Just desserts: Two nations divided by a common custard

Show all 5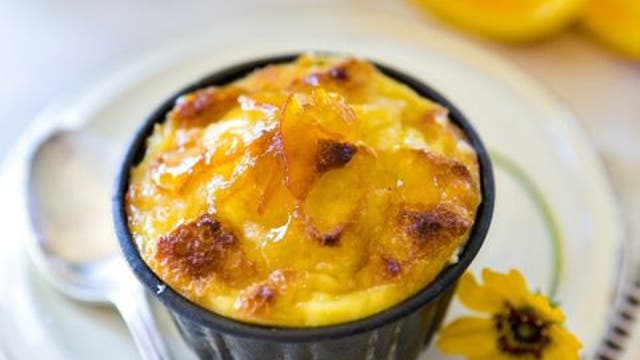 Just desserts: Two nations divided by a common custard
You might think America is crying out for classic British puddings, yet one entrepreneur has found things decidedly sticky
Despite 35-degree-plus temperatures in Austin, Texas, where Cumbria native and baking entrepreneur Tracy Claros plies her trade, she's already thinking about Christmas due to making most of her money during the US "holiday" shopping season. So begins the complex and sometimes nerve-wracking planning and logistics needed to make sales that are far from guaranteed due to the idiosyncrasies of the US dessert market.
Claros moved to Austin in 2003 to start a dessert company, having reasoned that the UK's market was overcrowded while the US's had little exposure to British desserts. In 2004 she launched The Sticky Toffee Pudding Co, based on the British dessert classic, but it hasn't been easy. She hadn't reckoned on US demand for more sophisticated chilled desserts being almost non-existent compared to the UK and the rest of Europe.
Even the word "pudding" has a very different meaning here, usually associated with custards and creating one of a number of hurdles when trying to connect with American consumers.
The holiday sales peak results from most of those consumers viewing her product – moist sponge cake with finely chopped dates covered in a buttery toffee sauce and served warm – as a rich holiday treat and buying accordingly, which makes keeping her company afloat during the rest of the year a challenge. It has taken time and bitter experience for her to figure out the extended planning cycle to ensure her puddings get on stores' holiday shelves. "When I started, I'd approach a customer in September or October," she says, "but even if I had a great idea, by then it was too late."
Major US food retailer chains such as HEB and Costco make the big decisions for the holiday period around August, she says. Hence she spent the spring flying around to meet supermarket managers and ensure her company doesn't miss out on a crucial period that accounts for 65 per cent of sales.
She flew to Seattle and Atlanta to confirm orders with Costco totalling 50,000 puddings. She also flew to a meeting with a Baltimore Costco but came away with no order. It was a long way to fly only to be told the store's customers buy desserts at the bakery or from the freezer but aren't accustomed to getting them from the refrigerator, she says.
James Averdieck, who founded the British dessert company Gü, investigated the US dessert market in 2010. Gü products normally remain chilled throughout the supply chain and he didn't want them sold in the freezer section, he says, where they'd face stiff competition from big brands such as Häagen-Dazs and Ben & Jerry's. He was also concerned stores might defrost them after the expiration date and damage the brand's reputation. Gü's products contain cream, eggs and butter, limiting their shelf life.
"An added layer of complexity is the US is so huge, even containing different time zones," says David Wilson, a partner with Greenseed Group that advises UK food companies considering the US market and is assisting Gü. "If your product has a shelf life of three weeks and it takes a week to truck it from New York to California, that's a real challenge and is why so many US foods are frozen."
Another complication, Wilson says, is the US shopping experience is more fragmented compared to the UK's, which contains relatively few major supermarket chains. The US has many more retailers and British companies have to choose their partners wisely.
The US's immense geographic size – Texas is three times bigger than the UK – results in significant regional differences in terms of consumer habits. Bakeries tend to sell a lot of cakes in Southern cities such as Houston and New Orleans, though that declines farther west, says Jim Murphy, owner of Austin's 35-year-old Sweetish Hill Bakery.
Baked goods also prove popular in coastal areas, but ultimately it varies, with each place influenced by culture and weather. If you grow up eating ice-cream and jelly, he points out, that's likely to be what you'll shop for. Despite the challenges, Wilson says the underdeveloped dessert market means there is great potential and in cities such as New York and Chicago, where customers are increasingly purchasing fresher foods on a more frequent basis, similar to Europe.
"I think chilled desserts are on the cusp of exploding onto the market," he says, "and as new concepts emerge in urban centres they'll start to move into the mainstream."
Claros has weathered tough times while promoting her puddings to an often fastidious market but has resolutely baked on. She expects to pass $1 million (£660,000) in annual sales for the first time this year. Her small company has three employees and another three part-time during the pre-holiday push. Her ability to survive has resulted from passion for her product, tenacity and deft logistics and conundrum-solving.
She's had to max out credit cards and bounced between British and American banks to find willing lenders. She sources packaging material from Denmark due to insane US prices, she says, but must account for up to two months delivery time. Last year, packaging to fulfil a customer's order – who bought four times more than expected – got delayed. "I was panicking."
As sales increase for Claros, it appears the US is coming round to desserts like hers – Oprah Winfrey's magazine described her pudding the "sexiest English creation since Colin Firth". Ironically, she discovered the bona fide British dessert when she studied at the University of Texas at Austin during her twenties. Her mother sent the recipe for the pudding that astounded Claros by its deliciousness, she says.
Despite progress, Claros wants to smooth out her annual sales graph and is developing a new line of fabulous flapjacks that avoid any chilled dilemmas to generate more consistent sales, she says. But that's led to a new dilemma: how to retain handmade quality while increasing production economically.
"I don't want a better price if my product's not fantastic," she says, "as that's the base of what this brand is about."
Join our new commenting forum
Join thought-provoking conversations, follow other Independent readers and see their replies