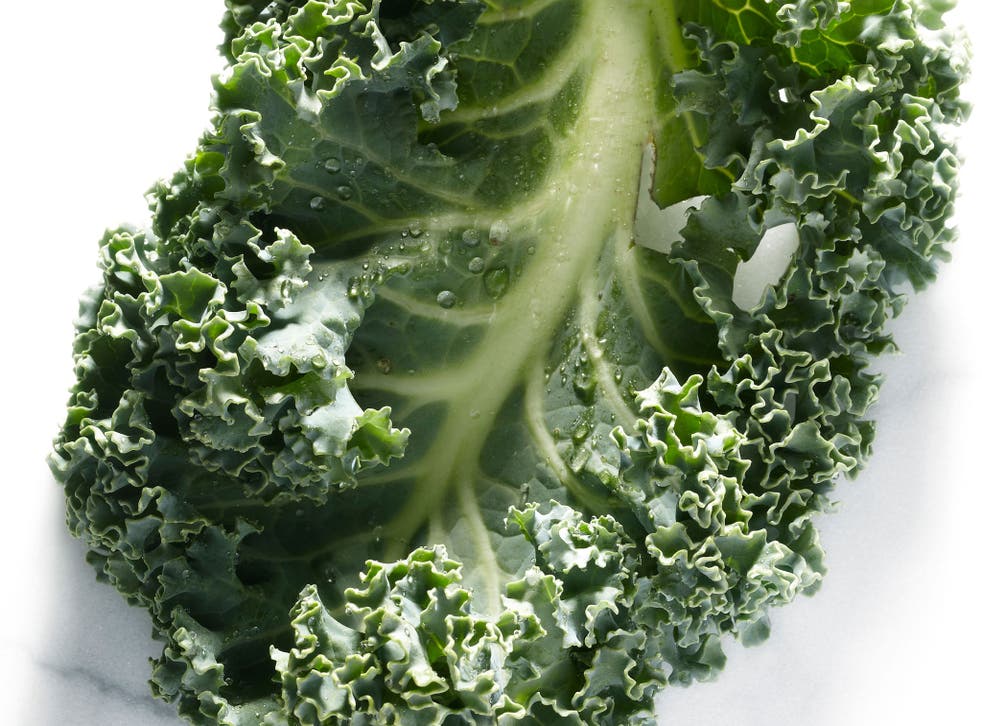 Kale and hearty: The curly green stuff is suddenly trendy and sales are up 400 per cent
Rosie Birkett charts the vegetable's progress from cattle fodder to superfood
In North America, they've been slurping kale smoothies and chomping on kale chips for donkey's years. I've just come back from living in Vancouver, Canada, and I can vouch for the fact that over there, kale – often locally grown and organic – is one of the most popular and affordable fresh ingredients there is, prized for its myriad health benefits and savoured by chefs, slimmers and celebrities alike.
I fell in love with its savoury, flavourful leaves while there, de-stemming and blanching it to sit beneath my poached eggs; using its raw leaves massaged with olive oil in salads; or chopped up and folded into stews and braises. And feeling wonderfully smug the whole time about just how much good it was doing me.
"Superfood" is a term that doesn't quite do justice to this fabulously frilly member of the cabbage family. The brassica, which can be grown easily at home, and flourishes in the UK for most of the year, is low in calories, full of antioxidants, and has very high levels of iron, vitamin C, vitamin A, calcium and dietary fibre. It can also claim to lower cholesterol, boost the immune system and aid liver function. Gwyneth Paltrow has sung its praises in her books and on Goop, her online lifestyle magazine, and tough-guy Kevin Bacon is a fan. There's even a dedicated kale cookbook (The Book of Kale, available from Amazon) which features more than 80 creative, kale-focused recipes.
Yet in the UK, aside from a brief moment during the Second World War when it was planted as part of the Dig for Victory campaign, it hasn't been trendy since the Middle Ages, and until fairly recently was considered to be deeply unsexy fodder for pious health nuts – and used as cattle feed. But now we're finally catching on to the fact that, aside from being one of the most nutritious things you can eat, kale is a delicious, versatile and affordable ingredient that's busting out of the culinary closet and into the mainstream. One of its many pros is the way it crisps up to a satisfying brittle texture when roasted or dehydrated – Pret A Manger has begun stocking kale crisps, with M&S (which has cited kale as "one of 2014's hottest food trends") following closely behind, launching kale crisps as part of its healthy snacking line last spring.
Restaurants are getting in on the trend, too, with the Vietnamese chain Pho introducing a Super Green kale juice with apple, pineapple and lime. Juice-bar chain Crussh is selling it as Lean Green and Veggie Green juices and a Kale & Avocado Tabbouleh while it's also become a firm veg-box favourite. British restaurants, such as Mayfields in Hackney and One Leicester Street, are serving different varieties in innovative preparations. "It's one of the best things about winter," says Mayfields' chef Matthew Young, who chars purple and white kale on the plancha, to serve with seared haddock and lemon foam.
"We use lots of different types of Kale grown in Cornwall," says Tom Harris, chef patron at One Leicester Street, "a particularly beautiful variegated purple kale, and a fine Russian kale that has a long, tender stem. Both make regular appearances on our menus. The former I use whole, simply dressed as a side to roasted and grilled meats dressed with mustard, or to poached fish dressed with anchovy. The curly variety gets shredded and added to soups or for finishing braised beans with. We also use them as a simple warm salad with a soft hens egg, dressed with anchovy and fried rye crumbs."
Supermarkets are reporting record bumper sales of the veg, too, as more of us cook it at home. M&S reports that when it tried stocking kale a few years ago, no one wanted it. "But it's suddenly become very trendy," says Louisa Read, M&S's vegetable buyer, "and our sales are up 400 per cent on a year. It's had a lot of celebrity endorsement, which has helped spread the word about its health benefits. It's used in detoxes a lot and in smoothies because it's good for your liver and immune system, it lowers your cholesterol – it does all these amazing things."
There's even been some buzz about it on social media, from chat about kale lollies (yes, Green Wave Smoothie Pops are a thing in the US), to much sharing of recipes and photos. "Kale has generally stopped being a freaky health food thing and it's much more popular as an everyday ingredient," says kale enthusiast and cook Elly Curshen, who owns Bristol's acclaimed Pear Café. Curshen started eating kale more often as part of the 5:2 diet, and created a hashtag on Instagram documenting her recipes #100wayswithkale.
"I was making myself laugh by how much I was cooking with kale: it was getting a bit ridiculous," she says. "Out of seven days in the week I'd use kale five times. It was a joke initially, but then it became a little bit of a challenge as I realised that there were actually lots of things I could do with it. You can buy absolutely enormous bags of it for hardly any money, and it lasts really well in the fridge, it doesn't go sad and floppy like broccoli. It also stands up to being prepped in advance. On fasting days, it's good because it's really low in calories and you can have a huge amount of it, plus it takes a lot of chewing, so it's more satisfying than something like spinach, which disappears to nothing."
Freelance chef Stephanie Boote agrees. "Nutritionally, kale's praises could be sung all day, but don't just boil it to death when you're cooking it," she says. "Think creatively and respect this amazing ingredient. Kale sweated down with buttery leeks, cumin spiced yoghurt and baked eggs is divine. Use leftover kale for a take on bubble and squeak, or try a kale and white bean salad with lemon zest, pumpkin seeds and a light tahini dressing. The possibilities are endless, so just get experimenting."
Rosie Birkett's debut cookbook – 'Fresh: 80 New Recipes from Market-to-Table' – will be published by Hardie Grant in spring 2015
bonappetit.com/tag/kale-recipes
Kale and almond pesto
Makes a small jar of pesto for smothering on sourdough, gallettes, fish, steak or for stirring into spaghetti
60g/three big handfuls of washed curly kale, stems removed and discarded
Large handful basil
Large handful parsley
3 spring onions, roughly chopped
4 cloves of garlic
40g sliced/flaked almonds
25g of grated parmesan – the best you can find
Large pinch of red chilli flakes
4 tablespoons extra virgin olive oil, plus some for drizzling
Good grind of black pepper
Large pinch of sea salt
1 tablespoon lemon juice
75g spaghetti
Put a pan of salted water on to boil. Add the spring onions and garlic once it boils and cook for 3 minutes, until they're soft. Add the kale and cook for about 40 seconds, until it's bright-green and floppy – could be less. Don't overcook it, as it will lose that lovely bright-green colour.
Lift out the kale with a slotted spoon and put it onto a plate. Lift out the garlic and spring onion and blitz them in a food processor with the almonds. Add the parsley, basil and chilli flakes and blitz again.
Squeeze the excess water out of the kale and add that to the food processor, too, blitzing, followed by the lemon juice and zest, parmesan and 4 tablespoons of the olive oil. Season with black pepper and salt to taste, and stir. Store your pesto in a clean jar and drizzle with olive oil to seal in the freshness.
Butternut squash, kale, pomegranate and pumpkin seed salad with lemon and maple dressing
Serves 2 greedy kale lovers
2 large handfuls curly kale (preferably a mix of red and green), stems removed and discarded, torn into bite-sized pieces, washed and spun dry
Half a small butternut squash, peeled, de-seeded and cut into bite-sized pieces
4 tablespoons olive oil
50g pomegranate seeds
2 tablespoons toasted pumpkin seeds
1 teaspoon Dijon mustard
2 tablespoons lemon juice
1 teaspoon maple syrup
Quarter teaspoon Maldon salt
Black pepper to taste
Preheat the oven to 190C. Toss the squash in 1 tablespoon of the olive oil and season with salt and pepper on a baking tray. Roast for 30-35 minutes, or until golden, tossing after 20 minutes.
Whisk together the remaining olive oil, mustard, lemon, maple syrup, sea salt, and pepper. Pour 3 tablespoons over the kale to begin with, and "massage" the kale well with your hands, till it's coated in the dressing and taking on a soft, almost wilted texture. Add the remaining dressing as needed and according to tastes. Add cooked squash, pomegranate seeds and pumpkin seeds. Serve.
Join our new commenting forum
Join thought-provoking conversations, follow other Independent readers and see their replies