Keep it on ice: Mark Hix reveals his delicious freezer essentials

Show all 4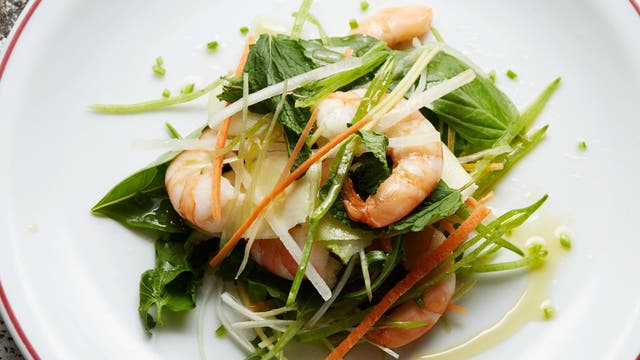 Keep it on ice: Mark Hix reveals his delicious freezer essentials
Great ingredients such as prawns, globe artichokes and tomato sauce can all be kept in your freezer, ready to be deployed at the drop of a hat for a delicious tasting dish. You can even have a vodka shot on hand, too
I'm a big fan of having practical, time-saving ingredients up my sleeve for impromptu meals or packed lunches. It's especially handy this time of year when you often get unexpected guests visiting and you need to throw together something for them to eat.
Make sure to carefully select what to freeze as certain ingredients (particularly ones with a high water content) can lose their natural flavour and end up being a waste of space in the freezer.
Of course you'll need vodka, and I always keep a pre-mix martini in my freezer with a capful of dry vermouth in the bottle so you don't need to dilute the vodka on ice; just pour it into a glass.
Prawn, green mango and lime salad
Serves 4
I like to keep a bag of good-quality raw sea-water prawns in my freezer. They are great for curries, pasta or a salad like this and, what's more, if they have their shells on you can make a stock for the shell shot on the next page – or a bisque or Asian broth. >
20 or so good-quality prawns, cooked and peeled
A couple of handfuls of Asian salad leaves like mizuna, tatsoi, or tiny pak choi (from Thai or Chinese supermarkets), or just some small salad leaves, washed and dried
A handful of herbs such as coriander, mint, Thai basil leaves, Thai parsley, betel leaves, parilla, etc... picked, washed and dried
1 green or under-ripe mango, peeled
40g mange tout, shredded
4 spring onions, finely shredded
For the dressing
1 small red chilli, seeded and finely diced
1 stick of lemon grass, trimmed and chopped as finely as possible (keep the trimmings)
A small piece of galangal or ginger, peeled and finely chopped or grated (keep the trimmings)
1tbsp fish sauce
Juice of 1 lime, or a kaffir lime
1tsp sugar
1tbsp rice vinegar
3tbsp vegetable oil
Mix together the ingredients for the dressing and leave to infuse for at least an hour.
On a mandolin, or with a sharp knife, or peeler, slice the mango as thinly as possible, slicing around the stone. Mix the prawn, the mangoes and all the other ingredients for the salad with the dressing and serve in individual bowls or one large bowl.
Shell shot
Serves 6-8
I've done recipes for bull shot with beef stock and duck shot with wild duck stock – I just hate throwing bones and carcasses away. This is a fishy version with lobster shells, or you could use prawn or crab shells. Once you have made the stock, freeze it down in useable quantities to take out on a shoot, fishing or a country walk, then simply add the vodka and other ingredients when you heat the broth.
For the broth
The shells from one or two lobsters, or prawn shells, chopped and rinsed under the cold tap
2ltrs fish stock
1 small onion, peeled and roughly chopped
2 cloves of garlic, halved
1 small leek, roughly chopped and washed
2 sticks of celery, roughly chopped
½tbsp tomato purée
1 bay leaf
A couple of sprigs of thyme
2tbsp fennel seeds
1tsp black peppercorns
To serve
½tbsp Worcestershire sauce
Tabasco to taste
A couple of good pinches of celery salt
100-200ml vodka, depending on the occasion
Put all of the ingredients for the broth in a saucepan, bring to the boil, skim and simmer very gently for 45 minutes. Strain the broth through a fine-meshed sieve into a clean saucepan, then season to taste. Add all of the serving ingredients to taste, bring back to the boil and pour into a vacuum flask.
A simple tomato sauce
Serves 6-8
This is a great sauce to keep in the freezer for pasta, gnocchi, meatballs or a simple sauce to go with fish or meat. If you freeze it in zipped bags flat on a tray it will defrost quickly in some warm water. You can add chilli to this to spice it up for an arrabbiata sauce or add capers for a puttanesca-type sauce.
4-5tbsp olive oil
1 onion, peeled, halved and finely chopped
2tsp tomato purée
400g can of good-quality chopped tomatoes
Salt and freshly ground black pepper
250ml vegetable stock >
Gently cook the onion and garlic in the oil for 2-3 minutes until soft. Add the tomato purée, chopped tomatoes and stock, season, bring to the boil and simmer for 30 minutes, stirring occasionally. Add water if the sauce is getting too thick.
Artichokes, olive and caper salad
Serves 4
I discovered these completely trimmed, frozen globe artichokes a few years back in a Middle Eastern supermarket. The quality is fantastic for hot or cold dishes – or as a garnish for meat and fish.
6-8 frozen, prepared globe artichokes, defrosted
2tbsp large capers, rinsed
12-15 stoned green olives, chopped
2tbsp chopped parsley
For the dressing
1tbsp good-quality tarragon vinegar
2tsp Dijon mustard
1 clove of garlic, peeled
2tbsp olive oil
3tbsp vegetable or corn oil
Salt and freshly ground black pepper
First, make the vinaigrette. Put all the ingredients into a clean jar. Give it a good shake and leave to infuse overnight at room temperature.
Slice up the artichokes and toss them in a bowl with the vinaigrette, capers, olives and parsley and season. Leave to stand for about 20-30 minutes before serving.
Join our new commenting forum
Join thought-provoking conversations, follow other Independent readers and see their replies