Know your onions: Alliums are among the most versatile kitchen ingredients, says Mark Hix

Show all 4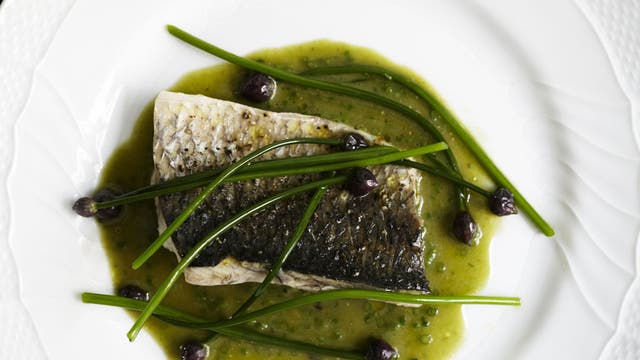 Know your onions: Alliums are among the most versatile kitchen ingredients, says Mark Hix
Alliums or onions? I prefer the word alliums, but they are in fact one and the same thing. There are hundreds of flowering plants in the onion family and we only really ever cultivate or forage a dozen or so. It would make a good dinner party game to see how many allium family members your guests can name.
Comprising everything from a common onion, leek or chive to a flowering ramson or wild garlic plant, alliums are among the most useful kitchen ingredients. Sadly we take the common onion for granted, but all the members of the onion family have great potential in the kitchen.
Grey mullet with chive buds
Serves 4
When silver mullet (as I like to call grey mullet) is at its best, its wonderful taste can be on a par with that of sea bass. You can of course use any fish for this dish and even the coloured skin of a red mullet would look great. You can serve this simply with the chive buds; or I've used a bit of the chive soup overleaf just finished off with a little butter.
4 fillets of grey mullet weighing about 180-200g, scaled and boned
A handful of chives (ideally with buds)
1tbsp olive oil
Salt and freshly ground white pepper
Preheat the oven to 180C/gas mark 5. Put the mullet in an ovenproof tray, season and add a little water. Cover with foil; cook in the oven for 10-15 minutes. Heat the olive oil in a pan; cook the chives for 20 seconds or until they wilt. Place the fish on warmed plates, scatter the chives on top; spoon over a little more olive oil or serve with some of the chive soup as suggested.
Trofie with lamb ragu and wild garlic
Serves 4
Trofie are delicious little pointed pasta twists that are traditionally served with pesto in the Ligurian region of Italy. If you can't find trofie then a similar shaped pasta will do, or you could even use spaghetti.
1tbsp corn or vegetable oil
250-300g coarsely-minced neck or shoulder of lamb
1 medium onion, finely chopped
6 cloves of garlic, peeled and crushed
1tbsp fresh oregano or thyme
1tbsp plain flour
100ml red wine
1x 200g can of chopped tomatoes
500ml chicken stock
Salt and freshly ground black pepper
4 servings of trofie pasta
A couple of good knobs of butter
A couple of handfuls of wild garlic leaves
Freshly grated Parmesan to serve
Heat the oil in a heavy saucepan and then fry the minced neck or shoulder of lamb on a high heat for a few minutes until lightly coloured.
Add the onions, garlic and oregano and continue cooking the sauce for another 2-3 mins.
Add the flour and cook for 1 minute, then slowly stir in the wine, tinned tomatoes and stock. Bring to the boil, season and simmer gently with a lid on for an hour, stirring occasionally.
Remove the lid to check the meat is tender; if not, continue simmering until it is and the sauce is thick enough to coat the pasta, but not stodgy.
Meanwhile, cook the pasta according to manufacturer's instructions. When the pasta is almost cooked, melt the butter in a pan and stir the wild garlic leaves for a minute, until wilted.
Drain the pasta, toss it in a little butter and then serve it with the lamb ragu spooned on top, with the wild garlic scattered over – serve the Parmesan separately.
Jersey royal and chive soup
Serves 4-6
For some reason my bed of chives has doubled in size and some of them now look like spring onions. But I'm reluctant to waste them as I can use them in soups and sauces – and along with some parsley, basil and mint, they make a great salsa verde. This is rather like a vichyssoise and can be served hot or cold.
250-300g large Jersey royals, peeled
1 small leek, trimmed, chopped and washed
1tbsp olive or rapeseed oil
1.5ltrs vegetable stock
A large handful of chives, chopped
Salt and freshly ground black pepper
Cut about one-third of the Jersey royals into 1cm dice and roughly chop the rest. Gently cook the leeks in the olive oil in a covered pan without colouring for 4-5 minutes. Add the roughly-chopped potatoes and vegetable stock, bring to the boil, lightly season with salt and pepper and simmer for 15 minutes. Add two-thirds of the chives and simmer for another 2-3 minutes and blend until smooth in a liquidiser. Strain through a fine-meshed sieve and adjust the consistency and seasoning if necessary. While the soup is cooking, cook the diced potatoes in simmering salted water until tender, drain and add to the soup with the chopped chives. Serve hot or chilled.
A plate of alliums
Serves 4
On a rainy, dull weekend in Dorset a few weeks back I was car-less and confined to the village of Charmouth. After I foraged a bag of flowering wild garlic leaves and harvested some chives with lovely purple buds, I had a brainwave and came up with this dish. My grandmother used to boil onions in her pressure cooker on cold winter nights and serve them with a good knob of butter and white pepper – so here's the 2012 version, in her memory.
2 long banana shallots or 4 large shallots, halved
2 medium leeks, trimmed and wrapped in foil
2 red onions, left intact with the skin on
A handful of wild garlic leaves
16 or so lengths of chives, preferably with their buds
For the dressing
1tbsp cider vinegar
3tbsp rapeseed oil plus a little extra
1tsp Dijon mustard
Salt and freshly ground black pepper
Preheat the oven to 180C/gas mark 5. Place the leeks, red onion and shallots (cut side down) on an oven tray; bake for 45 minutes, removing the shallots after 20 minutes. Leave to cool; remove the skin from the red onions, quarter them and pull apart the natural layers.
Remove the foil from the leeks and cut into 1cm-thick slices on the angle. Cut the chive buds to about 5cm and finely chop the rest.
Whisk the vinegar, rapeseed oil and mustard together, season and add the chopped chives. Heat about half a tablespoon of rapeseed oil in a pan, add the wild garlic leaves and chive buds and stir on a low heat until the wild garlic leaves just wilt a little.
Arrange the shallots, red onions and leeks on serving plates, scatter the wild garlic and chive buds on top and spoon over the dressing.
Join our new commenting forum
Join thought-provoking conversations, follow other Independent readers and see their replies