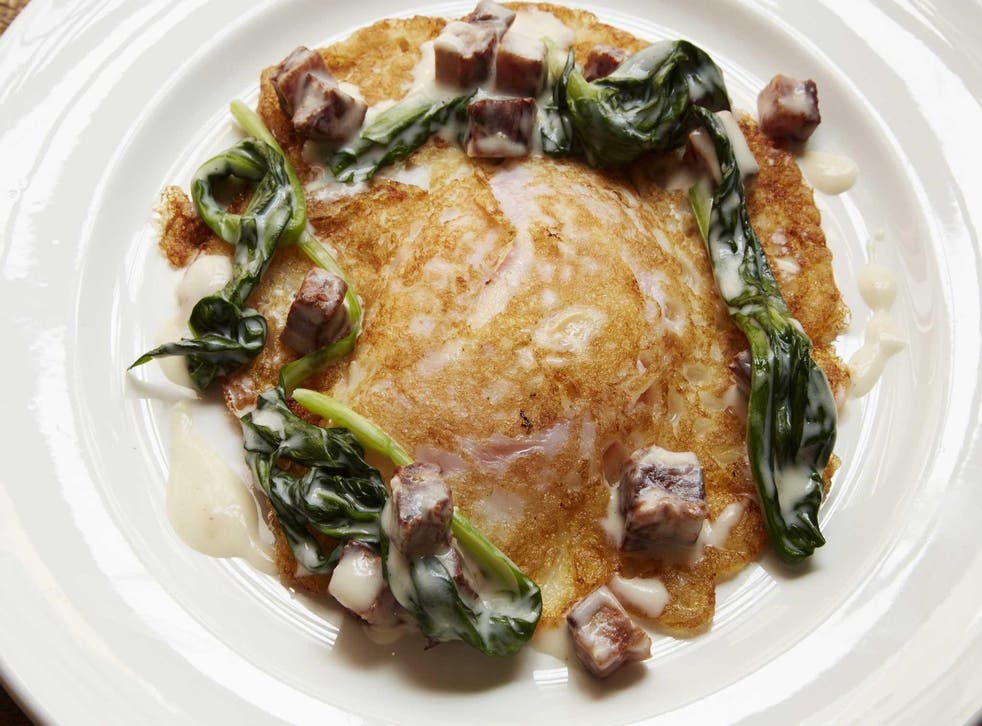 Mark Hix recipes: Crispy goose egg with creamed bacon and wild garlic
Farmers are rearing lots of different eggs for the Easter season nowadays. What makes me particularly happy is that you can now get goose eggs at this time of year with (relative) ease. Why am I so fond of them? Because if you are making a substantial starter or brunch dish, they are hard to beat.
If you can't find goose eggs, then crack two hen's eggs into a cup before frying, it will give you a more substantial dish to serve to guests.
4 goose eggs
2tbsp olive or rapeseed oil
A couple of good knobs of butter
100-120g diced streaky bacon or pancetta cubes
A handful of wild garlic leaves, washed
150-200ml double cream
Salt and freshly ground black pepper
Heat a non-stick frying pan on the stove with a tablespoon of the oil until it is almost smoking. Fry the goose eggs on a high heat, one or two at a time, depending on how big your pan is, making sure to get the bottoms nice and crispy; add a knob of butter towards the end of the cooking, then flip them over and cook for another 20 seconds or so on the top, then slide on to a baking tray. Do the same with the rest of the eggs.
While the eggs are cooking, heat a frying pan and gently cook the bacon on a low heat for a couple of minutes, add all of the cream, season and then simmer for a minute until it starts to thicken, then stir in the wild garlic until it begins to wilt; when it does, remove it from the heat.
To serve, reheat the eggs under the grill or in the oven, making sure to keep the yolks runny, transfer to warmed serving plates and spoon over the creamed wild garlic.
Join our new commenting forum
Join thought-provoking conversations, follow other Independent readers and see their replies